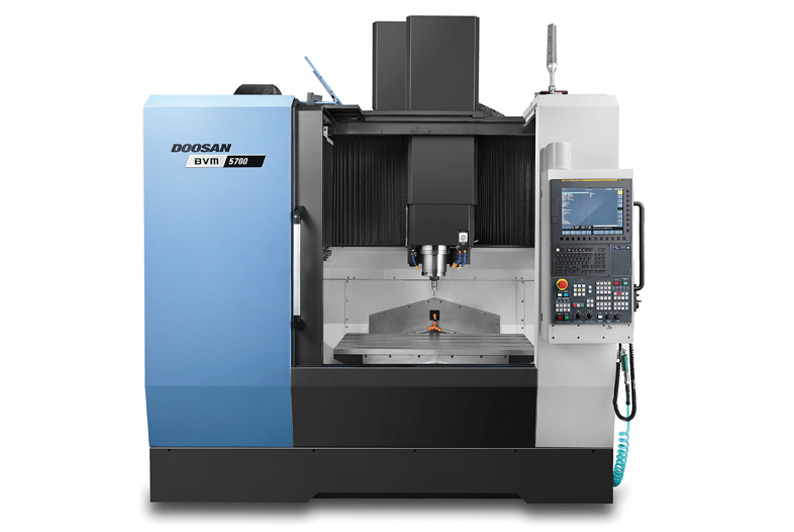 A total of 16 machine tools, including seven new and innovative models…two advanced, market-leading 'SYNERGi' automated manufacturing cells…three productivity-boosting cobots, undertaking a range of operations…new software solutions from the Training Academy…Mills' renowned hospitality…and a guaranteed convivial atmosphere are all able to be seen, and experienced, from the largest stand at the Show.
Mills CNC, the exclusive distributor of Doosan machine tools in the UK and Ireland, is attending MACH 2022 with all guns blazing: reinforcing the company's reputation that, at every MACH event in recent history, it really is "the only show in town".
Exhibiting from the largest stand at the show (Hall 19 – Stand 100), Mills has announced that two key exhibition themes of innovation and automation have been seamlessly interwoven, across and throughout, the products, services, and solutions on show.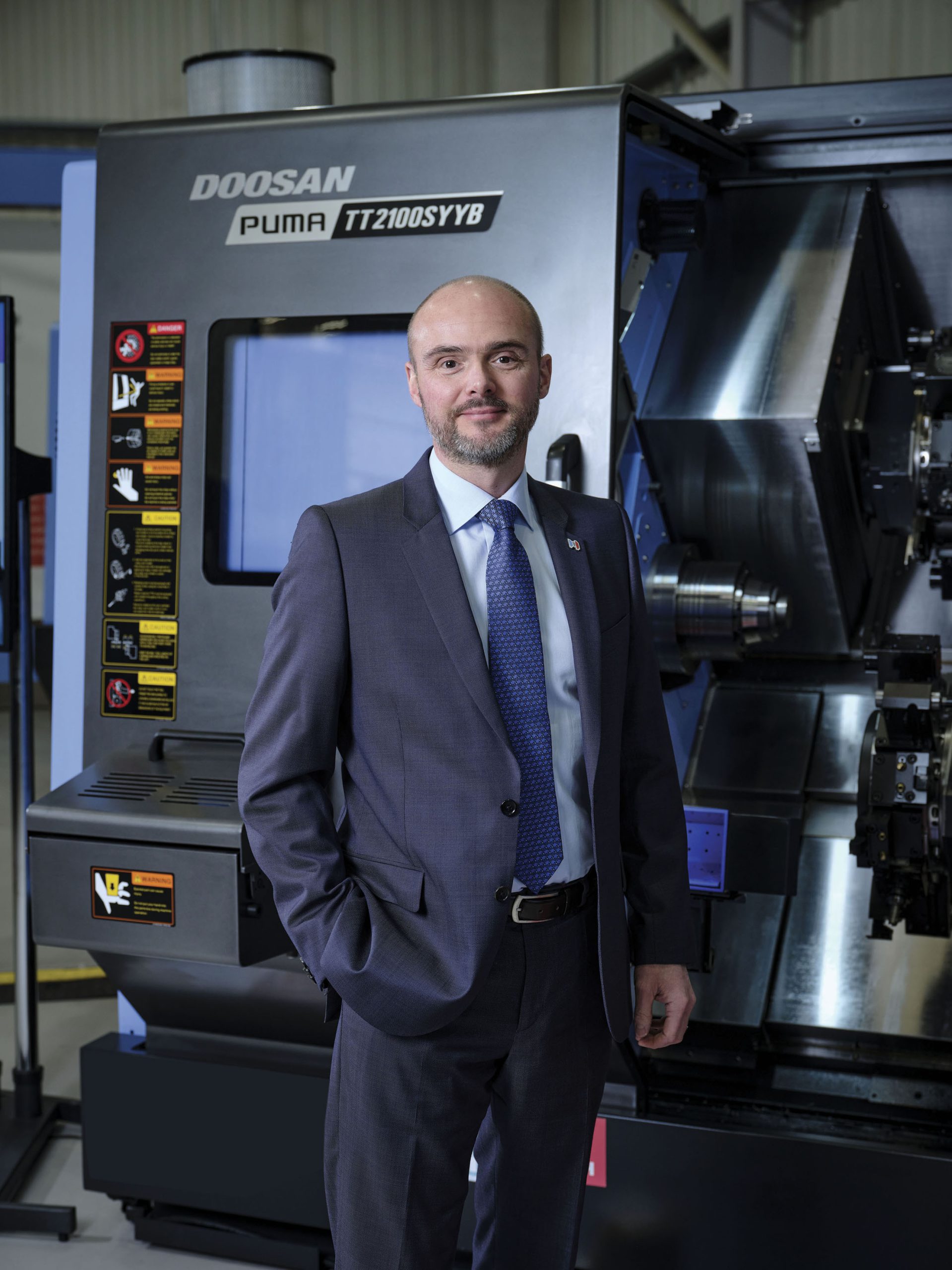 Explains Tony Dale, Mills CNC's CEO:
"Being the first MACH show for four years we have decided to push the boat out at MACH 2022.

"Over the last few years, with all the challenges and issues that have confronted, and are still confronting, component manufacturers, it's become increasingly clear that improving manufacturing productivity and operational efficiencies are central to the continuing growth, competitiveness and success of all UK and Irish companies.

"Our stand at MACH 2022 recognises this fact and is why we have decided to focus on innovation and automation at the event: showcasing the best we have to offer from what will be a memorable, different and distinctively designed stand."
Machine tools
Mills is showcasing a total of 16 machine tools (lathes and turning centres, machining centres and mill-turn machines) on its stand. These include seven new models that have, only recently, been introduced into the UK and Irish markets. Five of these machines are actually making their UK debuts at the Show.
The seven new models comprise two turning centres, two mill-turn machines and three machining centres.
a) New turning centres
The two new turning centres being exhibited are:
i) A 10" chuck Lynx 2600SY – a compact, high-performance turning centre equipped with a Y-axis and sub-spindle which, for the purposes of the exhibition, is integrated with an advanced SYNERGi Premier automation system to create a highly-efficient and flexible automated manufacturing cell designed for the fast, accurate and continuous production of small precision parts.
ii) A multi-tasking TT 1300SYYB – an innovative twin-spindle/twin-turret turning centre with Y-axis capabilities on both its upper and lower turrets.
Both machines feature the latest Fanuc Plus control with the innovative touchscreen iHMI.
b) New mill-turn machines
Mills CNC has a reputation in the market for the power, accuracy, reliability, and versatility of its SMX-branded mill-turn machines. This reputation is set to grow, and be reinforced, with the recent introduction of two new models – the SMX 2100ST and SMX 5100LB; both of which are being showcased on Mills' stand.
The 8" chuck SMX 2100ST is multi-tasking machine with a 1040mm maximum turning length, left and right opposing spindles (5000rpm), a B-axis milling spindle, a Y-axis and a 12-station lower turret.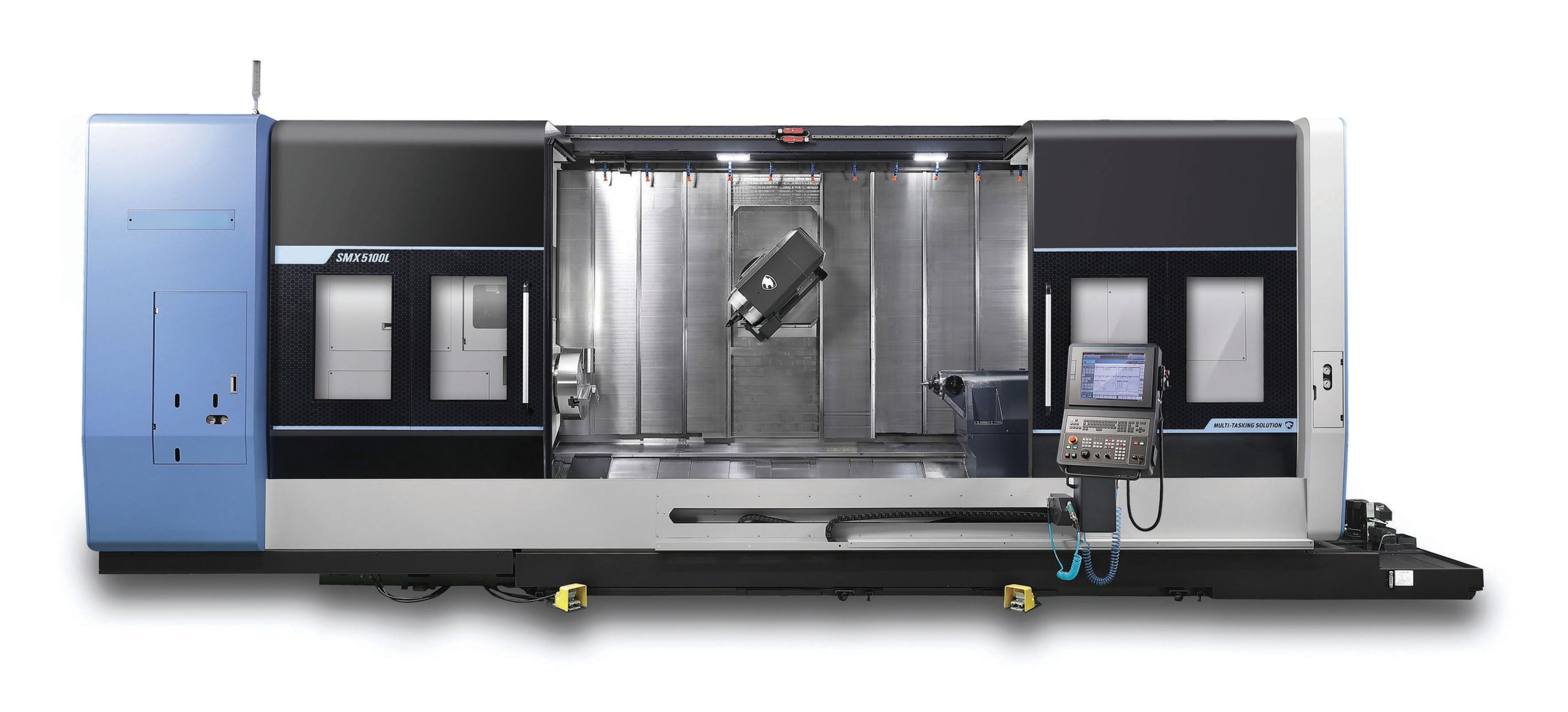 The large-capacity 21" chuck SMX 5100LB has a maximum turning length and turning diameter of 3050mm and 830mm respectively, a left-hand spindle (37kW/1500rpm), a servo-driven tailstock, a B-axis milling spindle, integrated thermal compensation, and, up to, a 120-tool position ATC.
Both machines will appeal to manufacturers operating in and across many sectors and industries (i.e., energy, offshore, oil and gas, large automotive, aerospace etc.)., where accuracy, process reliability and the ability to machine complex parts quickly and economically is paramount.
c) New machining centres
The three new machining centres being showcased comprise the new SVM 4100, the BVM 5700 and the T-4000HS.
The SVM 4100 is a high-productivity vertical machining centre designed for fast and accurate machining of aluminium alloys and lightweight steel components. The machine boasts fast acceleration/deceleration rates, fast tool change times and impressive rapid rates. The SVM 4100 helps component manufacturers reduce non-cutting times and part cycle times.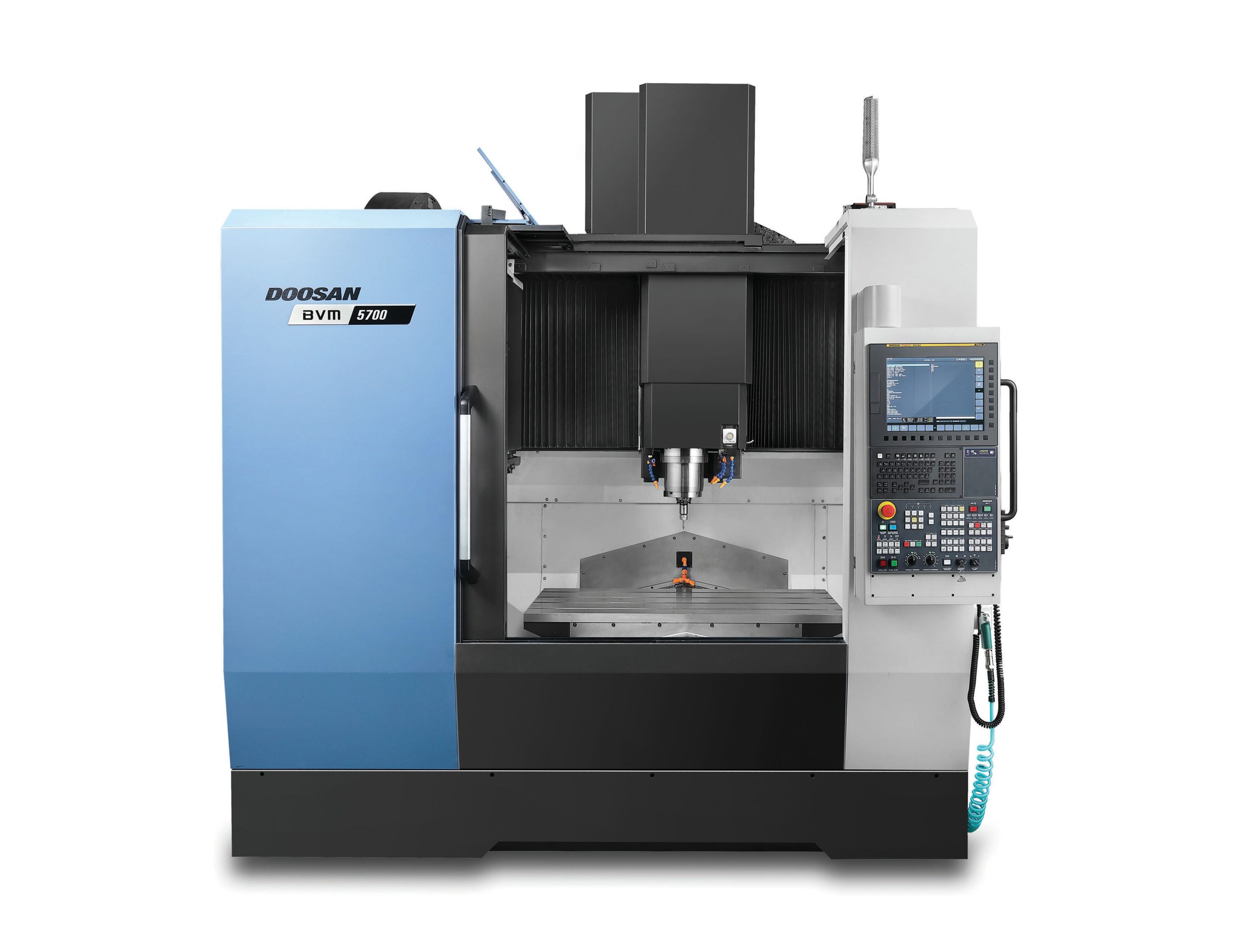 The BVM 5700 is a premium machining centre that, owing to its rigid design and build, delivers exceptional accuracies, greater flexibility, unrivalled machining performance and best-in-class process reliability.
A rigid, thermally stable construction ensures that thermal deformation is minimised and, as a result, that high accuracies can be achieved irrespective of the materials being machined (i.e., titanium, Stainless Steels, aluminium etc.), or the machining process parameters employed.
The T-4000HS is a high-speed machining centre with 48m/min rapids, a 11kW/24,000rpm spindle and a 21-tool position ATC. The machine, with its rigid design and build, is ideal for rigid tapping and drilling operations and, at MACH 2022, has been integrated with a SYNERGi Sprint automation system to create an automated high-speed manufacturing cell.
d) Other machines on show.
The other nine machines on Mills' stand include models from the company's best-selling ranges. These include:
a). Machines from its iconic Fanuc, Siemens and Heidenhain-controlled DNM (4500, 5700, 6700) vertical machining centre series.
b). Lathes from its equally legendary Puma range including the large-capacity and powerful Puma 5100LMB lathe and the ever-popular Puma 2600SY II: a Y-axis and sub-spindle multi-tasking turning centre.
c). The fastest-selling compact and universal 5-axis machining centre on the market – the DVF 5000 which, for the purposes of MACH 2022, is being showcased with an integrated AWC (Automatic Workpiece Changer) that further increases the machine's productivity and appeal.
Says Tony Dale:
"It's an impressive machine tool line-up.

"Many machines on show are high-productivity multi-axis and multi-tasking machines.

"Through the addition and integration of advanced automation systems (i.e., pallet changers, industrial robot solutions, collaborative robots etc.), these machines' 'already high-performance credentials are dramatically improved and increased."
Automation systems
As mentioned previously automation systems and solutions feature prominently on Mills' stand at MACH 2022.
SYNERGi Automated Manufacturing Cells: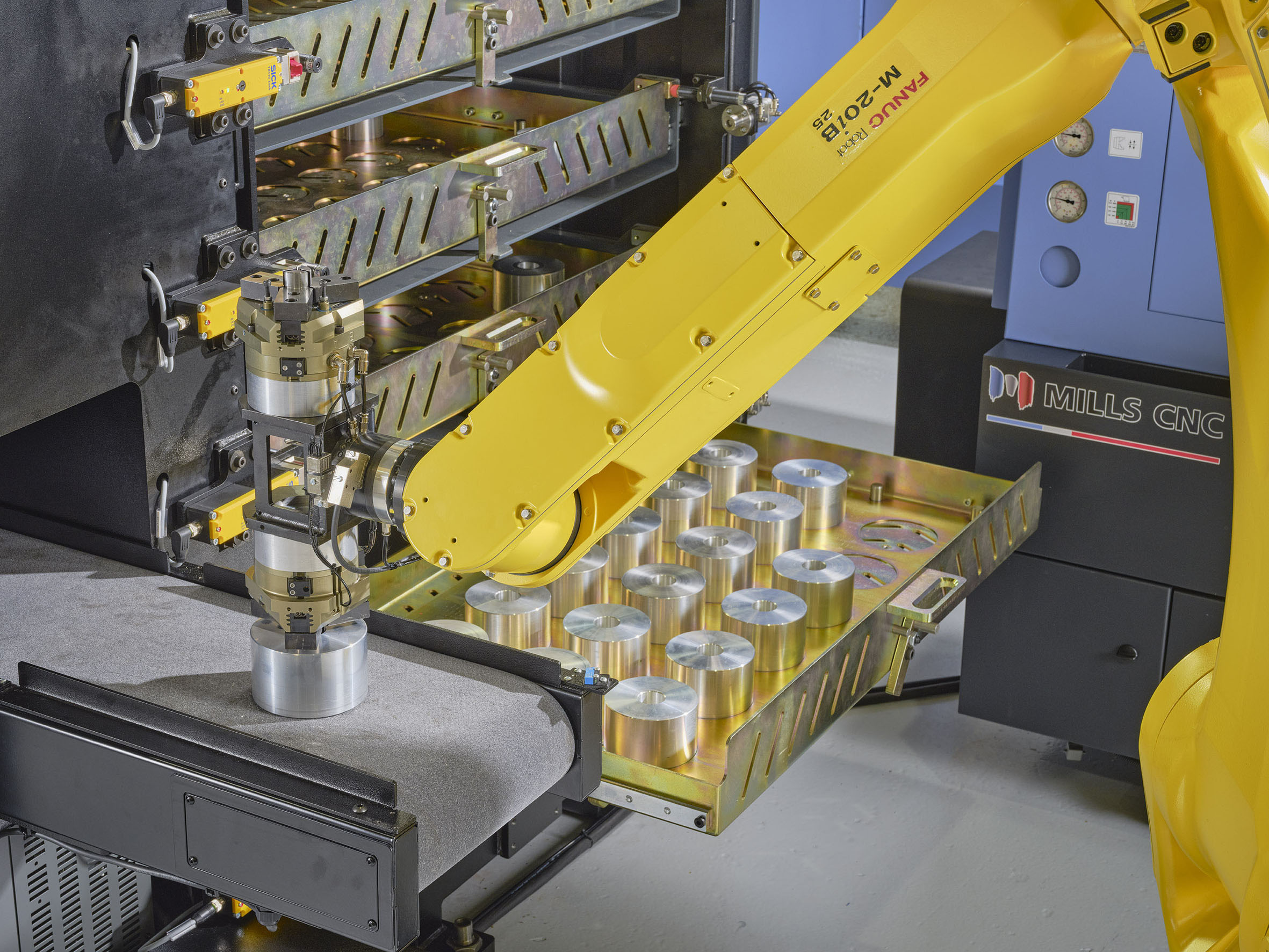 SYNERGi Premier and SYNERGi Sprint systems are being exhibited on Mills' stand where they have been integrated with a Lynx 2600SY lathe and a T-4000HS high-speed machining centre, respectively.
SYNERGi systems, comprising industrial robots, a range of different end-effectors, innovative part load/unload systems, laser floor scanning technology, industrial guarding and 17" touchscreen HMIs, powered by Mills' own proprietary SYNERGi software, represent a state-of-the-art, 'Factory-of-the Future' automation solutions.
A SYNERGI Premier automated manufacturing cell was recently promoted at Fanuc's Automation Event in 2021 and will make an appearance at this year's Southern Manufacturing Show in February.
Doosan Robotics' collaborative robots:
There are three different cobot series (A, M and H) in the Doosan Robotics range – and a total of five cobots are being showcased on Mills' stand.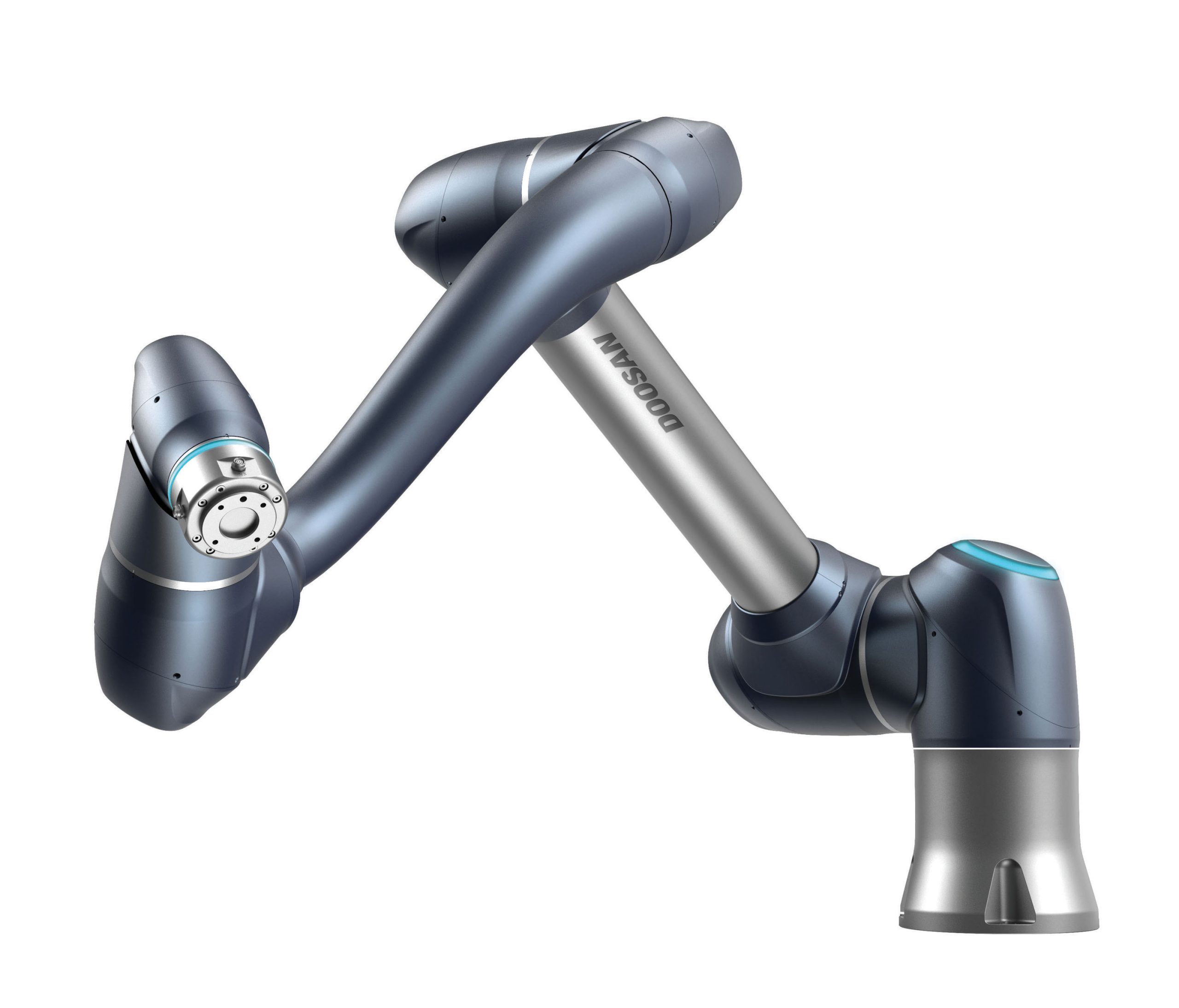 Performing routine machine tool tending tasks or being integrated with innovative vision systems to realise their inspection and measurement application potential – all three cobots will demonstrate their ease-of-use and ease of deployment, versatility, safety, and productivity.
Training Academy
The Training Academy, exhibiting its products and services from Mills' stand, will promote its range of introductory and advanced Fanuc, Siemens and Heidenhain operator and programmer CNC training courses at MACH and will also promote through interactive presentations, the significant productivity and performance gains manufacturers can expect from investing in BobCAD-CAM software.
CNC training is just one aspect of Mills' renowned pre- and after-sales service and support resources being showcased at MACH – the others being finance and funding options available (via Mills CNC Finance), and the many different, sophisticated and value-adding machine tool and automation systems service, servicing and parts operations located at Mills' Campus facility in Leamington.
Summary
There's always much interest and a real buzz of excitement when Mills announces its line-up for a MACH show.
With 16 high-performance machine tools, including seven new models, two advanced SYNERGi automated manufacturing cells, five Doosan cobots and a whole raft of Mills' integrated pre- and after-sales services on show – MACH 2022 promises a lot – but will, as usual, deliver much, much more.