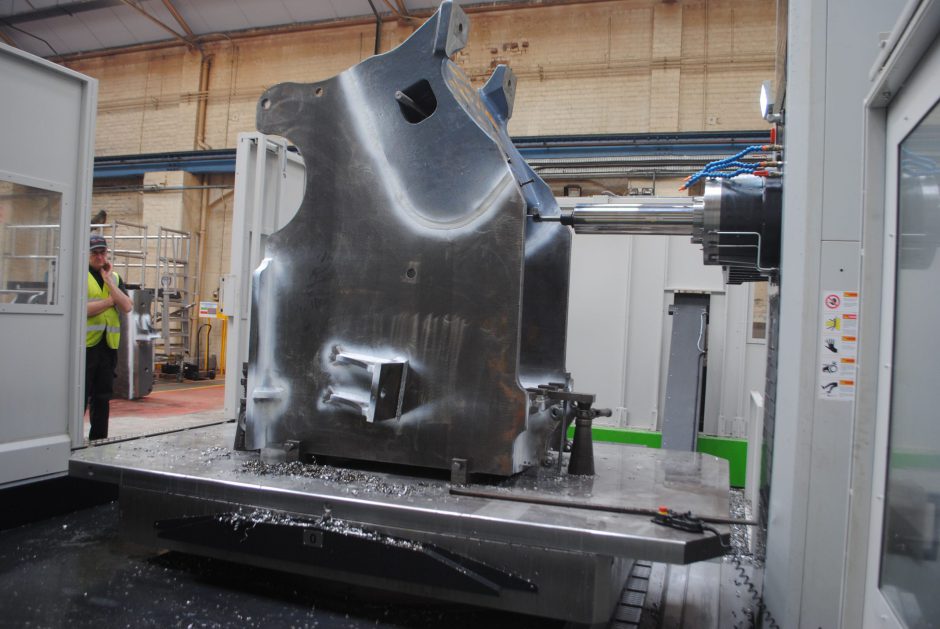 When a leading mobile crusher machine manufacturer found out that Doosan manufactured a horizontal boring machine to its exact specification – it was game over.
Mills CNC, the exclusive distributor of Doosan machine tools in the UK and Ireland, has recently supplied leading materials processing (MP) equipment manufacturer and solutions provider – Terex Coalville, part of the Terex Corporation – with a new, large-capacity Doosan DBC160 horizontal boring machine.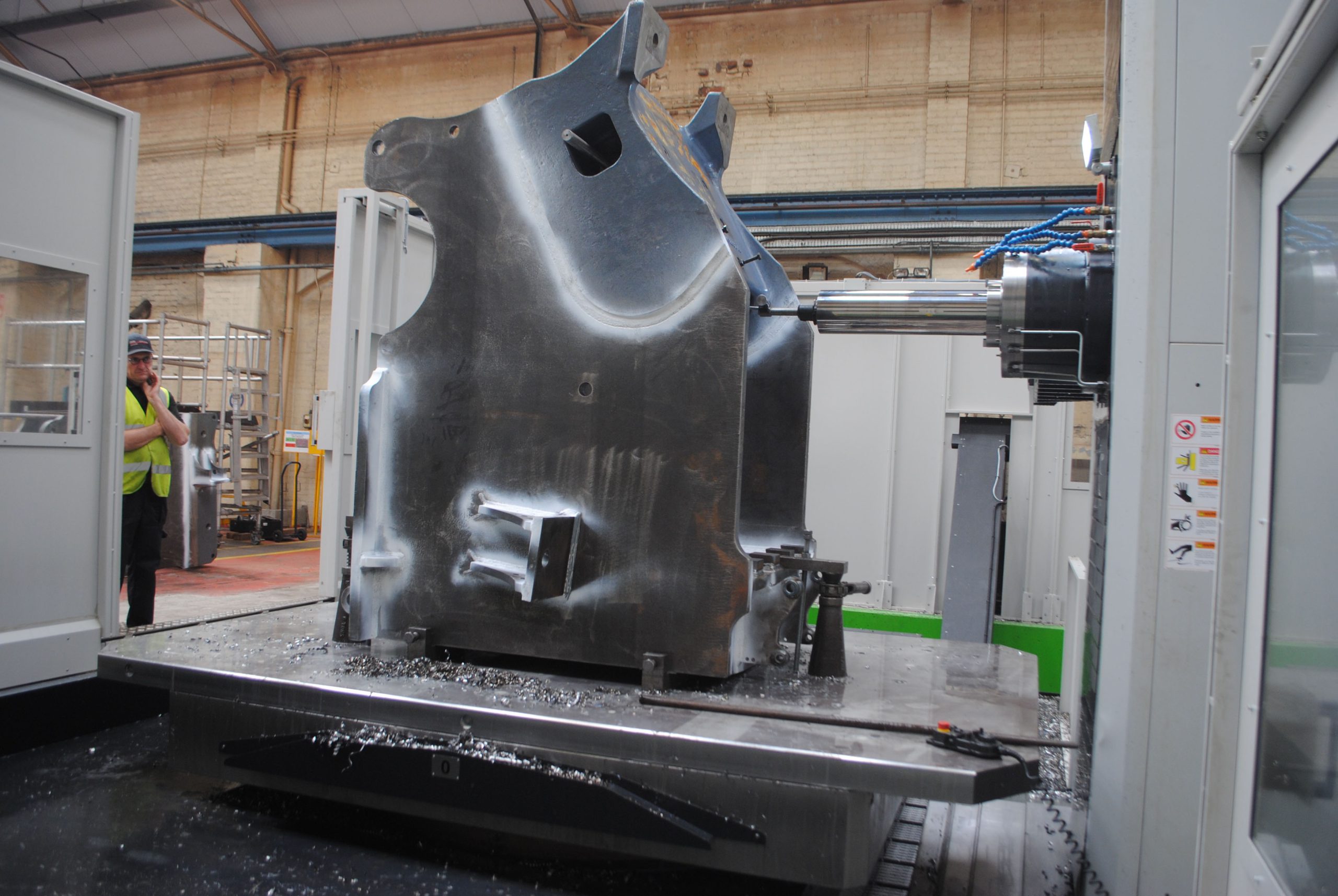 The DBC160 horizontal borer was delivered and installed at Terex's machine shop facility between July and October 2018, (new foundations were laid prior to the machine's arrival during February 2018), and is being used to machine high accuracy bores, holes and threads etc., in the fabricated sections of Terex's mobile crusher machines.
These sections are made from steel plate which are first Plasma cut and then welded together. It is these fabricated sections that are loaded into the Doosan DBC160 for machining.
The weight of these fabricated sections varies according to the different type and size of crusher being produced. (Different sections can typically weigh from 6 tonnes up to 30 tonnes).
Machining operations on the DBC160 can be relatively long and, such is the need to maintain productivity, that high removal rates are a definite requirement.
Up to 70 mobile crusher machines are manufactured at Terex's Coalville facility every month.
Terex crusher machines – meeting the increased demand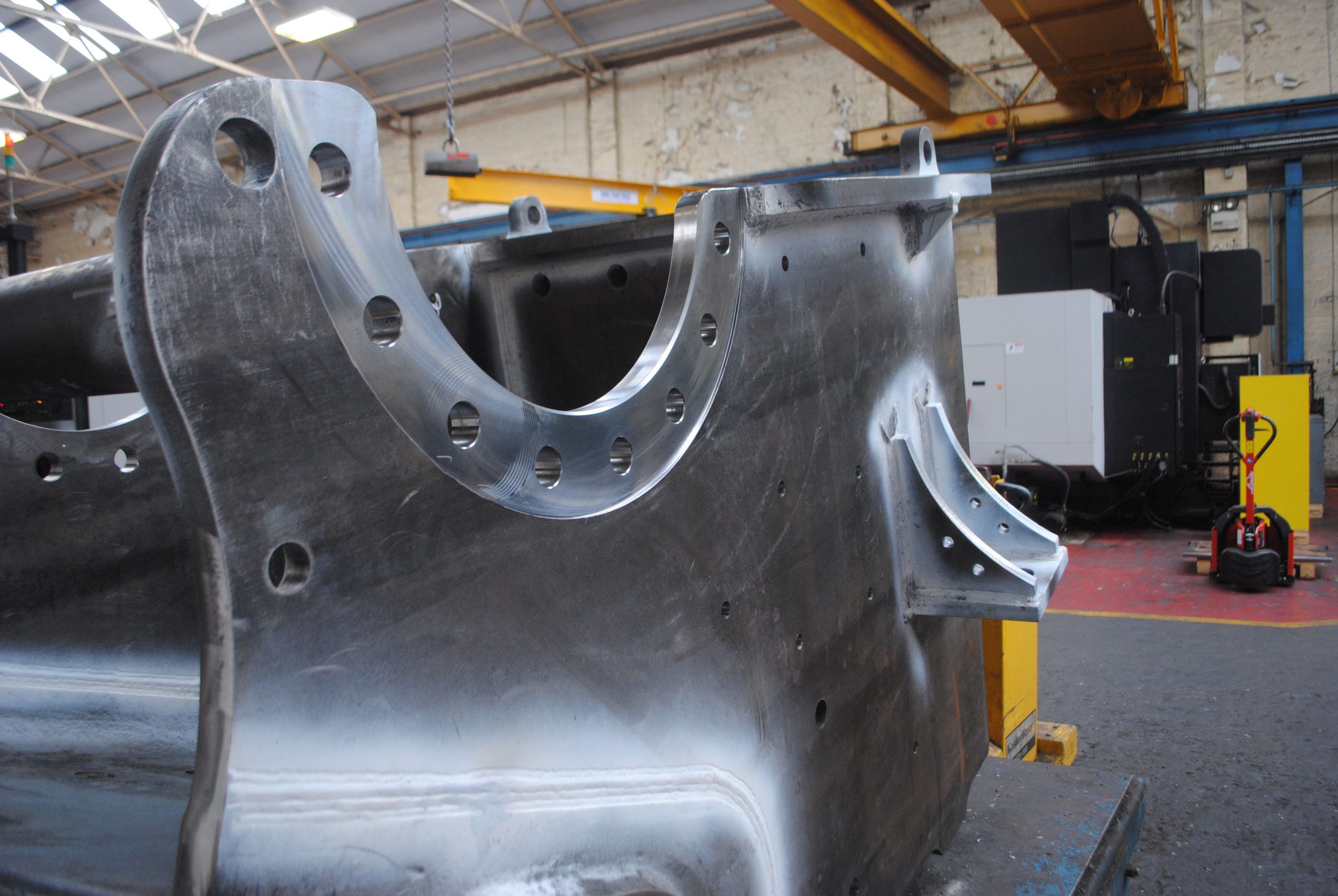 Over the last 12 years there has been something of a renaissance that has occurred at Terex's manufacturing facility in Coalville.
The company has increased its headcount (currently stands at 100 members of staff), and demand, from around the world, for its high-performance range of impact crusher, jaw crusher and cone crusher machines is at an all time high.
The change in fortunes hasn't happened by chance.
Explains Jason Toon, Operations & Facilities Manager at Terex MP
"Over the last 12 years we have been on a 'Lean Journey' – and, because Continuous Improvement is not a finite destination – we are still on it.

"We have rigorously applied Lean Manufacturing principles and methods across our operations and are committed to driving out waste and inefficiency."
It is estimated by Lean Manufacturing aficionados that 60% of production activities in a typical manufacturing operation are wasteful and add no value for the customer.
Continues Jason Toon
"The introduction of Lean Manufacturing has helped galvanise and motivate the workforce.

"It's had a dramatic and significant impact on quality and productivity levels and, not surprisingly, on the company's sales growth and profitability."
The increase in demand experienced by Terex for its mobile crusher machines was clearly 'good news' for the company – but it did highlight a capacity problem that would only get more acute if not addressed.
Comments Jason Toon:
"We undertook a forensic examination into our existing machining capacity and capabilities – including an analysis of our weaknesses, and where bottlenecks were occurring or could occur in the future.

"It became clear that an investment in a new, large-capacity horizontal boring machine would satisfy our immediate and future machining requirements."
Terex had previously invested in a horizontal boring machine and it seemed likely that the new machine order would be placed with the same supplier.
But it didn't turn out that way.
The Doosan: Mills CNC angle
 Terex is no stranger to investing in Doosan machine tools from Mills CNC.
Since 2012 the company has invested in four new Doosan machining centres that include two large-capacity Mynx 7500/50 machines, as well as a Doosan Puma 400 (long-bed) lathe with driven tooling.
The Doosan machines are being used by Terex to machine specific crusher machine components in small batches.
Comments Jason Toon:
"The Doosan machines we have invested in all perform well. Furthermore our experience of working with Mills CNC has always been positive and we certainly value their support."
However, Mills CNC was not on Terex's radar for supplying it with the new horizontal boring machine.
Explains Jason Toon
"The machine tool specification we had drawn up, including the requirement that the machine needed to have a large 3 metre Y-axis.

"We didn't realise (at the time) that the new Doosan DBC160 borer could be supplied with such a large Y-axis. However, when we found out, somewhat fortuitously it must be said, that Mills could indeed supply us with such a machine – we were naturally interested."
As part of the purchase process Mills invited representatives from Terex to visit the Doosan factory in South Korea to see the DBC 160 machines being built and to see the results of a Factory Acceptance Test (FAT).
Says Jason Toon
"The DBC160 is a new machine and we were going to be the first customer in the UK to buy one.

"This, plus the performance-critical nature of the investment meant we had to get it right first time."
The performance of the DBC160, its cost, availability and the fact that it was backed by Mills CNC's 'best-in-class' after-sales services and technical support were all key factors in ensuring the machine tool sale.
The specification of the machine was also of paramount importance.
The Doosan DBC160 horizontal boring machine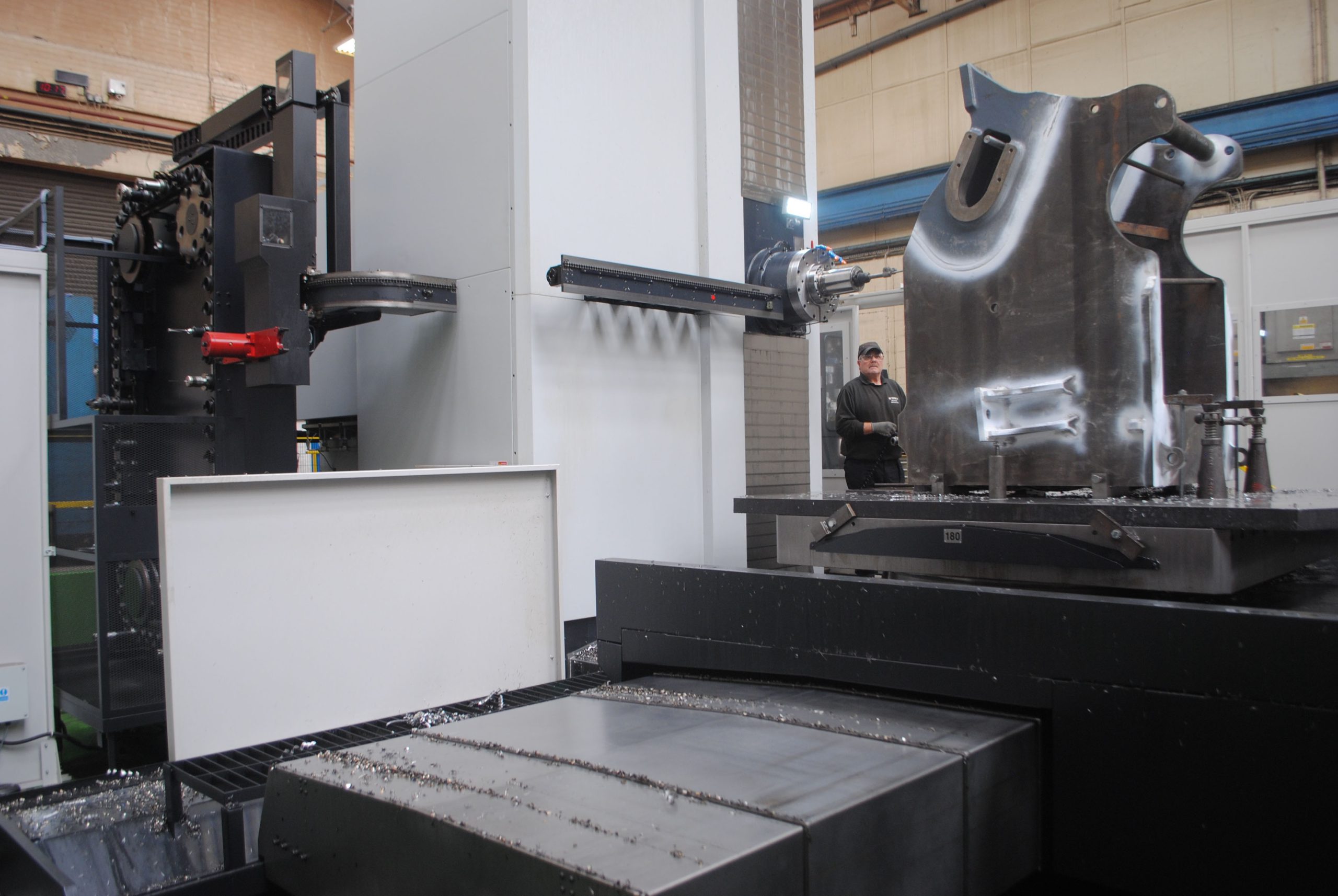 The DBC160 is a large-capacity, moving-column type borer equipped with a powerful, high-torque 160mm diameter boring spindle (45kW/2000rpm) that takes heavy-duty, roughing operations in its stride.
The machine has a rigid design and build and such structural rigidity helps minimise vibration and maintain part accuracies and surface finishes.
The DBC160 can accommodate large workpieces (3400mm diameter/20 tonnes weight) on its rigidly-built B-axis rotary table and has X-,Y-, Z-axis travels of 4000mm x 3000mm x 1600mm.
Installation – Mills' Projects Team pulls out all the stops
 Prior to the DBC 160 machine being delivered to Terex – significant pre-installation work was undertaken by Mills CNC's Projects Team at the Coalville facility in advance of the machine's arrival.
This work included digging out the existing floor and foundations of the machine shop, laying a new floor and foundations – replete with drainage systems and coolant channels, and creating new guarding.
The floor itself was dropped by 1 metre to enable the machine to operate at its full height (and therefore at full capacity) without it colliding with the overhead crane in the machine shop.
Says Jason Toon:
"It was an involved and complex installation (certainly with regard to pre-installation), but the Mills CNC engineers did a great job."
Summary
 The Doosan DBC160 is a powerful, rigidly-built horizontal boring machine capable of machining large, heavy and awkward-shaped workpieces.
It was selected by Terex for a number of reasons. These included:
The ability to achieve high metal removal rates and maintain tight geometrical accuracies in and between machined features.
Its competitive price and ready availability (relatively and comparatively speaking).
Its ergonomic design, build quality and inherent safety characteristics. (Operators have good access to all areas of the machine without having to step on the machine's guards).
The after-sales service and technical back-up provided by Mills CNC.
Concludes Jason Toon
"We have been delighted with the DBC160 machine's performance. And we cannot speak highly enough about Mills CNC's dedication and commitment – which have been first-class."