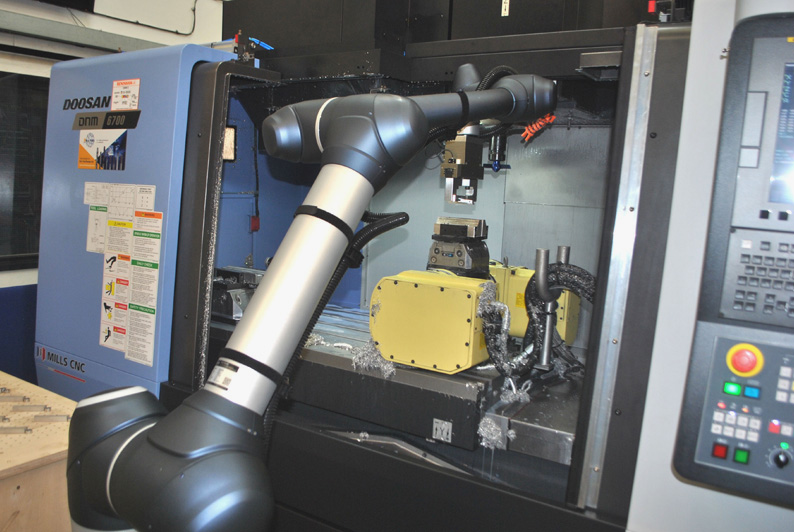 Leading precision subcontract specialist invests in three new Doosan machining centres and a Doosan cobot to fulfil a new machining contract.
Mills CNC, the exclusive distributor of Doosan machine tools in the UK and Ireland, has recently supplied leading precision engineering specialist – Cambridge Precision Ltd (CPL) – with three new, advanced Doosan machine tools and a new, high-performance Doosan collaborative robot.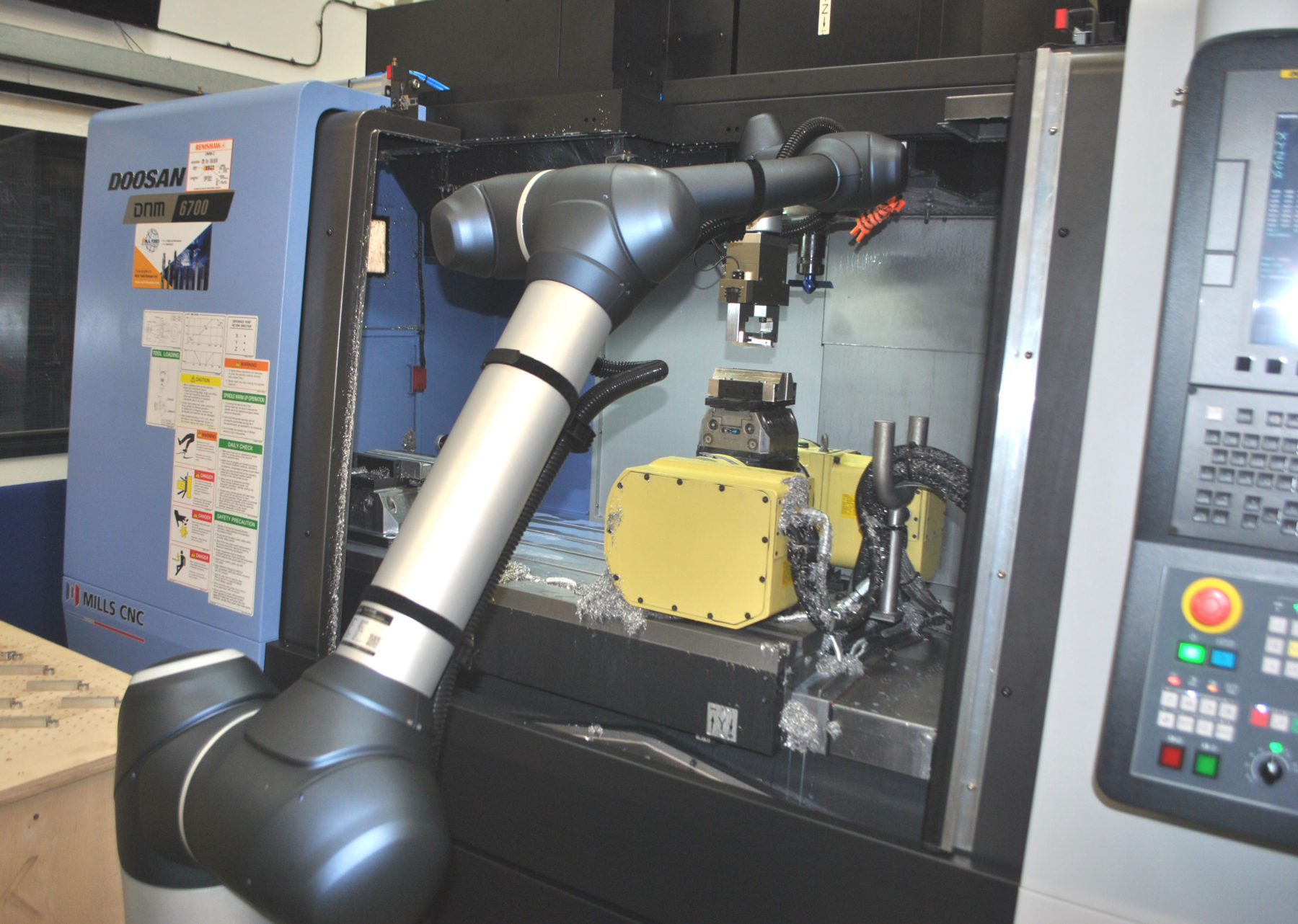 The machines, comprising a DVF 5000 (5-axis) machine, a DNM 6700 vertical machining centre supplied with a Nikken 5-axis rotary table and a DNM 4500 vertical machining centre, were all installed, along with a heavy-duty Doosan H2017 cobot*, at CPL's 24,000sq. ft. production facility in St Neots in February 2021.
(*The H2017 cobot, with its 1,700mm reach and 20kg payload capacity, has been integrated with the new DNM 6700 machining centre to create, what is in effect, a 'de facto' flexible, automated manufacturing cell).
All three machining centres and the cobot were acquired by CPL to fulfil a new machining contract from an existing customer to machine, in relatively high-volumes and to high-precision, a range of innovative and highly-stylised enclosures for a high-end technical product.
Following initial prototyping and pre-production work occurring and being completed in the late Summer and Autumn of 2020, CPL (at the same time) audited its existing machining capacities to identify if, and where, any pinch points and bottlenecks could occur once in full production.
Says Nick Raven, CPL's General Manager:
"The audit revealed that we needed to significantly increase our milling capabilities and capacity in double quick time – and that a whole new dedicated machining resource would be required for the contract.

"Having scoped out the project in full taking into account volumes required, machining operations, part set-up and cycle times etc., we decided that a high-performance 5-axis machining centre, using its 5-side machining capabilities, would be ideal to machine the solid aluminium enclosures – and that a vertical machining centre integrated with a cobot plus another standalone machining centre would enable 24/7 continuous production."
CPL, with its well established relationships with Mills CNC, approached the company to discuss the new contract and the likely machining requirements.
Explains Nick Raven:
"We have developed strong relationships with Mills CNC and have invested in a significant number of Doosan machine tools in recent years. As a consequence it was both natural and logical to get their take on what we wanted to achieve…and for them to help us identify the most appropriate machine tool and automation solutions."
The discussions resulted in the following new technology package being agreed upon.
The new investment package
i) DVF 5000 5-axis machining centre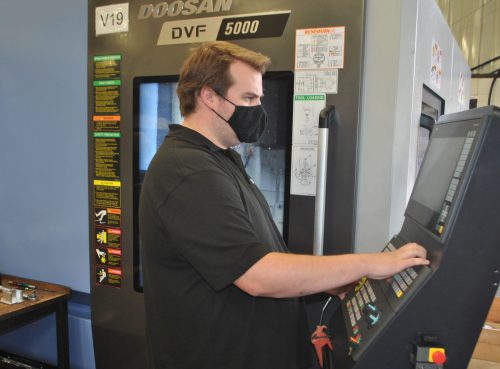 The Doosan DVF 5000 is a best-selling simultaneous 5-axis machining centre. Despite its compact size the machine is a productivity powerhouse and is equipped with a directly-coupled 17.5kW/12,000rpm spindle and a 40 tool position ATC.
The machine is able to get down to business fast with its 40m/min rapid rates and, with its integrated thermal compensation systems and rigid construction, is also able to maintain high-accuracies and repeatability's during long machining runs.
Says Nick Raven:
"We are no strangers to 5-axis machine tools and have invested in a number of these machines in recent years.
"We are always interested in new technologies that can make us more productive and efficient and, being a long-standing customer of Mills CNC, already knew about the DVF 5000 and its capabilities."
As far as the new machining contract was concerned the DVF 5000, situated in CPL's milling department, would be used to machine the unit enclosures made from solid aluminium billets – each one having a cycle time approaching 2 hours.
ii) DNM 6700 3-axis vertical machining centre
The Doosan DNM 6700 is a large-capacity 3-axis vertical machining centre equipped with a 1500mm x 670mm table, a 18.5kW/12,000rpm spindle, a 30-position ATC and the Doosan-Fanuc 0iMP control. With its roller LM guideways and thermal compensation systems the machine is capable of consistent, high-accuracy machining.
Says Nick Raven:
"We are familiar with Doosan's DNM series of machining centres and with the DNM 6700 machine in particular.

"To help fully realise the machine's productivity potential the machine ordered was to be supplied with a Nikken (5-axis) rotary tilting table, which would enable us to undertake the 5-side machining of the fascia plate components."
iii) H2017 Doosan cobot
The H2017 is one of the biggest cobots in the Doosan range and has a 1.7metre reach radius and a 20kg payload capacity. The cobot, as mentioned previously, is integrated with the new DNM 6700 machine.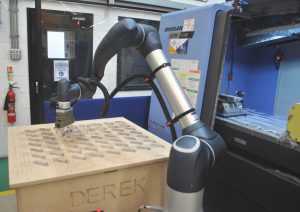 Says Andrew Barnard, CPL's Milling Supervisor:
"The H2017 cobot is the second Doosan cobot we have invested in over the last 18 months: the first being the smaller and more lightweight M0617 cobot that we acquired in July 2019."
Similar to CPL's first cobot (Rodney), the H2017 (Derek) is integrated with a Doosan DNM 6700 machining centre set-up and programmed to perform machine tool tending operations (i.e. loading workpieces from a specially-constructed loading table into the machine and, after the machining operations have been completed, unloading the finished machined components and positioning them back on the table).
Continues Andy Barnard:
"The cobot, and the DNM 6700, are programmed to operate unattended during the day…overnight…and over the weekends too. Billets awaiting machining are positioned on the table (24 at a time) and cycle time per part is between 45 and 60 minutes, depending on the required features and details.

"Cobot help free-up skilled labour by handling repetitive and less profitable tasks. Rodney (our first cobot) and Derek (the recent arrival) have been welcomed by the team, and the arrival of both has enabled team members to focus on other manufacturing and assembly tasks whilst also ensuring accuracy and allowing us to plan machine operation times accurately."
(CPL manufactured a second loading table, with the same capacity as the first, to help ramp up production if and when required).
iv) DNM 4500 3-axis vertical machining centre
The DNM 4500 is a (relatively) small 3-axis vertical machining centre equipped with a 12,000rpm spindle, a 30 tool position ATC and the Doosan-Fanuc 0iMP control.
The machine, situated within a stone's throw of the DNM 6700 and the H2017 cobot, is a standalone machine being used to finish (machine) the products.
A time for reflection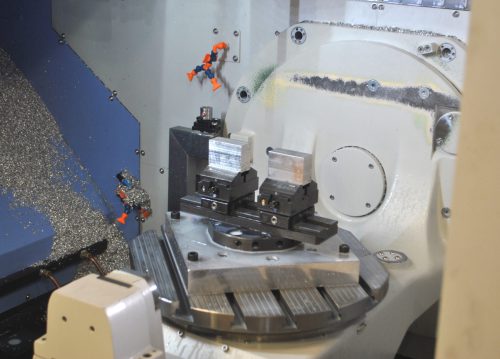 Since September 2020 CPL has been busy – and that is an understatement!
The expanded cobotic machining centre is now tested and ready for full production, with consideration being given to further expansion.
The company is now actively looking to acquire new premises and is also looking to invest in more advanced machine tool technologies as customers continue to ramp up their production demands.
It's all a far cry from the situation the company, and many others like it, were in during March and April 2020.
Remembers Nick Raven:
"They were difficult times. Some large and high-value orders were cancelled, and we had to change the way we operated. We had new work coming on but planning for the future was not possible with so much being unknown.

"We were involved in the Government sponsored 'Ventilator Challenge' and did manufacture some pre-production parts. It's fair to say that it was a challenging period in the company's history but we always knew we would hit the ground running when the right time came to proceed with investment plans."
It was around Autumn 2020 that we felt the uncertainties were settling and with our order book bursting we hit the switch to roll out the redesign of our production hub and the expansion of the cobotic centre.
Concludes Nick Raven:
"We, like the UK economy in general, have bounced back strongly. The high-performance multi-axis and multi-tasking machine tools we have at our disposal, combined with the skill and dedication of our staff and the robust systems and processes we have in place have all helped us capitalise on the upturn."