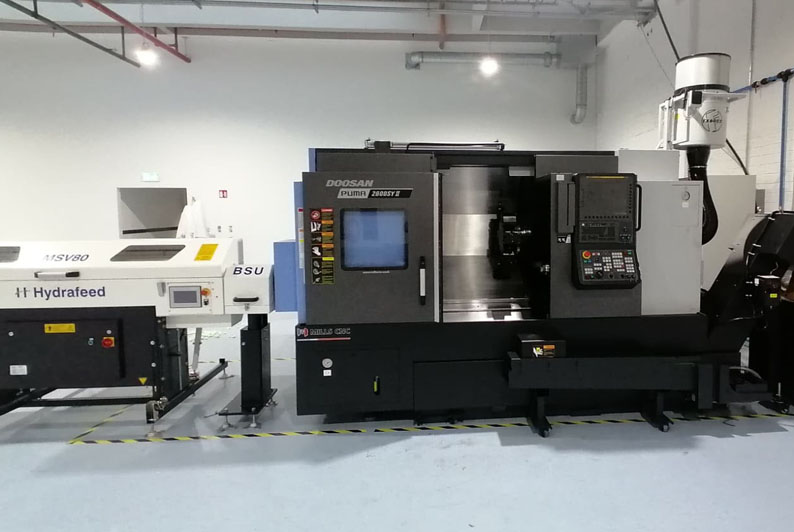 Mills CNC, the exclusive distributor of Doosan machine tools in the UK and Ireland, has recently entered into a collaborative research partnership with Irish Manufacturing Research (IMR), a leading independent and not-for-profit research and training organisation (RTO) based in Mullingar, County Westmeath. To support the organisation's research program in the Irish market, Mills has supplied IMR with a new Doosan Puma 2600SY II lathe.
The advanced 10" chuck box-guideway multi-tasking lathe, a firm favourite amongst UK and Irish component manufacturers ever since its introduction in 2018, features a powerful built-in spindle (22kW/4000rpm), a Y-axis (+/-52.5mm), a sub-spindle (15kW/6000rpm) and driven tooling capabilities (7.5kW/5000rpm).
In addition to its high specification, the model supplied to IMR also featured a number of ancillary technology additions to increase its productivity and efficiency. These included:
a Hydrafeed servo-driven bar feeder
a Filtermist oil/mist extraction unit
a Renishaw optical workpiece inspection probe
a LNS swarf conveyor system
a FSE filtration system
Hainbuch collet chucks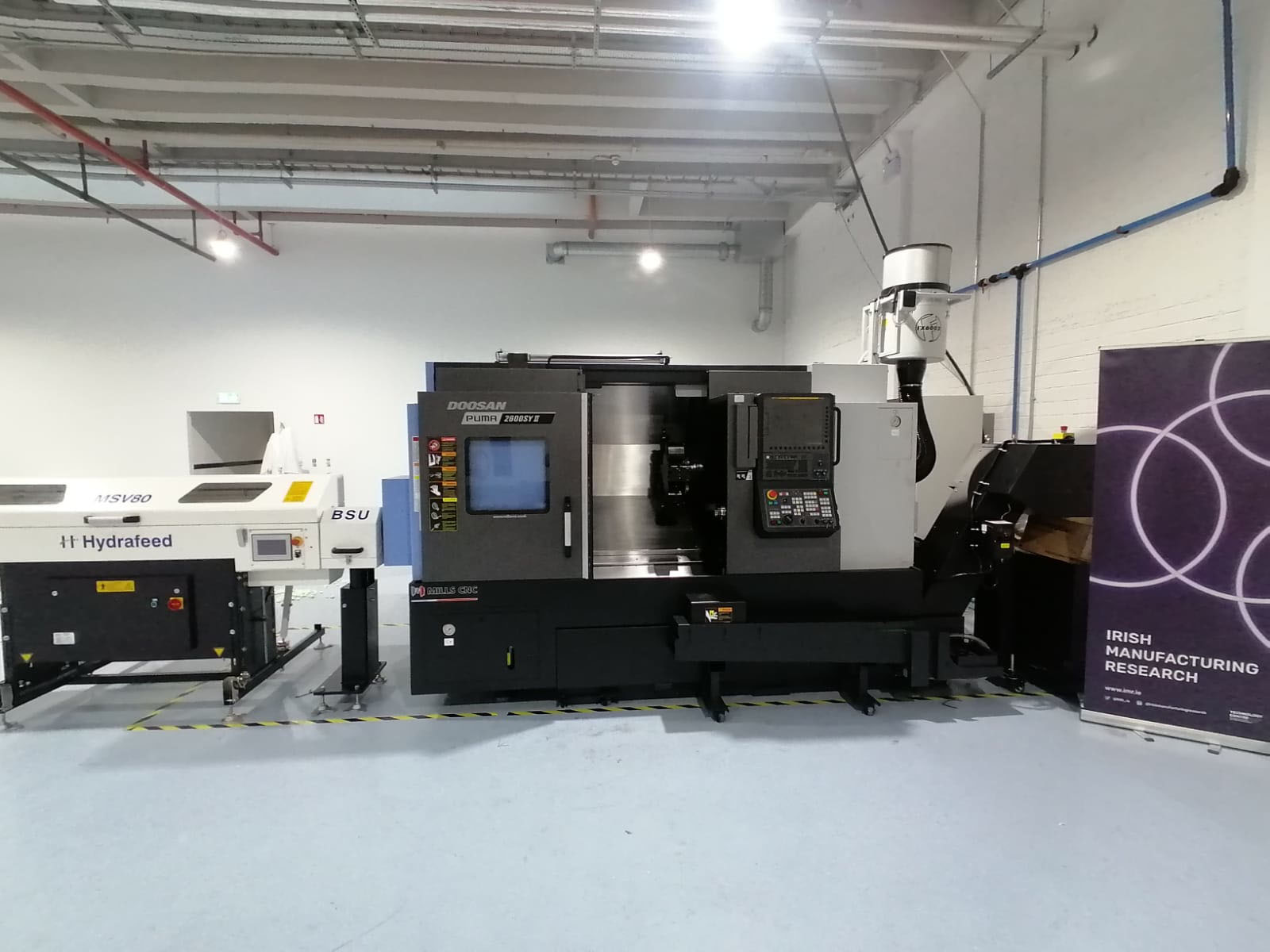 The lathe was also supplied with an auto door and a robot interface (to facilitate automated workpiece loading/unloading in the future).
The Puma 2600SY II was installed at IMR's 35,000 sq. ft. Technology Centre in late August 2020.
About IMR
Irish Manufacturing Research (IMR) is a leading manufacturing Research and Technology Organisation with labs and industrial pilot lines in Dublin and Mullingar, Ireland.  IMR works with leading global and indigenous brands to demystify and derisk new and emerging technologies, and to deliver high-impact collaborative research to enable global leadership in advanced manufacturing.
IMR has over 60 researchers with 100's years of combined industry expertise working in areas such as 3D printing, Data Analytics, Knowledge Management, Sustainable Manufacturing, Advanced Robotics and the Industrial Internet of Things.
IMR activities span national and European research collaborations, prototyping services, training, and Industry networks.
 The Mills CNC angle
Says Chris Judge, IMR's Machining Applications Specialist:
"Our main R & D spheres of influence comprise the following (four) 'thematic pillars" – digitisation, automation and advanced control, design for manufacturing and sustainable manufacturing.

"To deliver innovative and credible solutions we (too) need access to the latest and most advanced technologies. You simply cannot say that you create state-of-the art solutions if the technology you use and that is at your disposal is anything but.

"As such we rely on a number of hand-picked partners to work with us in delivering technology solutions to industry. From a machine tool supplier perspective the partnership we have recently entered into with Mills CNC makes perfect sense."
Mills CNC is highly regarded in Ireland, resonates with Irish manufacturers and, year-on-year, supplies a significant number of advanced Doosan machine tools and automation solutions to a growing number of OEMs, Tier One suppliers, and precision subcontractors.
In addition to its strong and resilient machine tool sales infrastructure, Mills has invested heavily in recent years in developing an Irish-based service and support operation (i.e. CNC training, applications and technical support, machine tool servicing and parts, finance etc.), and this investment into research in Ireland, further demonstrates the company's commitment to the Irish market.
Continues Chris Judge:
"Some months ago, we identified that we needed to develop our in-house CNC turning capacity and capabilities at our Technology Centre in Mullingar.

"Through talking to manufacturers about research opportunities and the different technologies available, and the relative skills and strengths of individual technology suppliers, it became clear that Mills CNC (and the Doosan machine tools it supplies and supports) was the preferred choice for many.

"Through discussions with the Mills team and their Irish Business manager Declan Boyle about our needs and requirements, we identified the ideal turning centre solution – a new Puma 2600SY II multi-tasking lathe.

"To help 'future proof' the investment and increase the scope and scale of future R & D projects, the Puma lathe we ordered was supplied with a number of additional 'extras' that included a bar feeder, workpiece probing, oil/mist extraction and high-performance collet chucks etc.

"I would like to take this opportunity of thanking Mills and the different technology suppliers involved for their support: it is very much appreciated."
Although the Puma was only installed a few weeks ago it has already been involved in a number of customer-led projects.
One of these has involved exploiting the lathe's multi-tasking capabilities – using the Puma lathe's Y-axis, mill-drill and capabilities to significantly reduce the number of machining operations, reduce cycle times and conduct in process inspection to improve part quality.
The project has demonstrated that the Puma lathe's onboard technologies (including its thermal compensation capabilities) can significantly reduce part processing times – from five down to just one operation – and increase part accuracies.
Concludes Chris Judge:
"Projects are lining up for the Puma and, because the lathe is 'automation ready' we expect, in the not-too-distant-future, to integrate it with a Mills CNC industrial or collaborative robot – thereby increasing its use and appeal with Irish manufacturers."