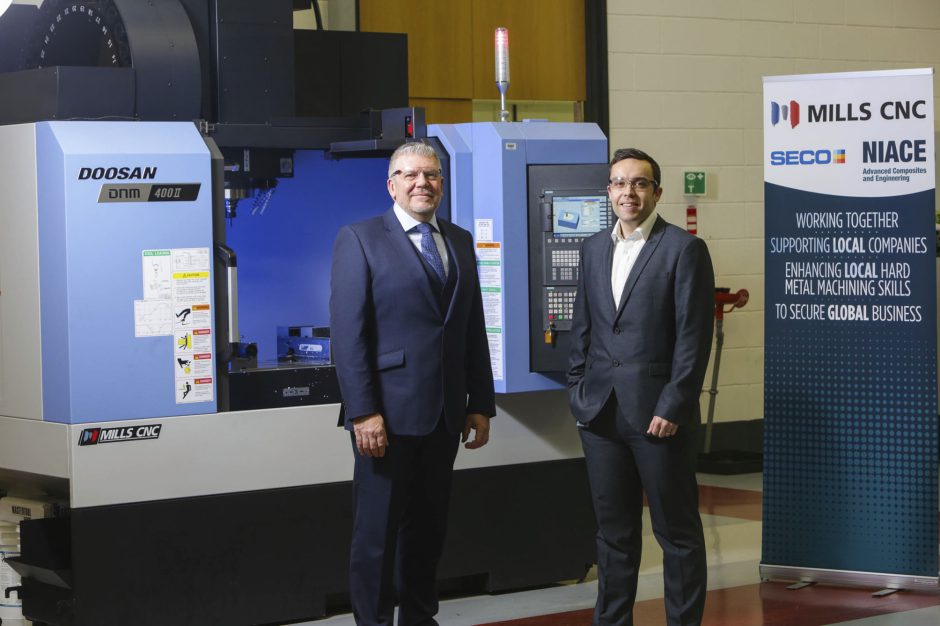 Mills CNC joins forces with NIACE (The Northern Ireland Advanced Composite & Engineering Centre) to help raise manufacturing skills levels in Northern Ireland.
Mills CNC, the exclusive distributor of Doosan machine tools in the UK and Ireland, has recently installed a new Doosan 3-axis vertical machining centre at NIACE, the Northern Ireland Advanced Composite & Engineering Centre, based in Belfast, Northern Ireland.
The machine, a DNM 400 II equipped with a Siemens 828 Control and the on-board ShopMill conversational programming software system, is being used to train engineers from Northern Ireland in best-practice CNC programming and the machining of exotic materials and hard metals –e.g. Titanium, Titanium Alloys, Inconel etc., used increasingly, although not exclusively, in the aerospace sector.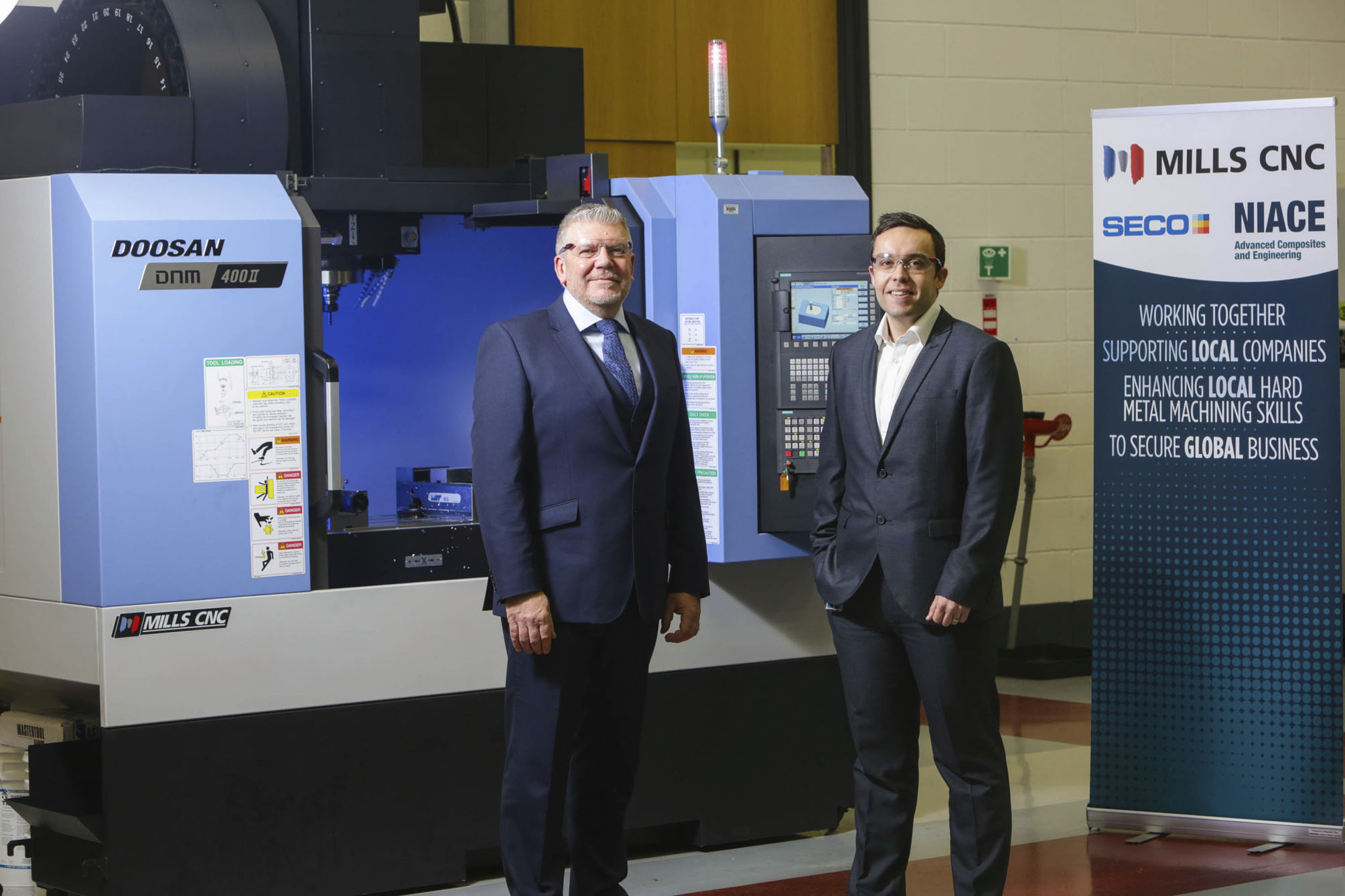 Dr Scott King, Manager at the NIACE Centre (right) with Mr Martin Blakely, Mills CNC's Business Manager Ireland (left), in front of the Doosan DNM 400 II.
The Doosan machine tool installation is part of a unique partnership between Industry, relevant government agencies (e.g. Invest NI) and research & development organisations to create a training 'Centre of Excellence' intended to raise Northern Ireland's engineering skills base and, as a consequence, make Northern Irish companies more competitive and better positioned to secure leading-edge, high-value and often global manufacturing contracts.
As well as Mills CNC, the partnership is also supported by the CNC Training Academy (the UK's premier CNC Programmer and Operator training organisation), and cutting tool and tooling specialist Seco Tools UK.
Dr Scott King, Manager at the NIACE Centre said:
"Advanced CNC machine tools, cutting tools and tooling, and requisite work-holding equipment are very expensive and can be prohibitive for a single company to purchase.

NIACE and its partners are keen to support the advanced engineering sector, by placing a unique training resource at the centre that the participants can use, while also offering support, advice and guidance."
Thanks to funding from an Invest NI Skills Enhancement Grant, , dedicated training has already taken place with a group of ten engineers being involved in a week long training programme at the centre using the Doosan DNM 400 II machine. In addition staff from The CNC Training Academy provided the CNC training input with Seco Tools supplying the cutting tools and metals' provider and processor, Metalweb providing the raw Titanium.
Martin Blakely, Business Manager at Mills CNC said:
"We are delighted that NIACE, Seco Tools, Metalweb and Invest Northern Ireland share our vision of enhancing skills in Northern Ireland. There is no dedicated training academy for CNC machining in NI, so we are delighted that Invest NI has provided the funding for this first round of training".
 The Doosan DNM 400 II
As well as being one of the best-selling vertical machining centres in the UK and Ireland due to its performance, reliability, cost-competitive price and the after- sales and service back-up provided by Mills CNC – the Doosan DNM 400 II is ideal for the high accuracy machining of exotics and hard metals, and equally ideal as a best-in-class machine for training.
The machine is equipped with a 12,000rpm direct-drive (in-line) spindle and a rigidly-designed and built headstock which reduces noise and vibration compared to belt-driven verticals. As a consequence, the DNM 400 II delivers superior surface finishes during fine machining operations.
The machine's spindle technology also means that it delivers high productivity – i.e. fast acceleration/deceleration rates which translate into reduced cycle times.
The DNM 400 II's spindle is powerful (18kW/117Nm torque) which results in improved cutting performance especially during heavy-duty operations and where high volumetric stock removal is the order for the day…something that is particularly advantageous when rough milling titanium etc. The incorporation of 'through-spindle-coolant' facility on the machine ensures improved accuracy, good chip removal and longer tool life.
Performance of the DNM 400 II is further enhanced by its roller-type guide-ways. The increased rigidity exhibited by roller guide technology delivers increased (long-life) accuracy and a more reliable and stable machining process.
Other features of the machine include good operator visibility of the working area and the introduction of a swivelling operating console and better work-piece loading and unloading capabilities including a top cover opening for crane access.
The DNM 400 II installed at NIACE is equipped with the powerful and sophisticated Siemens Sinumerik 828D CNC control system and Shopmill, Siemens' conversational programming software. Machine tools with Siemens controls are used extensively by manufacturers in the aerospace sector.
The Sinumerik 828D delivers full graphical, high-level language command capabilities and supports ISO programming. The control is ideal for single-part and small-batch production and programming time can be further reduced for small-batch production with the use of the ShopMill graphical work-step programming systems, while high-level language programming can be used in conjunction with programGuide to significantly reduce programming times for large-scale serial production.