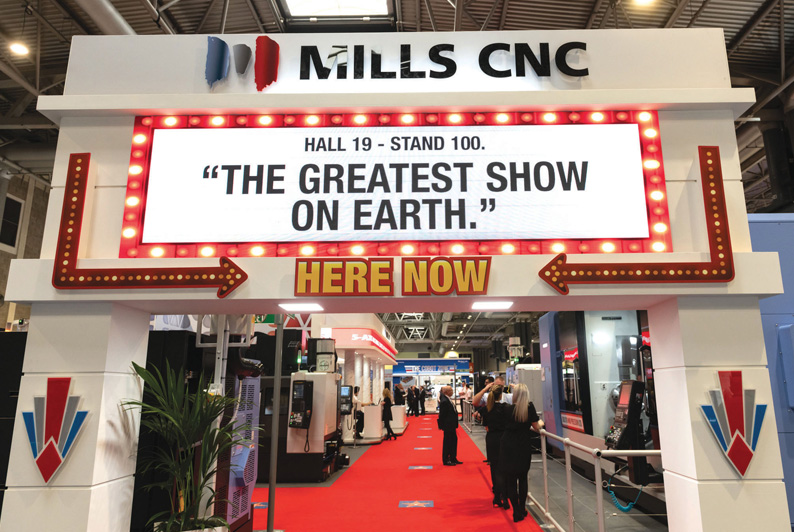 New machine tool orders taken. Hundreds of leads and enquiries generated. Thousands of visitors welcomed onto the stand.
Mills CNC's attendance at MACH 2022 is reported as being an absolute triumph and an outstanding success.
Mills CNC has reported that its attendance at MACH 2022 was an absolute triumph and an outstanding success with the company taking orders for 22 machines, its best ever tally for a MACH show, as well as taking hundreds of leads and enquiries for its Doosan machine tools, SYNERGi automated manufacturing cells and Doosan cobots over the five-day event.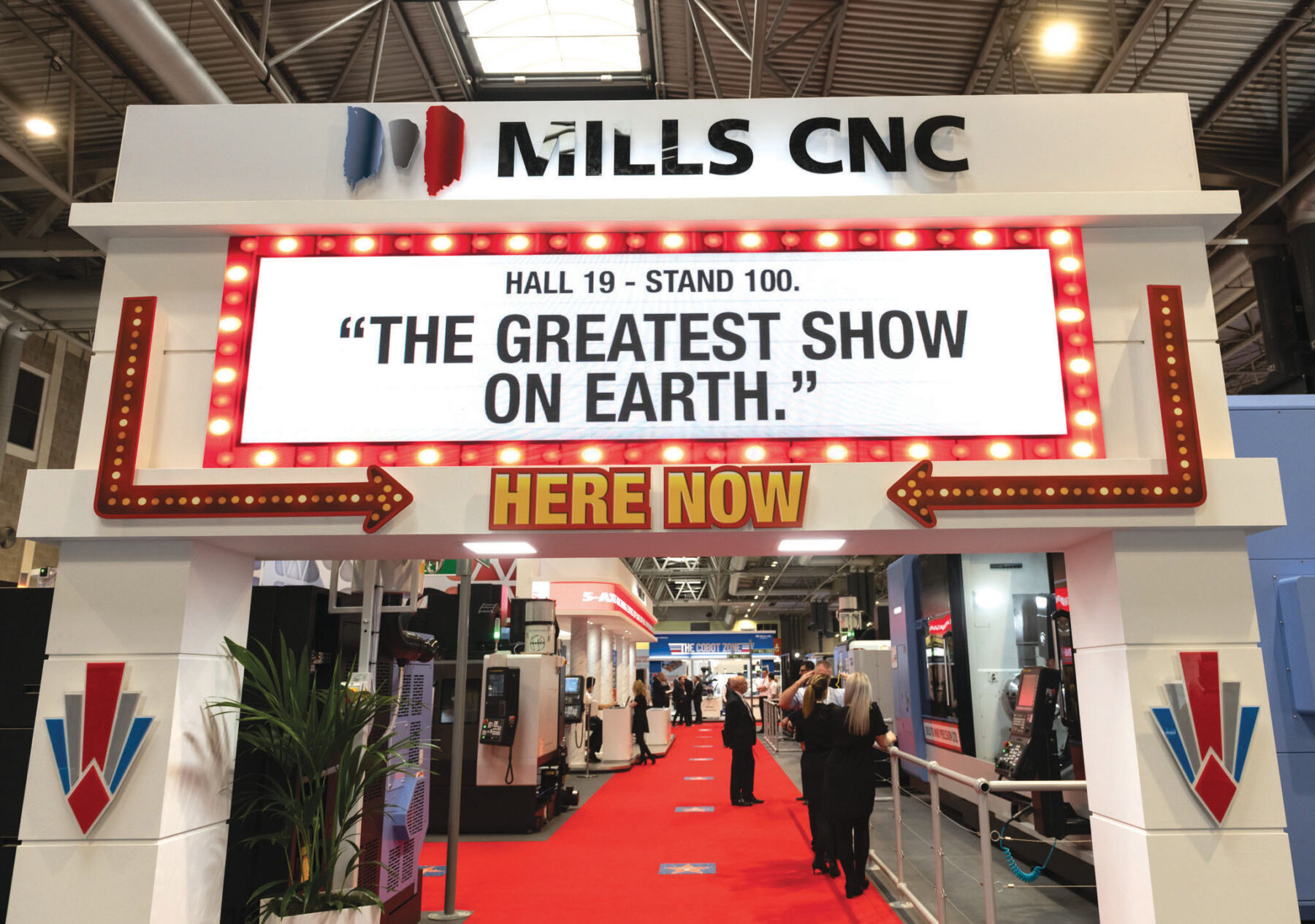 Says Mills CNC's CEO, Tony Dale:
"We've had a great MACH Show. The best in the company's history.
"It seemed as though we were busy as soon as the doors opened on the Monday and things didn't quiet down until late Friday afternoon.

"You know you've got the balance of technologies being showcased spot on, and that you have created an innovative and welcoming stand, when the aisles are packed to the rafters and the volume of leads and enquiries generated are breaking all of our previous MACH show records.

"It's clearly great news that we took orders for 22 machines during the event, and I would like to thank the customers involved for their business. It is very much appreciated."
Mills CNC at MACH 2022 – a quick reprise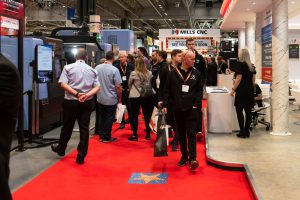 Mills CNC showcased 16 Doosan machine tools on its stand (Hall 19 – Stand 100) which, incidentally, was the largest at the event.
Seven of the machines on show were new models making their UK debuts at MACH 2022.
These comprised two large capacity SMX mill-turn machines, (a SMX 2100ST and a SMX 5100LMB), a high-speed machining centre (a T-4000 HS), two vertical machining centres (a SVM 4100 and a BVM 5700), and two new turning centres (a TT 1300SYYB and a Lynx 2600SY).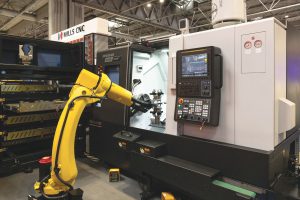 Also being showcased on the stand were two innovative and high-productivity SYNERGi automated manufacturing cells (a SYNERGi Premier and a SYNERGi Sprint), and five state-of-the-art Doosan cobots promoted from a specially constructed COBOT ZONE.
The company's Training and Servicing operations also had a presence on the stand.
The stand design had a Broadway feel and theatrical concept replete with red carpets, a 'walk of fame', four aisle entrances reminiscent of art deco theatre and cinema fascias, and large movie-style billboard posters.
Says Tony Dale:
"Everyone was very complimentary about our stand and its design. It really did look the business."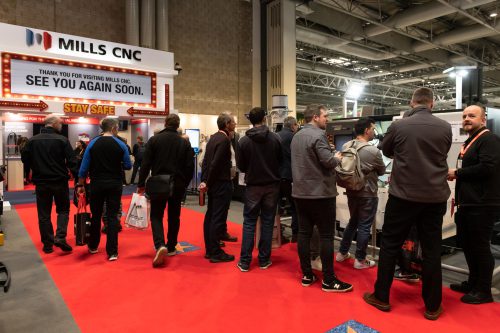 MACH 2022: The orders
Anyone visiting Mills' stand at MACH could not fail to notice the 'Sold' decals being affixed, with regularity, onto the machines on display.
A total of 22 machines were sold during the five days. These included orders for nine machining centres, eleven lathes and turning centres and two mill-turn machines.
Worthy of special mention were:
Coventry-based, MNB Precision Ltd., who placed an order for the large-capacity SMX 5100LMB on the Monday morning,
Takumi Precision Ltd., who visited Mills' stand to get up close and personal to the SMX 2100ST mill-turn machine they had ordered some weeks earlier.
 Cosworth Engines who confirmed a three-machine tool order on the stand on the Wednesday.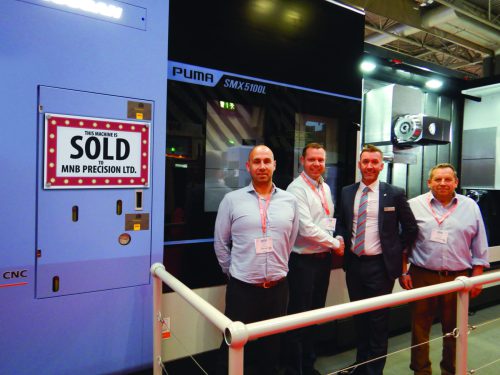 Machine tool orders were not just confined to machines being showcased on the stand.
Says Tony Dale:
"We took a number of orders for large, non-stock machines i.e., a Mynx 6500 II, a SMX 2600S and a VCF 850LSR 800".
Summary
Being the first MACH Show for four years ensured that anticipation and interest in MACH 2022 was high.
Any concerns or anxieties about visitor numbers were quickly dispelled, and aisles on Mills' stand, within the first few minutes of the doors opening on the first day, were packed to the rafters. Things continued in the same vein until close of play on the Friday.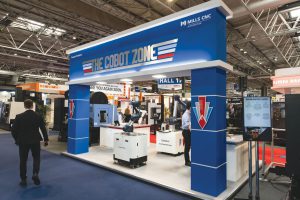 Concludes Tony Dale:
"We spent a significant amount of time and resource making sure that MACH 2022 was an event to remember.

"We are delighted that our attendance at the Show was such a resounding success and that our stand proved to be so popular.

"I would like to thank all members of staff for making it happen."