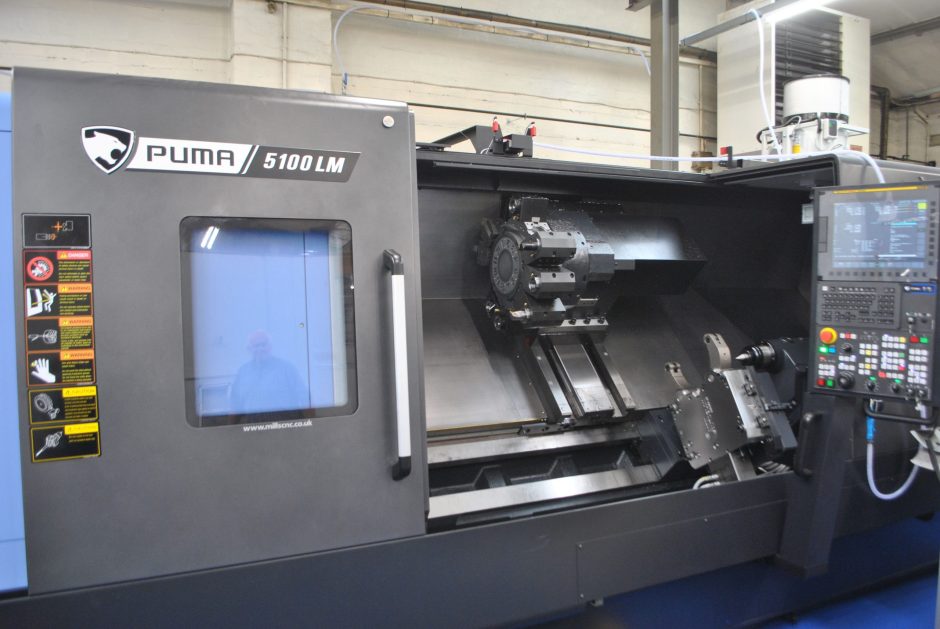 An increase in demand for its high-quality machining services from existing customers, coupled with a growing number of new and significant machining contract 'wins' from new customers, provide the catalyst for Burcas Ltd., to invest in two new machine tools from Mills CNC.
Mills CNC, the exclusive distributor of DN Solutions' and Zayer machine tools in the UK and Ireland, has recently supplied Burcas Ltd., a privately-owned precision machining subcontract specialist, based in West Bromwich, with two new, high-performance machine tools.
The new machines, both DN Solutions' models, comprise a large-capacity, heavy-duty 21" chuck Puma 5100LMB long bed, box guideway lathe equipped with driven tooling and a 10" chuck SMX 2600S multi-tasking mill-turn machine equipped with two opposing (left and right) spindles and a B-axis milling head.
Both machines feature the latest advanced Fanuc iPlus control and 15" touchscreen iHMIs, and were ordered at the same time, in early 2023, to increase Burcas' in-house machining capabilities and capacity to help the company meet a significant increase in demand, from new and existing customers, for its high-quality machining services.
The Puma 5100LMB was installed at Burcas' 32,000sq. ft. facility in April 2023 and the SMX 2600S in June.
The Puma 5100LMB and SMX 2600S are the second and third machines Burcas has acquired from Mills CNC in its 82-year history – the first being a large, powerful Mynx 9500/50 vertical machining centre that was installed in November 2020, during the height of the pandemic, to machine high-value, high-precision tooling, prototypes and components (primarily) for customers in the nuclear sector.
"The Mynx 9500/50 has been a great investment and has more than proved its worth since being acquired.
"Day in and day out the machine delivers the high part accuracies and the fast processing speeds we, and our customers, demand.
"It has undoubtedly helped us strengthen our supply chain position within the nuclear sector and, over the last three years, has been more than instrumental in helping us also secure a number of new machining contracts in the sector too."
Mike Burrows, Owner and Managing Director of Burcas
(The nuclear industry remains important to Burcas, and the company is actively working towards the "Fit for Nuclear' accreditation to consolidate and strengthen its position in the sector still further).
Burcas' positive experience with its Mynx machine, and with Mills CNC in general, was a prime motivator in the company investing in its new Puma 5100LMB and SMX 2600S machines.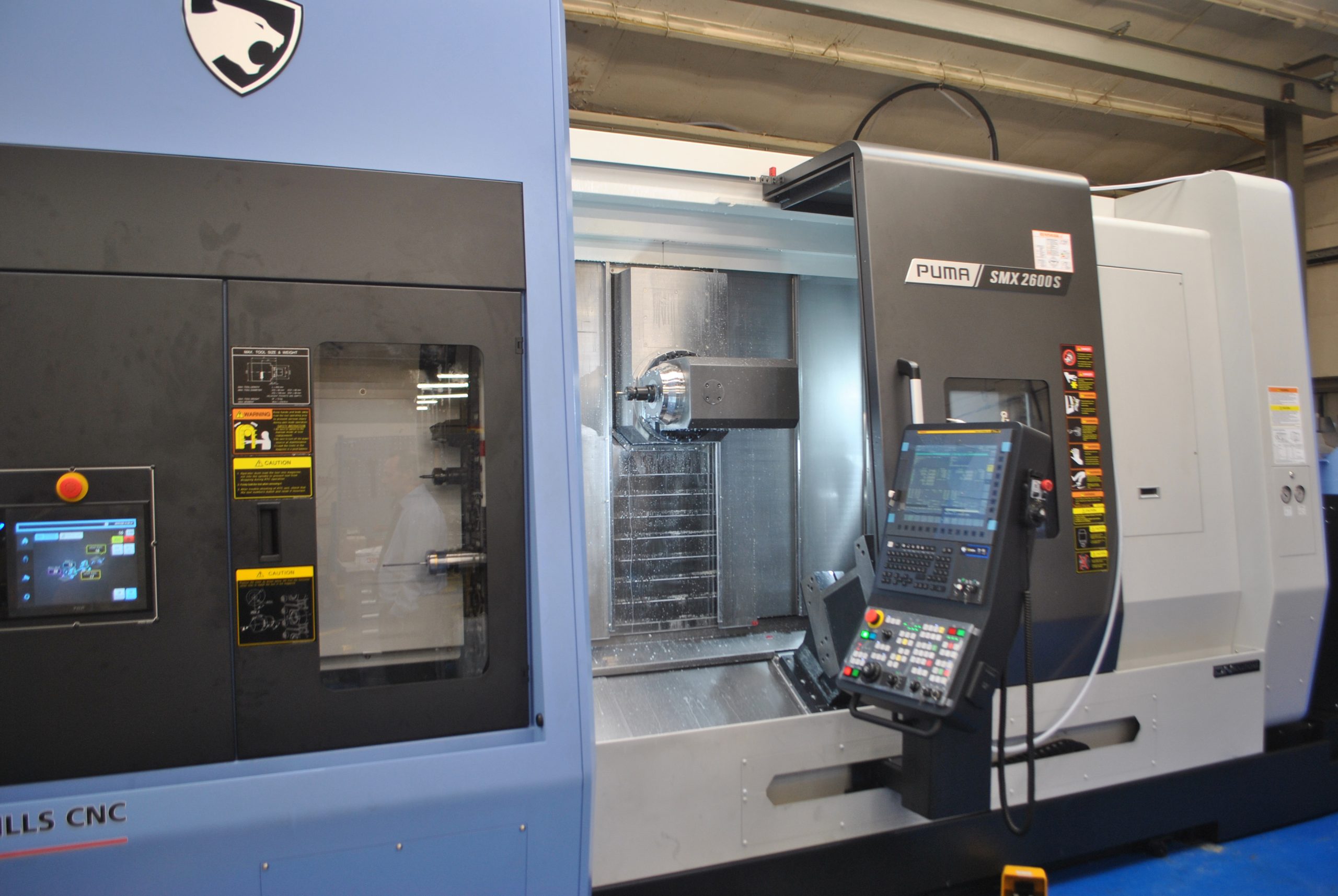 Burcas' machining services – in demand
The decision to invest in both machines was made at the end of 2022.
After a couple of years of relatively static growth, during and immediately following the pandemic, business began to pick-up.
"It was around September 2022 when enquiries from customers in the defence, aerospace, oil and gas and rail (as well as the nuclear) sectors really took off.
"This was clearly great news for us, but in order to meet such an increase in demand, we needed to evaluate our existing in-house machining capacity and capabilities, and stress-test our processes and systems, to make sure we could cope."
Mike Burrows, Owner and Managing Director of Burcas
As a company committed to continuous improvement, systematic monitoring and analysis of its production processes, isn't something new, or alien, to Burcas.
Identifying and addressing, in advance, any potential production bottlenecks and pinch points, before the new business came on stream, were necessary pre-requisites and, the company believed, would make all the difference between seamlessly ramping up production, or struggling to meet its new manufacturing targets.
The audit identified that Burcas needed to strengthen its turning and milling capabilities.
"The new business we had acquired was all high precision in nature and involved the machining of different materials: everything from aluminium and nickel-chrome-molybdenum steel, through to stainless steels, titanium and Hastelloy etc.
"With such diversity, we needed versatile machines capable of both performing heavy-duty roughing operations (with an emphasis on fast, accurate and high material removal rates), right through to undertaking super-fine finishing operations…and everything in-between.
"To improve our productivity and process efficiencies, we also knew that multi-axis machines would (and needed to) be the direction of travel."
Mike Burrows, Owner and Managing Director of Burcas
Armed with a clear understanding of its new machine tool requirements, Burcas approached the market in early 2023 with Mills CNC being one of its first ports of call.
"We like Mills' business approach and have built a good relationship with the company in a relatively short period of time
"The depth and breadth of the DN Solution's range of machines is extensive and Mills' progressive stocking policy means that machine availability is good.
These strengths, combined with Mills' after-sales and service support, put them in a strong, favourable position vis a vis our new investment requirement."
Mike Burrows, Owner and Managing Director of Burcas
Subsequent discussions between Burcas and Mills ultimately resulted in a two-machine-tool package being agreed by both parties.
The machines: a closer look
Puma 5100LMB
The Puma 5100LMB is a large-capacity (long-bed) box guideway lathe with a 650mm maximum turning diameter and a 2002mm maximum turning length.
The machine is equipped with a powerful, high-torque (45kW/1500rpm/2957N-m) spindle, driven tooling (4000rpm) and a 12-station turret. The machine supplied to Burcas features a dead-centre tailstock and through-spindle-coolant (20bar) capability.
Since being installed the Puma 5100LMB has been put through its paces machining a range of prototypes and parts for the company's defence, rail and oil and gas customers.
"The Puma 5100LMB is a great acquisition that has considerably strengthened our in-house turning capabilities.
"The machine's driven tooling capability also means that parts do not need to be transferred to a machining centre and can be completed in one set up."
Mike Burrows, Owner and Managing Director of Burcas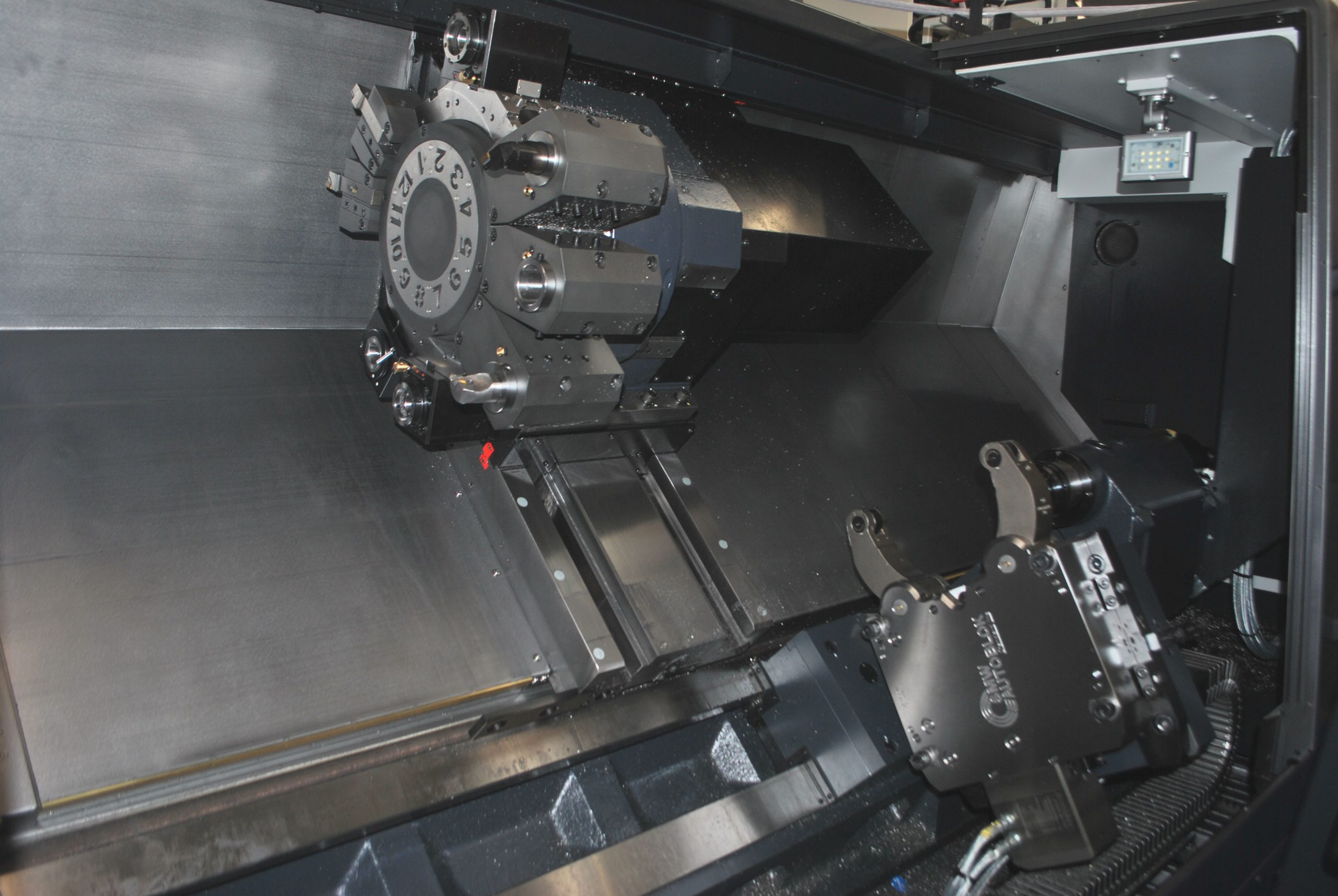 SMX 2600S
The SMX 2600S is a high-performance, multi-tasking mill-turn machine equipped with two (opposing) 30kW/4,000rpm spindles which, with its B-axis (12,000rpm) milling spindle, can perform a range of machining functions (i.e., turning, milling, synchronised cutting) in a single set up.
The machine features a 40-position automatic tool changer and was supplied to Burcas with linear scales (X- and Y-axis) for improved accuracy and a SLU-X4 steady rest for machining longer parts.
"The SMX 2600S has only recently been installed but is already making a difference machining high-precision, complex parts to completion, in one set up, for our newly-acquired aerospace and defence machining contracts.
"The machine's mill-turn capabilities also means that we have been able to re-imagine and develop new, more efficient machining processes for existing parts – freeing up time and production capacity on our other lathes and machining centres."
Mike Burrows, Owner and Managing Director of Burcas