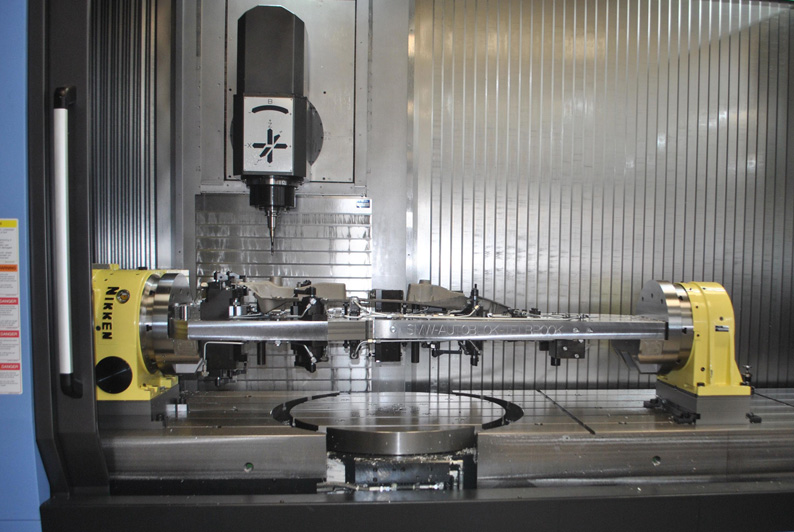 Leading precision subcontractor invests in two new Doosan 5-axis machining centres, both featuring innovative and highly customised 'turnkey' workholding solutions designed by Mills CNC in collaboration with a number of its technical partners.
Mills CNC, the exclusive distributor of Doosan machine tools in the UK and Ireland, has recently supplied leading precision subcontract specialist – NuMachine Ltd – with two new, high-performance 5-axis machining centres.
The machines, a VCF 850LSR and a DVF 6500, were installed at the company's 10,000sq. ft. facility in Hereford in May 2021 and are being used to machine, in small batches and to high precision, specific cast aluminium automotive components required by sister company, Coventry-based Sarginsons Industries Ltd – the globally-renowned consultancy and DfM (Design for Manufacture) and casting technology specialist – to fulfil a long-term contract with one of its automotive customers.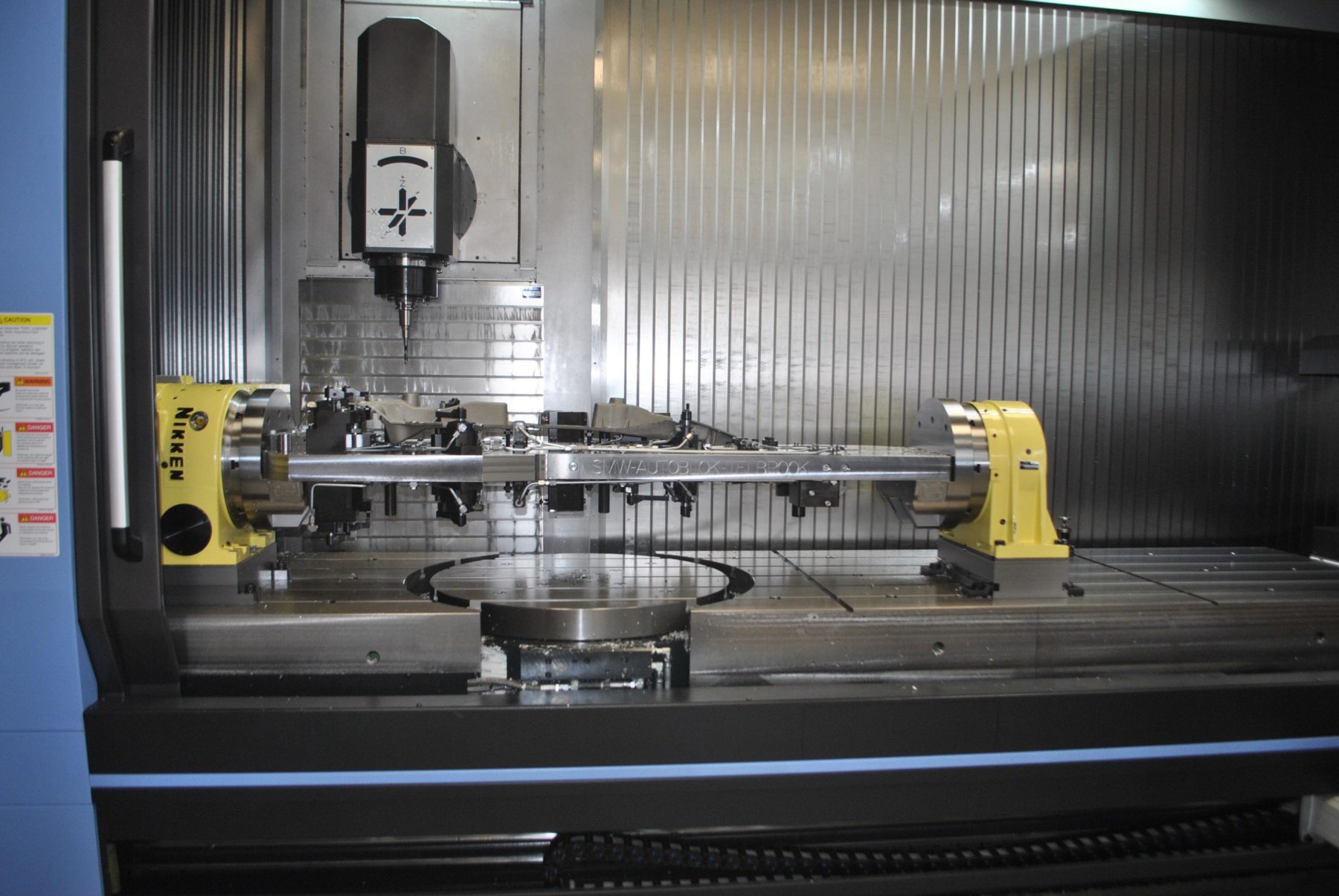 Explains NuMachines' managing director, Brandon Davies:
"Although we are an independent precision subcontract engineering company in our own right – some 30-40% of our business, year-on-year, does derive from Sarginsons.

"As such the strong and mutually beneficial relationships between both companies has enabled us to build up significant in-house knowledge and expertise in machining lightweight components (i.e., castings) for those sectors and industries served by Sarginsons…the automotive sector being particularly prevalent.

"As a company with a reputation for taking on, and succeeding with, difficult machining jobs we were approached (by Sarginsons) in 2020 to see if we could help them with a specific machining contract – one where their existing supplier was finding it difficult to meet the customer's stringent quality and lead time requirements.

"Having looked at the parts in detail it was clear that we would need new 5-axis machining capacity to be able to machine the parts in question…in the quantities required."
It's got to be Doosan!
NuMachine is no stranger to Doosan machine tools or to Mills CNC.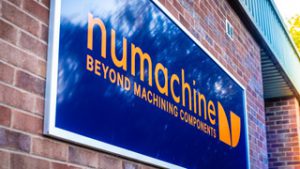 As such NuMachine had, even before its most recent 5-axis machining centre investments, four Doosan machine tools at its disposal – the most recent being a Puma 3100Y (Y-axis) lathe and a large-capacity DNM 750 II vertical machining centre – both acquired in 2020.
Says Brandon Davies:
"Doosan machine tools deliver great performance. They are reliable and are competitively-priced.

"The fact that they are supplied and are backed by Mills CNC is a key determining factor as we believe that Mills' after-sales services and its applications and technical support, are amongst the best in the Industry.

"The strength of the Doosan: Mills CNC partnership (and our experience of it) was the main reason we approached Mills with our requirement for two new 5-axis machining centres."
Specific machines for specific parts
The two new Doosan 5-axis machining centres were acquired by NuMachine to machine specific (automotive) aluminium cast components.
Since being installed the VCF 850LSR has been used to machine long, thin and asymmetrically-shaped (left and right) B. Pillars, and the DVF 6500 to machine (left and right) performance-critical front suspension mountings.
The B. Pillars and suspension mountings parts have complex profiles. They are machined to tight geometric tolerances and exacting surface finishes, and feature a number of intricate details i.e., thin walls, multiple cavities, blind holes etc.
To ensure that the parts' structural integrities are maintained during machining, and to make job set-up and cycle times as productive and efficient as possible, both machines were supplied to NuMachine with innovative and highly-customised workholding solutions that, prior to the machines' delivery, had been designed, developed and proven out by Mills CNC at its campus facility in Leamington.
Continues Brandon Davies:
"Although the machines were installed at our facility in May 2021 – the project, in reality, began some months' earlier and involved us working closely with Mills and a number of the company's technical partners to design and integrate 'best-in-class' turnkey fixturing to both machines."
VCF 850LSR and the machining of the B. Pillars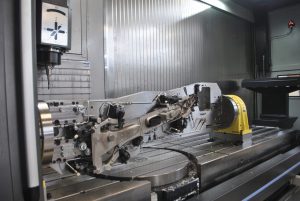 The workholding designed for machining the left and right B. Pillars clamps each part securely in place, enabling high-precision machining operations to occur without deformation.
The B. Pillars are machined individually on the VCF 850LSR. Each part, which is long, thin and curved is held in place by two rotary tables and a trunnion plate.
The part is rotated (indexed) 90 degrees and then locked to allow the machining of each of its four sides (i.e., top, bottom and two sides) to occur.
Only one set up is required for all machining operations to be completed, and the fixture can be used to machine both the left and the right B. Pillars.
An innovative feature of the workholding solution is the ability to machine features through apertures and spaces designed in the trunnion plate.
Says Brandon Davies:
"To ensure we were able to meet our customer's lead times and to help keep costs down we needed one workholding solution for machining both (left and right) parts, and to machine the parts in one hit.

"It was a tall order – but Mills delivered the goods."
DVF 6500 and the machining of the suspension mountings
It was a similar situation with the DVF 6500 and the machining of the left and right front suspension mountings.
Says Brandon Davies:
"A similarly innovative turnkey solution was developed for these parts.

"Specific issues that Mills had to take into account with the suspension mountings was the machining of blind and angled holes, and the use of long 300mm tools.

"The solution designed by Mills and its partners involves the use of three separate fixtures…one fixture each for completing first operations on the left and right suspension mountings, and the third (shared) fixture for undertaking the second operations on both mountings."
Says Brandon Davies:
"There are fixture changeovers required to machine these parts but, with practice, we have got these down to a fine art."
The two Doosans – a closer look.
a) VCF 850LSR
The VCF 850LSR is a large-capacity, travelling column-type 5-axis machining centre with a tilting B-axis head. The head can rotate 110 degrees on either side of vertical, enabling the VCF 850LSR to machine large and complex parts in a single set up. The machine also has a large working envelope – 3000mm x 850mm x 800mm (X/Y/Z).
Says Brandon Davies:
"The VCF 850LSR is a large-capacity, flexible 5-axis machining centre. The machine's large X- and Y-axis travels, and its B-axis milling head make it ideal for the machining of the B. Pillars."
The machine supplied to NuMachine was equipped with the latest Heidenhain TNC 640 control, a 22kW/12,000rpm high-torque spindle, a 60-tool servo-driven ATC, linear scales on its X/Y and Z-axes for high positional accuracy and a touch spindle probe and 3D tool probe package.
b) DVF 6500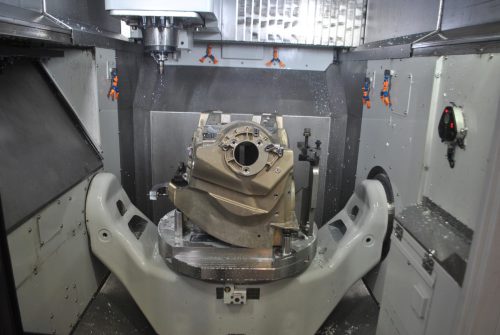 The DVF 6500 is a high-performance (simultaneous) 5-axis machining centre equipped with a powerful, oil-cooled and directly-driven BT40 spindle, a 650mm diameter direct-drive rotary tilting table with a 1000kg maximum table load, a servo-driven ATC, roller LM guideways and integrated thermal compensation.
The machine supplied to NuMachine was also equipped with the Heidenhain TNC 640 control, as well as a 12,000rpm spindle and a touch spindle probe and 3D tool probe package.
Says Brandon Davies:
"The capacity and capabilities of both machines were exactly what we required for machining the automotive castings.

"The fact that they were in stock enabled us (and Mills) to start work on the turnkey projects quickly – which was another plus point."
The arrival of the two new machines in May 2021 did disrupt the company's production schedules and necessitated the craning in of both machines through the roof.
Remembers Brandon Davies:
"It was a turnkey installation as well. The roof needed to be lifted and almost all our other machines needed to be moved or re-positioned in order to site the two new Doosans. Thankfully this was all accomplished with minimal disruption thanks to Mills' operations and logistics team."
Summary
The VCF 850LSR and DVF 6500 machining centres with their innovative fixturing have helped NuMachine significantly reduce part set-up and cycle times, ensure component quality consistency and improve process reliability.
Although the machines are essentially 'tied-up' machining the B. Pillars and suspension mountings at this moment in time, the company does have two high-productivity and readily-accessible 5-axis machining centres at its disposal for future work.
Concludes Brandon Davies:
"We are a company committed to continuous improvement and the recent investment in the two Doosan 5-axis machines is further evidence of this. By constantly investing in our people, in our plant and equipment and in our processes and systems we are determined to be 'the best we can possibly be.'

---
About NuMachine Ltd.
The new company, employing 25 members of staff, has close ties to Sarginsons Industries (based in Coventry), but does operate independently and, as such, serves a range of domestic and international customers operating in the surgical instrumentation, spectroscopy, microscopy, industrial and process cleaning equipment, and advanced etch, PVD, CVD wafer processing equipment…to name but a few.
Approximately half of the company's turnover is generated from working with customers in these sectors and industries. The other 60% derives from operating as the preferred machining partner to Sarginsons and, as a consequence, the machining of high-precision castings used in the automotive, oil and gas, rail and aerospace sectors.
The company specialises in the machining of prototypes and small batches often made from difficult to machine materials that include exotics as well as stainless, titanium, aluminium, copper, plastics etc.
In addition to machining the company provides customers with front end DfM (Design for Manufacturing) consultancy services.
DfM is the optimisation of a part or a component's design, to create it more economically and more efficiently. DfM involves designing, engineering or re-engineering a product, during the early design stage, when it is easier and less expensive to do so, in order to simplify the manufacturing process and, as a result, reduce manufacturing costs.
---