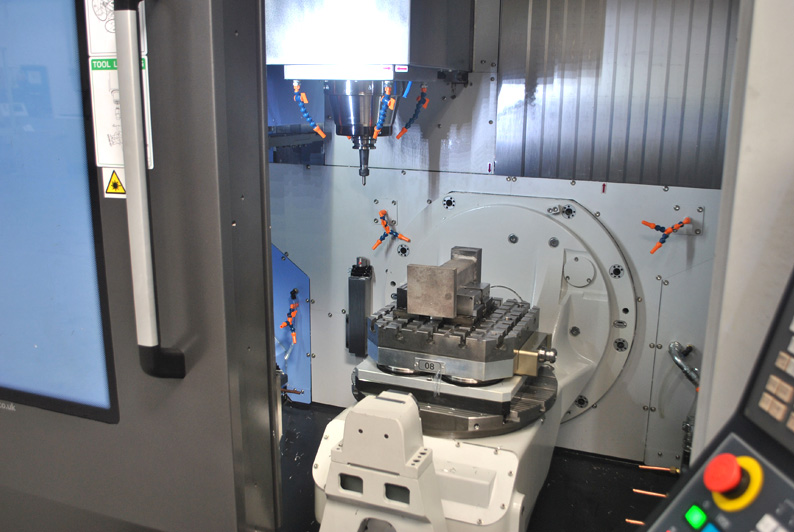 To help get its recently introduced precision subcontract machining operation up and running, and to give it an immediate and distinctive competitive edge, Greater Manchester-based, Volz Engineering Ltd, has invested in two, new multi-tasking Doosan machines, each supplied with integrated automation, from Mills CNC.
Mills CNC, the exclusive distributor of Doosan machine tools in the UK and Ireland, has recently supplied Volz Engineering Ltd., part of the internationally renowned Volz Group and a wholly-owned subsidiary of Volz Filters UK, with two, new Fanuc-controlled multi-tasking machine tools.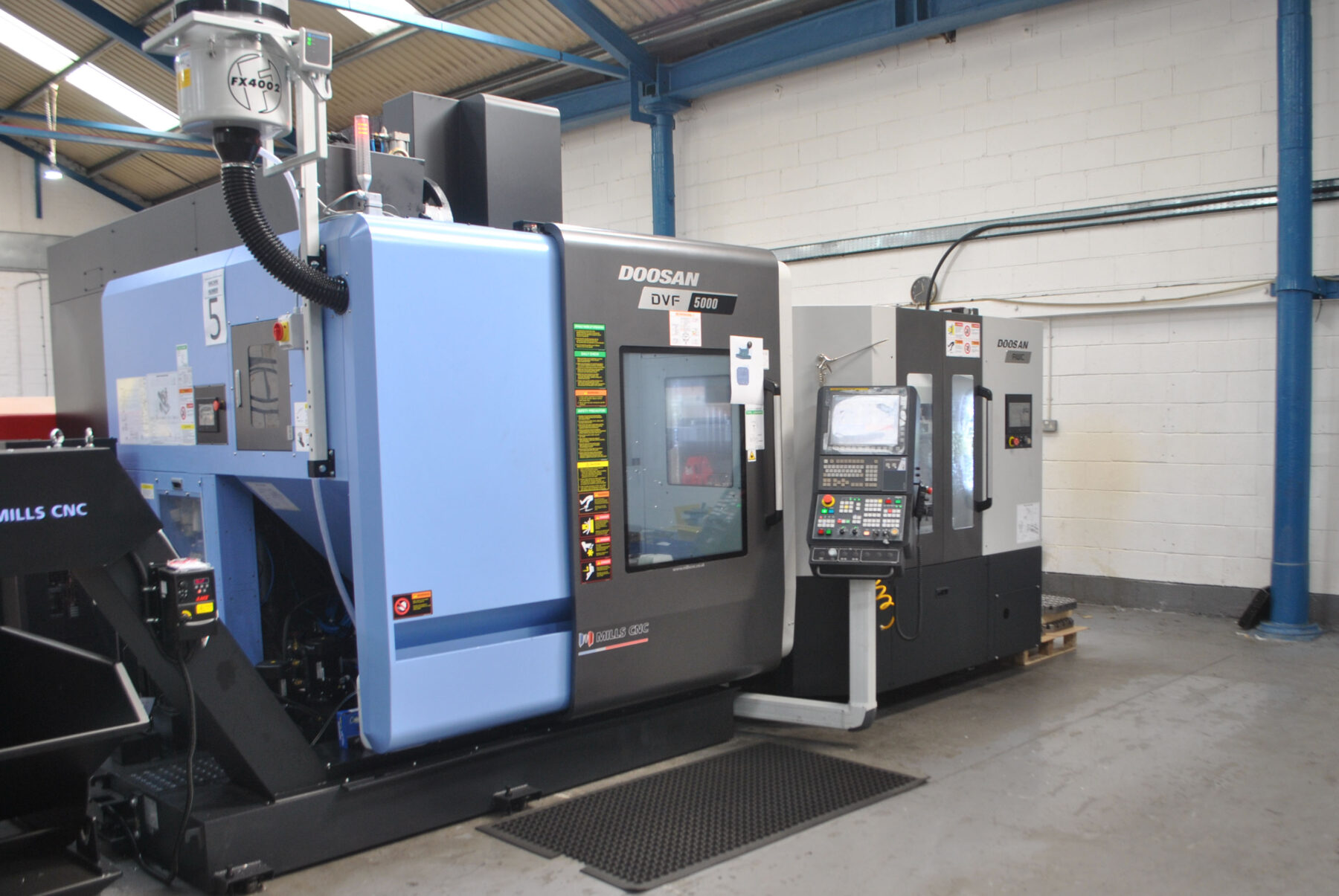 The machines – a compact 8" chuck Lynx 2100LSY turning centre, equipped with a sub-spindle, Y-axis and driven tooling, and a best-selling DVF 5000 (5-axis) machining centre equipped with an 18,000rpm spindle and a 120-tool position ATC – were installed at the company's 10,000sq. ft facility in Rochdale in December 2021 and February 2022, respectively.
To increase the productivity potential of each multi-axis machine still further, Volz Engineering, through discussions with technical sales staff at Mills CNC, augmented its investment by placing orders, at the same time, for a Hydrafeed Multifeed 65 short magazine bar loader (to be integrated with the Lynx lathe), and a Doosan (8-pallet station) Automatic Workpiece Changer (AWC), to be integrated with the DVF 5000 machine.
Says Managing Director, Alan Reeson:
"As part of our ambitious growth strategy we have recently rationalised and refocused the scope and scale of our operations: divesting low-growth and less profitable business activities in favour of ones that offer a better growth trajectory and a more favourable return on investment."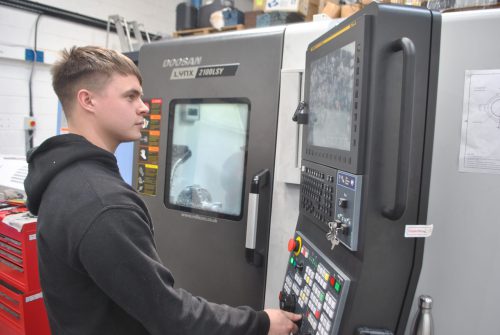 As a consequence, Volz Engineering's focus, moving forwards, will continue to be on the manufacture of high-quality components (i.e., filter frames and strips etc.,) for its parent company, as well as on the design, development and manufacture of specialised, application-specific automated filtration production machines.
To meet global demand, it is anticipated that the company will significantly ramp up production of these machines in the future.
In addition to focusing on these 'core' business activities, the company has also made the strategic decision to diversify its operations and create a high-quality, precision subcontract machining operation located at its existing facility.
"This is where the real opportunity for significant and sustained business growth lies", says Alan Reeson.
The acquisition of the two new Doosan machines and its investment in automation technology demonstrates the company's commitment to making a success of the new venture.
The new venture
Volz Engineering's precision subcontract machining business is intended, in the first instance, to provide local, regional and national manufacturers with high-quality machined and competitively priced components…delivered on time…every time.
Says Alan Reeson:
"The danger, when setting up any subcontract machining operation, is to lack focus and attempt to try and be 'all things to all people'. This approach invariably means that you can end up chasing your tail and are tied up dealing with unprofitable work.

"For our operation we have adopted a different route and implemented a 'sniper' strategy, targeting those sectors and specific companies, where we know we can provide real value and develop long-term, mutually profitable relationships."
Doing the homework…first things first
Prior to launching its new precision subcontract machining operation, the company did its homework and spent significant time and resources creating a robust and comprehensive business plan.
Explains Alan Reeson:
"By researching the market and understanding customer needs and requirements, as well as competitor strengths and weaknesses, we have been able to create differentiation in the market based on quality, service and reliability, and cost-competitiveness."
Scope and scale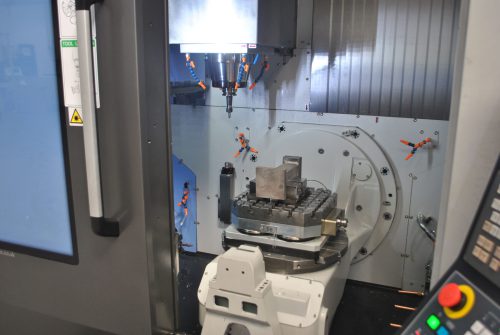 The scope and scale of Volz Engineering's subcontract machining operations determined, in part, by its market research activities and combined with the significant experience and expertise of key members of staff, are focused on the milling and turning of complex, precision parts, made from a range of materials, and characterised by their tight geometric tolerances and high surface finish requirements.
The focus, again determined by market demand and business opportunities, but also conditioned by the physical space available at Volz Engineering's existing facility, is on milled parts (typical dimensions up to 500mm x 500mm) and turned parts (typical diameter up to 65mm).
Says James Alletson, Operations Director:
"Like every company we have limited space available.

"In setting up our precision subcontract machining operation we clearly had to keep in mind these limitations as well as the footprints of the new equipment we required.

"Another aspect of our subcontract service was on our ability to machine one-offs and prototypes, through to pre-production parts and low-to-medium volume batch series."
Getting started
Having identified where the business opportunities existed, Volz Engineering implemented an Action Plan to bring the new venture to life.
The Plan included a programme to refurbish and modernise its existing facility (in order to comfortably house the subcontract machining operation), as well as an outline CAPEX budget that would be used to acquire the new machining technologies and equipment required.
Says James Alletson, Operations Director:
"Our facility needed to be significantly upgraded in order to meet our immediate and future needs. In addition to improving the power and air supply and overhead lighting, we also spent time reorganising the factory floor to optimise the workspace available and to improve workflow.

"Creating dedicated 'zones' for filter component production and for the design and assembly of our specialised automated filtration production machines freed-up much needed space for the new subcontract machining operation."
Machine tool technology investment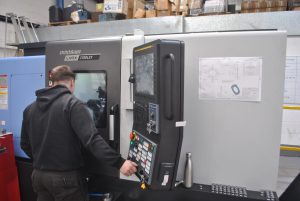 The success of Volz Engineering's subcontract machining operation depended on its ability to make complex, precision parts faster, better and more economically than the competition.
In order to do this the company made a number of strategic investment decisions.
New vs old
It was decided, early on in the process by Senior Managers, that the new subcontract service would have and rely on new, as opposed to used, machine tools and equipment.
Continues James Alletson:
"Whilst there are no doubt some excellent used machine tools on the market, we decided, from a reliability and performance perspective, that our new precision subcontract service would have new machines and equipment at its disposal.

"Because we want to break into, consolidate and grow our position in advanced, hi-tec markets (i.e., automotive, aerospace, defence etc.), it was important, from the outset, that we created a favourable impression with customers.

"New machines don't just look the part, they are also less prone to breakdowns, inspire confidence with customers that you can meet their expectations, and signify to customers and internal staff the commitment to the new venture."
Doosan machines vs other manufacturers/suppliers' machines
Senior managers at Volz Engineering decided, early on in the process, that the new machine tools they wanted and needed for the subcontract machining operation would be Doosan machines.
Doosan machines have a reputation for quality, value and reliability, and they are sold and supported in the UK and Ireland by Mills CNC.
Says James Alletson:
"A number of staff had gained experience operating and programming Doosan machine tools from previous employment. They liked the machines, were familiar with the controls and the machines' layout and configuration, and also recognised and appreciated the strength of the pre-and after-sales service and support provided by Mills CNC.

"By undertaking research into the market, and through talking to other component manufacturers, it was also clear that Doosan: Mills partnership was highly regarded and respected throughout industry."
Standard vs multi-axis machines
Volz Engineering made the decision to invest in multi-axis, multi-tasking machines.
The 8" chuck/65mm bar diameter Lynx 2100LS, with its 300mm maximum turning diameter and 510mm maximum turning length, is equipped with a 15kw/4500rpm spindle and a 12-station turret.
The machine is fast (up to 36m/min rapids), and flexible (6000rpm driven tooling capability and 105mm Y-axis and a 5"chuck sub-spindle (6,000rpm).
The DVF 5000 (5-axis) machining centre is equally versatile and productive and is equipped with an 18,000rpm spindle and a 120 position ATC. The machine features integrated thermal compensation, boasts 40m/min rapid rates and has a 500mm diameter table with a 400kg maximum table load.
Explains James Alletson:
"Multi-axis and multi-tasking machines, like the Lynx 2100LSY and DVF 5000, are critically important if you want to reduce set-up and part cycle times.

"The ability to machine parts to completion in a single set up improves productivity and operational efficiencies and delivers a real competitive advantage.

"As a relative newcomer onto the subcontract machining stage, so to speak, we simply couldn't be seen as a 'me too' supplier. Instead, the investment in multi-axis machines, enabled us to differentiate ourselves in a cluttered market, and deliver real, tangible and provable benefits to customers."
Integrated automation vs standalone
Right from the outset the focus for Volz Engineering, was on increasing the productivity, and improving the performance, of the machine tools being acquired, by investing in automation systems. These systems would help improve operational efficiencies, reduce the cost per part and enable tight lead times to be fulfilled.
Explains Alan Reeson:
"Automating our new machining processes was a priority for us and was a no brainer.

"We recognised that an ability to run the machines unattended, overnight and over the weekends, would give us a distinct competitive advantage over many of our competitors.

"There seemed little point in investing in advanced machine tool technologies (like the Lynx 2100LSY and the DVF 5000), only to have them sitting idle for a considerable period of time every week."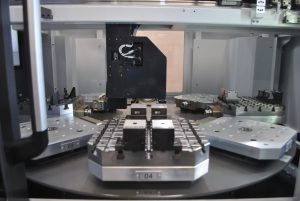 Moving forwards
Having researched the market and narrowed down the choice of machine tool supplier, and the type(s) of machine tool(s) required for the new business venture, Volz Engineering approached Mills CNC.
From talking to Mills' sales and applications engineers about their plans and immediate and future requirements the investment in the Lynx 2100LSY with an integrated bar loader, and the DVF 5000 with the integrated AWC pallet change system was agreed.
Back to the present
Since being installed the two new Doosan machines have been working well.
In just a few months almost the entire turning capacity provided by the new Lynx 2100LSY investment has been taken by an automotive customer! This has resulted in the company making an investment in a second multi-tasking Lynx lathe – a larger 10" chuck Lynx 2600SY – and a MSV 80 bar feeder.
Says Alan Reeson:
"The Lynx 2100LSY is fast, accurate and versatile – a productivity powerhouse. The machine and integrated bar feeder enables continuous production and has helped us to win significant new business in a relatively short space of time."
Similarly impressive is the performance of the DVF 5000 with the integrated AWC.
Says Alan Reeson:
"The Doosan DVF 5000 equipped with a powerful spindle, a large ATC, Renishaw probing, thermal compensation and an efficient swarf management system, and featuring the 8-station workpiece pallet changer, is built for reliable unattended, lights out operations.

"The machine is proving instrumental in helping us make serious inroads into the aerospace and defence component manufacturing markets."
Summary
Volz Engineering, backed by the ambitions and muscle of the Volz Group, is committed to growth.
The company's relatively new subcontract machining operation has got off to a flying start and, in just four months, has seen the company invest in its third Doosan multi-tasking machine.
All signs suggest that there will be more investments made in the future.
Further information:
Volz Engineering Ltd
Unit 1 Scott Industrial Park,
Fishwick Street,
Rochdale,
Lancashire,
OL16 5NA
Tel: 01706 350005