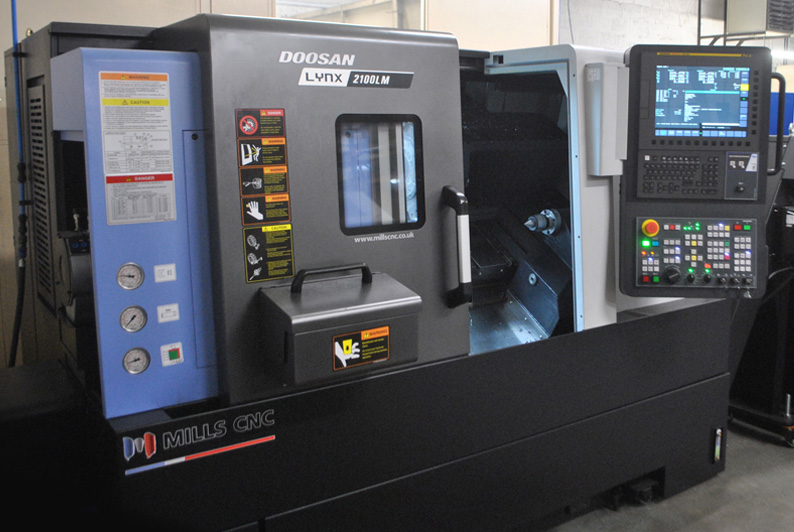 Despite the pandemic and subsequent lockdowns and restrictions, Newbury-based precision subcontractor demonstrates its resolve and shows its ambitions by investing in a new Doosan multi-tasking lathe.
Mills CNC, the exclusive distributor of Doosan machine tools in the UK and Ireland, has recently supplied Berkshire-based Cadmatic Engineering Services Ltd. (www.cadmatic.co.uk), a leading precision toolmaker and subcontract machining specialist, with a new Doosan multi-tasking lathe.
The 8" chuck Lynx 2100LMB acquired by Cadmatic, is a compact, powerful and flexible lathe equipped with a 15kW/4500rpm main spindle, driven tooling capability (3.7kW/6000rpm), a tailstock and the latest Fanuc i series control with a 15" touchscreen. As part of the investment the Lynx lathe was supplied with a CNC bar puller.
The new Lynx 2100LMB was installed at Cadmatic's 4,200sq. ft facility in Newbury in December 2020.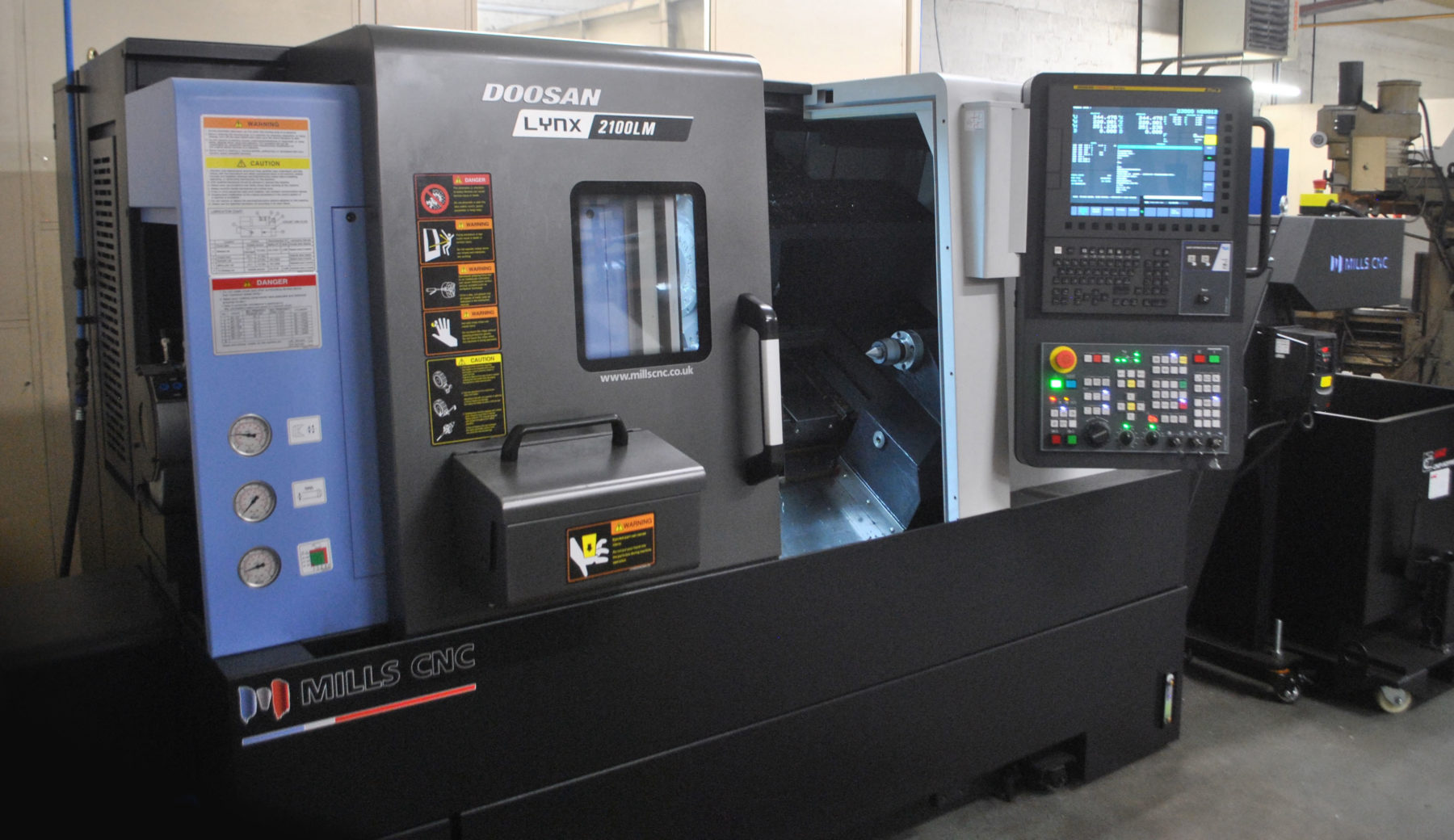 Since its arrival, it has been put through its paces machining a range of high-accuracy and high-performance press tool components (i.e. pins, pillars, shanks etc.) for new press tools (i.e. blanking tools, piercing tools, forming tools, progression tools etc.), the company designs and manufactures for its automotive customers.
The Lynx is also being used to machine a diverse range of press tool replacement parts as well as associated jigs and fixtures and, increasingly, low-to-medium volume production of small, high-precision parts for a growing number of customers seeking to take advantage of Cadmatic's high-quality and well-respected subcontract machining services.
Cadmatic Engineering Services – history
Cadmatic Engineering Services was established in 2001.
The family-owned, ISO 9001- 2015 accredited company started out as a precision toolmaking business – designing, manufacturing and assembling new press tools for a range of automotive customers as well as providing comprehensive and proven press tool repair and modification services.
In addition to its design capabilities and machining expertise, which included milling, turning, grinding and wire and spark erosion EDM, the company also augmented these services by offering customers heat treatment, anodising, plating etc: a complete one-stop (press tool) solutions provider.
After a few years the company also began to diversify its operations – providing subcontract machining services to customers.
New ownership – new direction
In 2020 the company was acquired by new owners and directors, Mark and Kerrie Humphrey.
The husband and wife team, both employees at Cadmatic since 2018, began the management buy-out process in late 2019, with a view to taking full control in Spring 2020.
"Then", says Kerrie Humphrey "Covid-19 struck".
Although we've all lived with the pandemic and the numerous lockdowns and restrictions for over 12 months now – the uncertainties and anxieties created during the first months of the outbreak for all businesses, but perhaps more so for SMEs, were immense.
For Cadmatic, with its new owners waiting in the wings, it was an extremely challenging time.
Remembers Kerrie Humphrey:
"We had always wanted to own and run our own business.

"We believed our (joint) experience gained from working in the aerospace manufacturing sector with its emphasis on advanced machining processes and machine tools, and where quality, accuracy and fast turnaround times are essential prerequisites to success – would stand us in good stead and would be invaluable in helping us grow, the general subcontract machining side of the business, still further.

"We didn't anticipate that one of our first jobs would be to furlough staff."
From April to June 2021 the company was operating with skeleton staffing and was essentially just 'ticking over.'
"They were difficult times", says Mark Humphrey, "but we believed in ourselves…and were confident that we could make our new venture work".
From July onwards business began to pick-up.
Automotive customers anxious about the 31st December Brexit deal deadline and its implications on, and to, their supply chains began to ramp-up production – stockpiling components in case of shortages.
"The upsurge in demand from automotive customers helped to get us back on track," says Kerrie Humphrey.
New machine tool investment
It was always the new owners' intention to strengthen the company's machining capabilities and capacity in order to increase its precision machining subcontract business.
An audit of the company's existing capabilities revealed that its turning operations required attention.
Explains Mark Humphrey:
"We needed to improve our turning capabilities but, rather than just acquire additional (like-for-like) capacity, we decided to invest in a compact, multi-tasking machine that, with its integrated driven tooling functionality, could machine precision parts in one hit – helping us reduce part cycle times and, as a consequence, lead times too."
The 'pick up' in business, experienced from July 2020 onwards, provided the company with the confidence to approach the market…investigate the options and alternatives… and identify the ideal CNC lathe for its requirements.
Says Kerrie Humphrey:
"Although we had 14 machine tools at our disposal, none of them were Doosans.

"However, having done our homework and compared the technical specifications, price and availability of a range of different lathes from a number of different suppliers, we ultimately opted for the Doosan Lynx 2100LMB from Mills CNC."
Lynx 2100LMB:
The Lynx 2100LMB is a fast, accurate and flexible machine which, in addition to its powerful main spindle and productivity-boosting driven tooling capabilities, also features a fast servo-driven (12-position) turret and the latest Doosan Fanuc i series control.
Says Mark Humphrey:
"I particularly liked the machine's fast turret indexing capabilities, which helps reduce cycle times, and the machine control's 15" touchscreen which doesn't just look the part, but also improves visibility and facilitates fast and more reliable data input.

"Mills was able to supply the Lynx lathe with a large Grippall CNC bar puller which has enabled us to use the machine for bar work and to run it unattended during the day shift."
Conclusion
Since December 2020, when it was installed, the Lynx 2100LMB has been used to machine press tool components, jigs and fixtures and, increasingly, a range of high precision (often complex) parts in low-to-medium volumes.
Mark and Kerrie Humphrey have been at the helm of Cadmatic for almost one year.
Despite the challenges experienced in the first few months (due to the pandemic), their commitment to quality and reliability, and to 'being the best they can possibly be', is testament to their calmness under pressure…their perseverance…and their business acumen.
The investment in their first Doosan machine speaks volumes about their ambition and their drive to succeed.