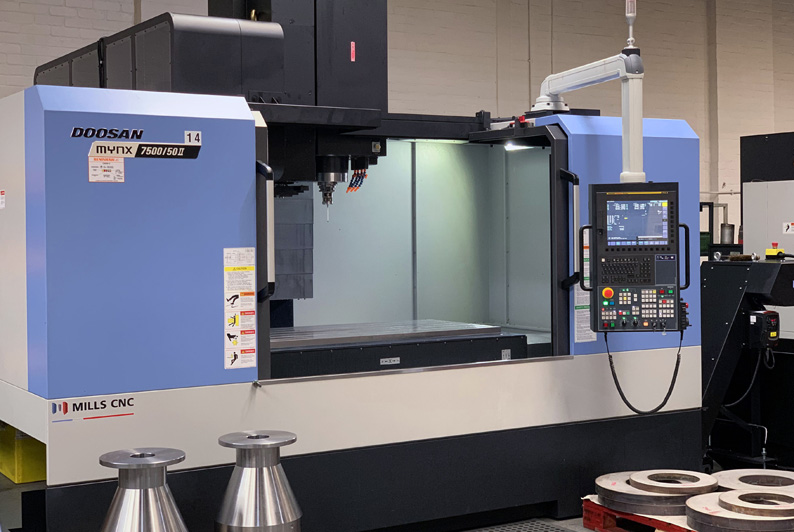 Leading precision subcontract specialist, serving the oil and gas (subsea) sector, invests in two new, high-performance Doosan machine tools as part of a continuous improvement programme designed to help improve its productivity, operational efficiencies and competitiveness.
Foreword
Although the oil and gas industry has always been volatile, there used to be a familiar predictability to the boom and bust cycles.
 But recently things have become even more challenging: dramatic and erratic commodity price fluctuations, ambiguities concerning the future of fossil fuels and contentious global trade negotiations – let alone the impact and effects of the pandemic – have created further uncertainties and anxieties
For UK-based precision manufacturing companies operating in the oil and gas sector – the situation, to put it mildly, remains challenging.
 It has resulted in many component manufacturers reviewing their role and position within the ever evolving energy landscape with a number deciding to push full-steam ahead with fossil fuels, and some preferring to go down the renewables route.
 Others have diversified their operations and have strived to achieve a balance between the two. One such company is leading precision subcontract specialist – Washington Components Ltd.
Washington Components Ltd., based in Tyne and Wear, has recently invested in two new, high-performance Doosan machine tools from Mills CNC.
These machines, purchased in 2020 and installed at the company's 1400sq. m facility, have dramatically increased Washington Components' machining capacity and capabilities and demonstrate, perfectly, the depth, breadth and sophistication of its machining operations.
The new machine acquisitions comprise the following:
A Doosan Puma TT 2100 SYY: a twin-turret, twin-spindle turning centre with dual Y-axis capabilities;

A

Doosan Mynx 7500/50:

a powerful, large-capacity box guideway vertical machining centre;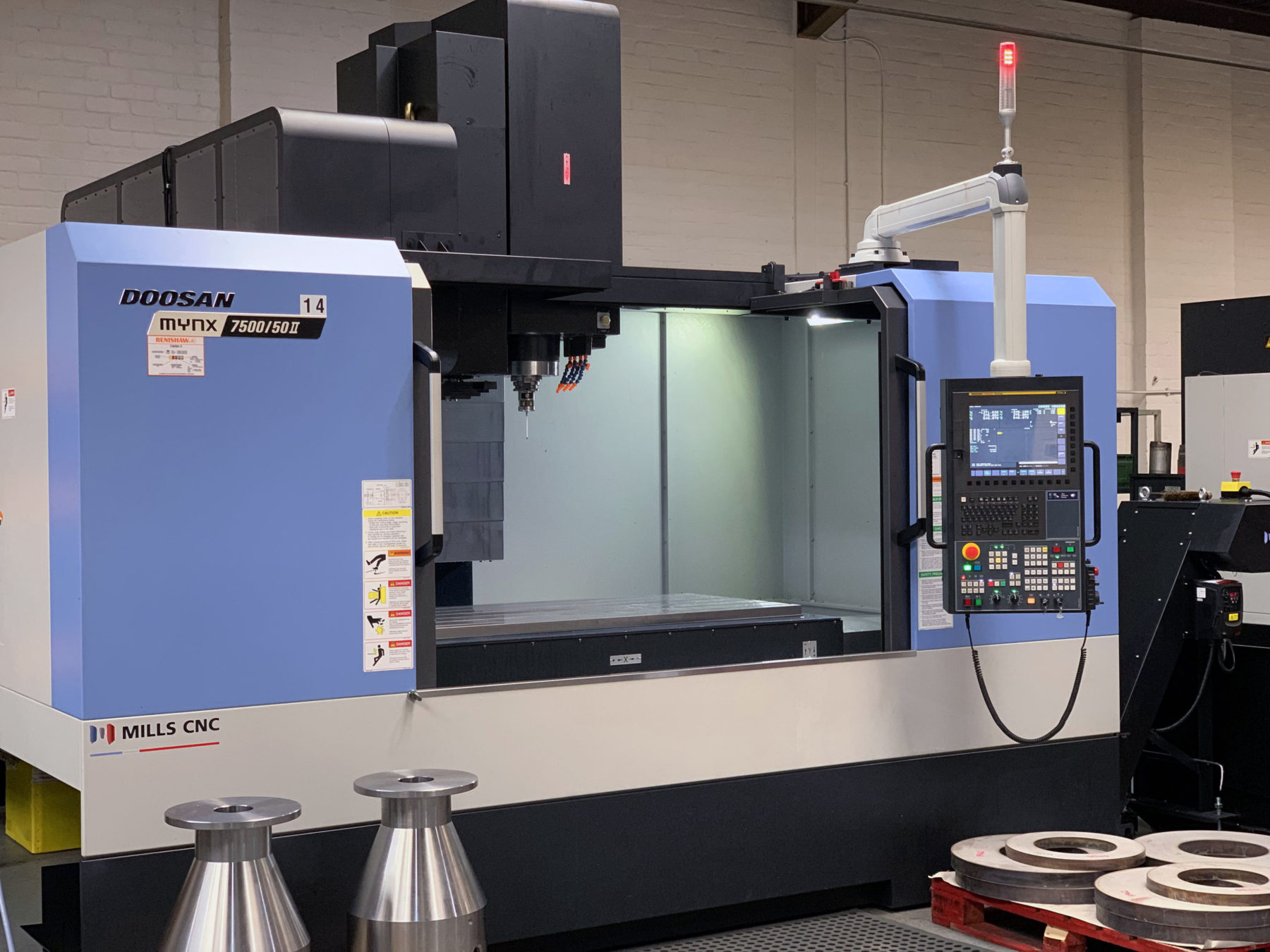 Both machines are equipped with advanced Fanuc controls and all are backed by Mills CNC's (best-in-class) after-sales service and support.
About Washington Components
Washington Components is focused on the machining and manufacture of high-quality, high-precision performance critical components and assemblies for a range of UK-based customers operating in the oil and gas (subsea), wind energy (subsea) and energy transfer (pipeline transportation) industries.
Such is the company's reputation in the markets it serves that it has achieved Tier 1 supplier status with a number of subsea hardware suppliers.
In addition to its CNC machining capabilities, Washington Components provides customers with in-house coded welding (approved to ISO 3834) and project management services, as well as a range of integrated secondary services that the company subcontracts-out to its preferred supplier base: these services include Non-Destructive Testing (NDT), Positive Material Identification (PMI), painting, plating, load testing etc.
Specialisms
Operating in and serving the subsea and off-shore markets, from the outset, has helped position the company as specialists in the machining of hard and difficult-to-machine materials.
These materials, that include inconels, Super Duplex, Stainless 316L and S355J2+N (high tensile steel), are machined by Washington Components to tight geometric tolerances and high surface finishes using its impressive range of advanced, high-performance machine tools – a majority of which are Doosan machine tools supplied by Mills CNC.
Unusually for a company with fewer than 50 employees, Washington Components can also provide its customers with comprehensive coded welding services headed up by a welding coordinator, trained to CSWIP 3.2 (Level 3).
The addition and integration of coded welding services has given the company another 'string to its bow' and has helped differentiate it from the competition.
Says Tony Sutherland, Washington Components' Managing Director:
"We operate in tough and challenging markets.

"The offshore sector is volatile and, even before the outbreak of the pandemic, there were cost down pressures being experienced throughout the supply chain.

"In order to maintain our competitive edge we have focused our efforts and resources on differentiation and on gaining share in a depressed market by 'being the best we can possibly be'.

"This has meant developing and refining the range of services we provide – making them (and us) more flexible, more effective and better able to meet our customers' quality requirements, stringent lead times and reducing budgets."
The Five Year Plan
To ensure the company was (and is) able to successfully navigate its way through these turbulent times a comprehensive Five Year Business Plan was created, and began to be implemented, in 2020.
The Plan is ambitious.
It aims to put the company on track to achieve 100% growth over the five year period (2020 -2025), and included in it, is a strategic capital equipment investment programme, part of which, is focused on the acquisition of advanced machine tool technologies.
Explains Tony Sutherland:
"The Plan is important.

"It directs all of our efforts and makes sure we are all pulling in the same (and right) direction.

"Running through it, from start to finish, is our commitment to continuous improvement and the ways that, through investing in our people, our plant and equipment, and our processes and systems we can become leaner, more agile and achieve our business growth targets."
Part of the Five Year Plan focused on Washington Components' existing machining capabilities and identified where additional expenditure and resources would be required to increase capacity and strengthen performance as a route to winning new business and improving competitiveness.
Specific areas highlighted for immediate attention involved the company's small turned parts and its large milling capabilities.
Explains Tony Sutherland:
"Our Bar-feed Section, comprising eight lathes, needed an overhaul. Some of the machines in the Section, although still performing satisfactorily and running efficiently, were not effective at producing parts at the lower costs now expected from customers.

"We believed that investing in a new multi-tasking turning centre equipped with Y-axis and driven tooling would significantly increase the performance of the whole Section."
A similar situation existed with the company's milling capabilities.
Continues Tony Sutherland:
"We needed to increase our milling capabilities. We knew that an investment in a new, large-capacity, heavy-duty machining centre would not only help us improve our ability to fulfil machining contracts with our existing customers but could also be leveraged to win new work."
The company spent time researching the market and drawing up detailed specifications for a new multi-tasking turning centre and a new large-capacity vertical machine.
The Doosan: Mills CNC Partnership
Washington Components is no stranger to Mills CNC or to Doosan machine tool technologies.
Over the years the company has invested in a number of Doosan lathes and milling machines. (As of now – March 2021 – thirteen of Washington Component's fourteen CNC machines are Doosans supplied by Mills CNC).
"We naturally investigated the market to identify the best machine tool package and deals available", explains Tony Sutherland. "And in both instances Mills CNC came out on top."
He continues:
"We have a great relationship with Mills CNC and believe that the Doosan machines they sell and support are, from our perspective, difficult to beat on performance and price.

"The fact that Doosan machines are backed by Mills' after-sales service is a real positive too.

"Mills CNC is a proactive company that takes the time to understand our needs and requirements. From talking to Mills sales and technical staff we made the decision to invest in a new TT 2100SYY turning centre and a new Mynx 7500/50 vertical machining centre.

"The company also has a number of particular strengths that are worthy of mention and that, we believe, differentiates it from other machine tool suppliers."
a) Delivery
Mills CNC holds many machines in stock at its Campus facility in Leamington – ready for immediate delivery.
Even with non-stocked machines the average waiting time for machine delivery is short – typically 2 – 6 weeks.
b) Machine tool installation
Installing new machines can be a real headache for manufacturers and can cause significant disruption to their production schedules. The delivery and installation of Washington Components' new machines involved the movement of 12 machines. The whole exercise was completed in three days!
The new Doosan machines: a closer look
TT 2100SYY: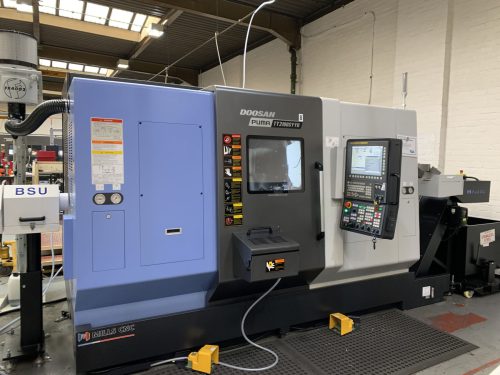 The TT 2100SYY is a 8" chuck/65mm bar diameter twin-turret/twin spindle turning centre with dual Y-axis capabilities on its upper and lower turrets. The machine is fast, powerful, highly-productive and versatile and enables small precision parts to be machined to completion in a single set-up.
The TT 2100SYY at Washington Components was installed with an integrated bar-feeder to optimise production and to help exploit the machine's full productivity potential. Since installation it has been used to machine, in relatively high volumes, a range of small, complex precision parts up to 30mm in diameter.
The machine is located in the company's revamped Bar-feed Section, where it is located adjacent to two additional manufacturing cells, each comprising a Doosan Lynx 220 lathe and a Doosan Puma 2600 lathe – supplied by Mills CNC.
Says Tony Sutherland:
"The new TT 2100SYY is the centrepiece of the Bar-feed Section and, such is its speed, reliability and flexibility, that it has enabled us reduce the number of machines in the section – from eight down to five.

"The machine's purchase was facilitated by funding assistance from ERDF (European Regional Development Fund), SAM (Sustainable Advanced Manufacturing), Sunderland University and Northern Powerhouse.

"Since installation the TT 2100SYY, which I believe was one of the first dual Y-axis machines to be installed in the UK, has performed well – exceeding our own very high expectations."
Mynx 7500/50:
The Mynx 7500/50 is a powerful, large capacity vertical machining centre that has a rigid box guideway construction and a high-torque spindle with a BT50 (Big Plus) spindle/tooling interface.
The machine is designed for heavy-duty machining applications and is renowned for its high material removal rates and for its ability to machine tough and difficult materials.
The Mynx 7500/50 at Washington Components is being used to machine large offshore components in small volumes and batches. These parts are characterised by their tight tolerances, superior surface finish requirements and intricate and complex features.
Many of these parts are machined on the Mynx 7500/50 after welding operations have been completed.
Says Tony Sutherland:
"We were initially looking at a smaller Doosan DNM vertical machine to improve our milling capabilities but on closer inspection, and from talking over our requirements with Mills engineers, decided to go for the larger and more powerful Mynx machine.

"The Mynx 7500/50 is a true workhorse that delivers consistent, high material removal rates day in day out.

"It's been a great acquisition."
Although not part of the Five Year Plan, an earlier Doosan machine tool investment made by Washington Components in 2019, has also helped the company consolidate and grow its position in the offshore sector.
The machine, a rigidly-designed and built Puma 700L, is a large-capacity box guideway lathe equipped with a powerful high-torque spindle (45kW/1500rpm) and has a maximum turning length of 3200mm and maximum turning diameter of 900mm.
It is a proven performer in the oil and gas and energy sectors, and is renowned for its ability to help reduce part cycle times by enabling customers to ramp up speeds, feeds and depths cut.
Says Tony Sutherland:
"The Puma 700L has, without doubt, made us more competitive. The investment in the machine has been more than instrumental in us securing new machining contracts during the pandemic."
Summary
The oil and gas sector is challenging.
To differentiate itself from its competitors, and to ensure that it delivers high-quality machined parts within budget and on time, every time – Washington Components is implementing a continuous improvement programme across all of its operations.
An integral part of the programme concerns making timely investments in new, advanced machine tools. Over the last few months the company has acquired a state-of-the-art turning centre and a proven, heavy-duty machining centre. Both have already made, and are continuing to make, significant improvements to the company's performance.