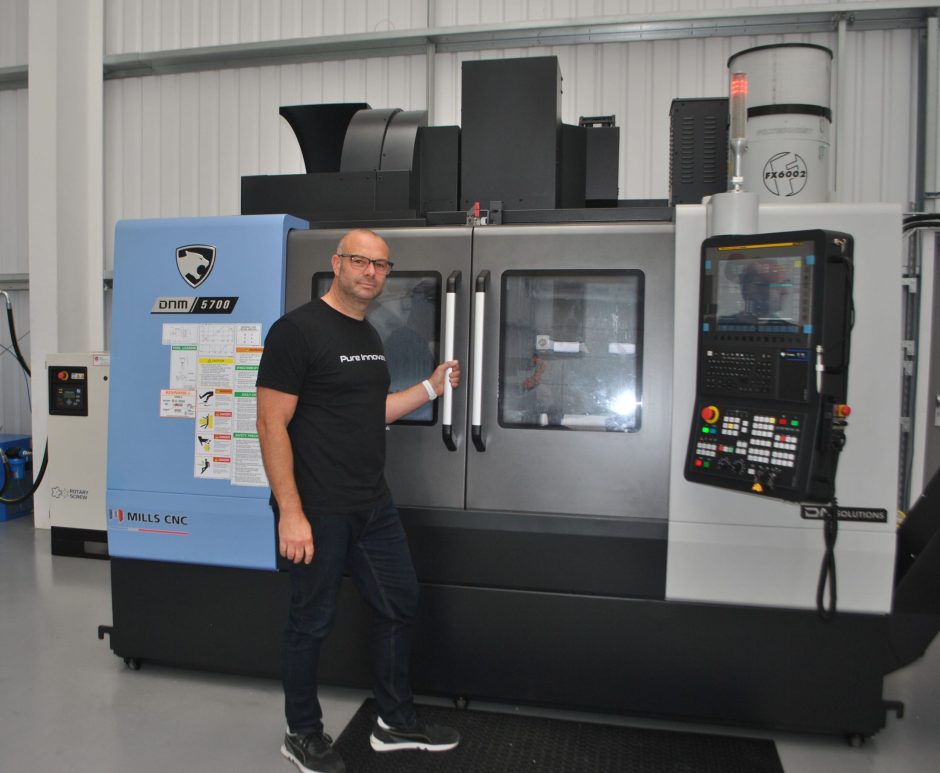 Leading engineering solutions provider, Pure Innovate UK Ltd, invests in its first CNC machine tool from Mills CNC.
Mills CNC, the exclusive distributor of DN Solutions' and Zayer machine tools in the UK and Ireland, has recently supplied Pure Innovate Manufacturing, a leading project management and engineering solutions provider, and a division of Pure Innovate UK Ltd., with a new, high-performance machining centre.
The machine, a DN Solutions' DNM 5700, was delivered and installed, in July 2023, at the company's brand new, modern and spacious 'Innovation' facility in Wallingford, Oxfordshire, just a few days after relocating its operations there, and is the first machine tool acquired by the company in its four-year history. 
The DNM 5700 acquired by Pure Innovate is a popular and proven 3-axis vertical machining centre equipped with the advanced Fanuc iPlus control and 15" touchscreen iHMI.
The machine, equally adept at achieving fast and high accuracy volumetric removal rates and/or undertaking super-fine finishing operations, is inherently versatile, agile and reliable.
In addition to its 18.5kW/12,000rpm directly-coupled spindle and 30-position ATC, the machine, with its large worktable and fast rapids, was supplied with through-spindle-coolant capability and a Renishaw tool and workpiece probing system to increase machining flexibility and improve process efficiencies.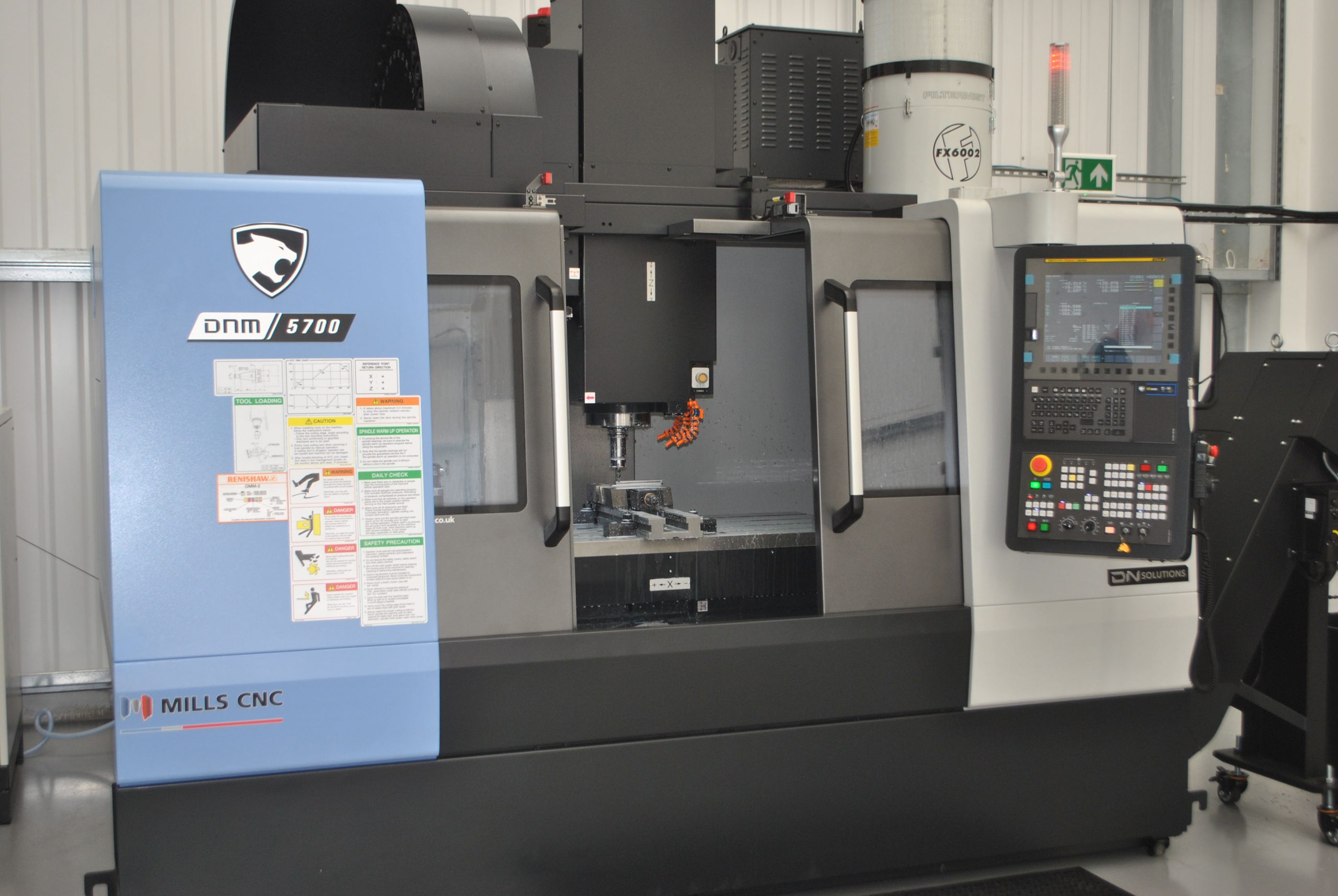 About Pure Innovate: the early days
Although established in 2019, Pure Innovate only recently (i.e., within the last 12 months) made the decision to develop an in-house machining resource. To understand how, and why, the decision was made we need to go back to when the company was first created in August 2019, understand its business model at that time and track its evolution over the last four years.
Pure Innovate is the brainchild of managing director, Carl Joy.
A time served CNC engineer apprentice, with over twelve years' business development and sales management experience gained at NCMT and DMG MORI respectively, Carl had the vision, motivation and a clear plan to start his own company to provide highly-customised and integrated manufacturing, project management and CNC machine technology solutions to customers.
The business model, initially, was based on securing new business for a select number of UK manufacturing companies with high-quality machining capabilities that he had developed good relationships with during his machine tool sales days.
"I started off working from home, developing contacts and building relationships. Things were going well. And then the Covid pandemic struck only 6 months into the new business venture."
Carl Joy, Managing Director of Pure Innovate UK
The outbreak of the pandemic, and the subsequent lockdown restrictions, clearly had an impact on the company's business operations and growth ambitions. Apart from the Government's short-lived 'Ventilator Challenge' initiative, new business opportunities were, at that time, few and far between.
The impact and effect of the pandemic necessitated (and resulted) in an internal review of Pure Innovate's business model and, to capitalise on the upturn, that started in the Summer of 2020, the company developed and implemented a new business approach.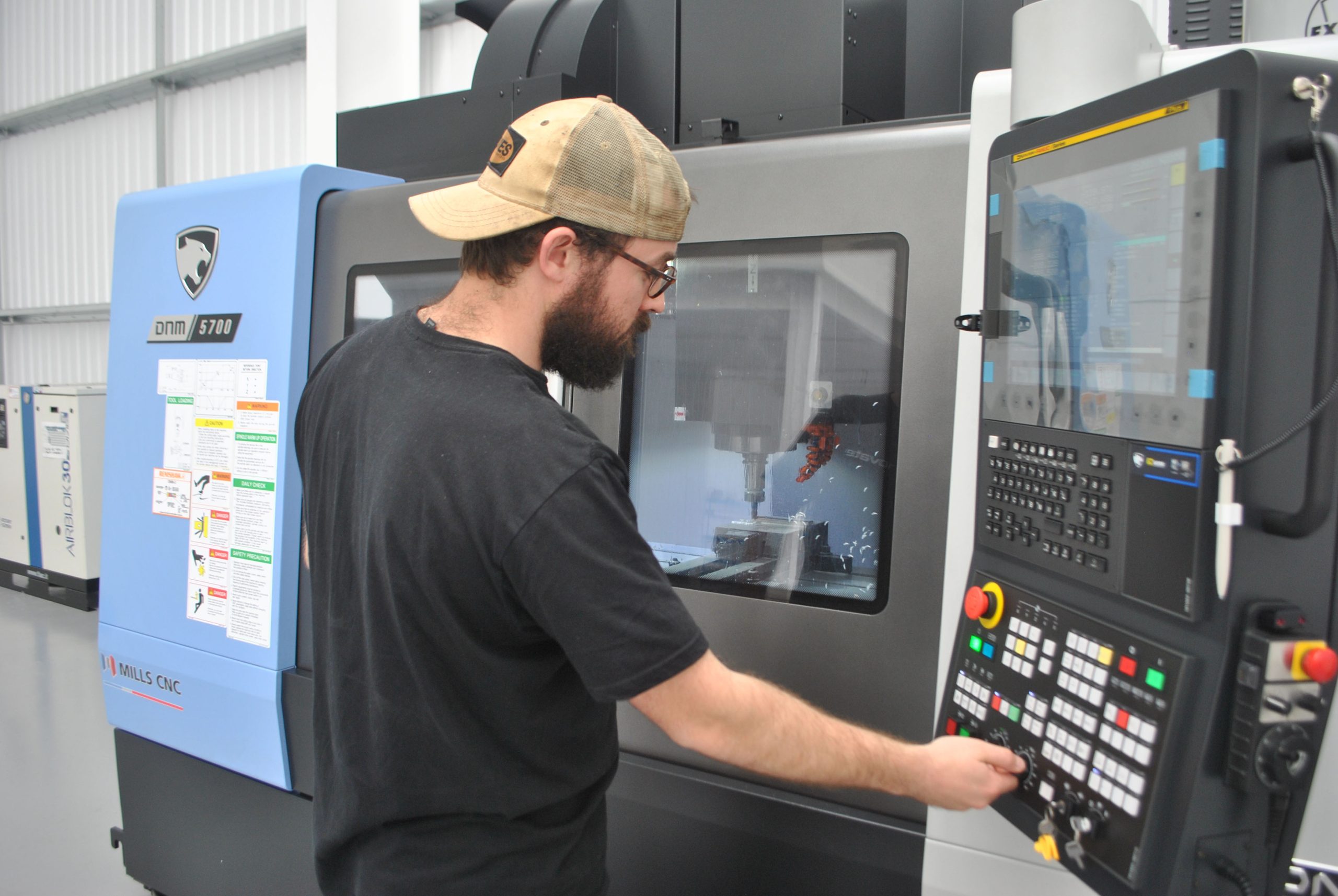 Paradigm shift
"Covid was a watershed for the company. We needed to become more agile by providing services that were more sustainable and value-adding.
"As a consequence, we changed our business development focus to concentrate on critical industries and sectors, like medical, defence, space, scientific instrumentation, renewable energy, electric vehicles (EV) etc., that were more protected and less vulnerable, if that's possible, to global crises and catastrophes, like a pandemic."
Carl Joy, Managing Director of Pure Innovate UK
With business 'picking up' Pure Innovate was increasingly being asked, by companies it was contacting, if it could manage entire projects (i.e., new product developments including prototype and pre-production part production etc.), as well as handling their specific machining requirements.
To help facilitate this, the company increased the scope and scale of its operations and expanded the range of services being offered to 'target' companies to include large scale machining, high-quality sheet metal and fabrication, composite manufacturing, additive manufacturing, assembly, and surface treatments.
This was achieved by bringing new production partners onboard to enable Pure Innovate to offer a more comprehensive, and diverse, range of manufacturing capabilities and additional production capacity to end user customers.
Over a short space of time, Pure Innovate's supplier status had changed considerably. The
company had re-positioned itself to become a single-source project leader managing and coordinating a multi-discipline technology resource.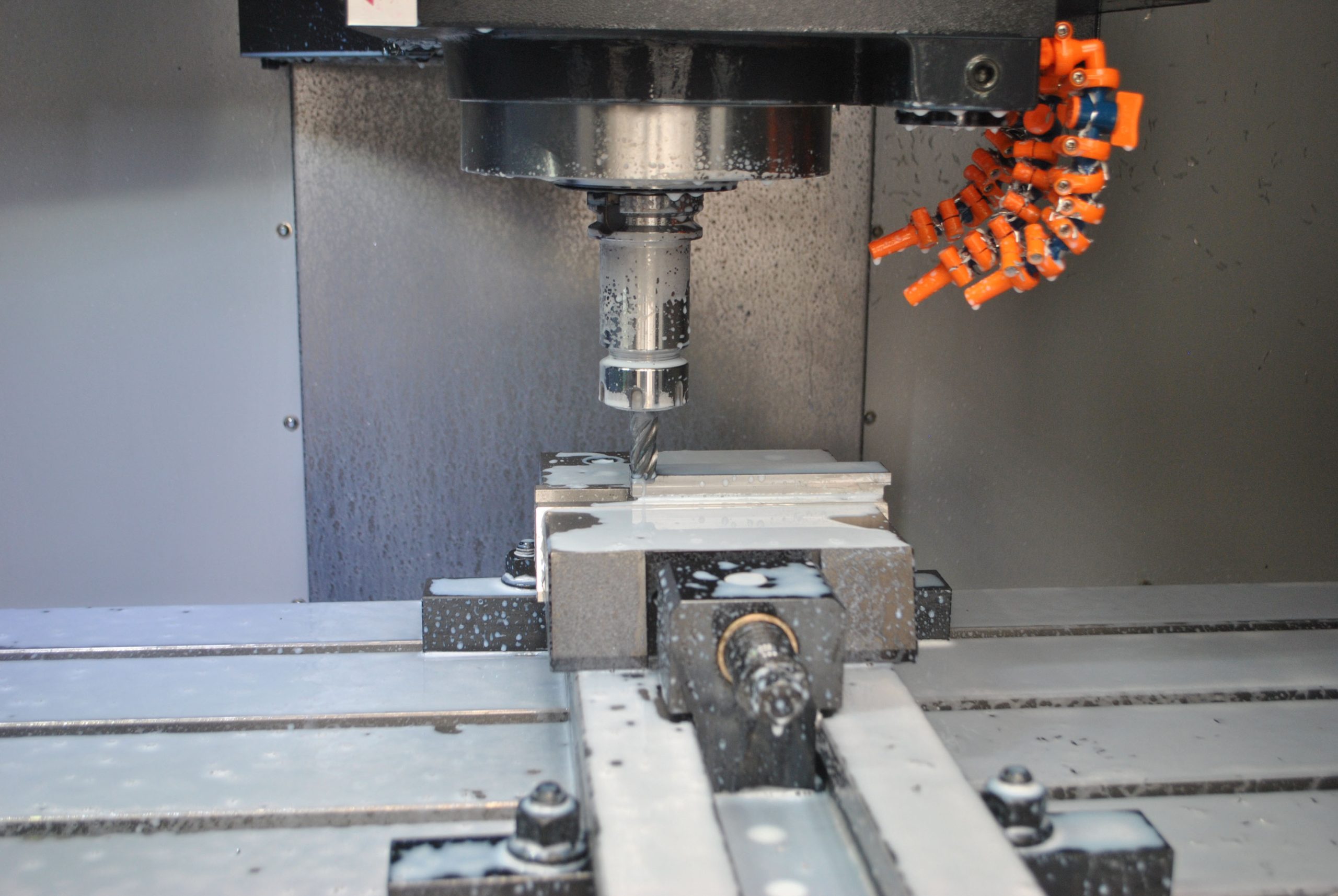 Creation of an 'open door' innovation facility
It was always Pure Innovate's intention, as part of its business growth and development, to create an in-house innovation facility when the time was right.
"A key principle underpinning our Innovation facility was ease of access for customers and was developed with this 'open door' policy in mind.
"The intention is to offer a dynamic engineering and manufacturing hub environment, built on collaboration and trust, where we are able to meet-up and work closely with customers' design and project engineers to develop innovative engineering solutions and optimised manufacturing processes.
"The focus is on their R &D and prototyping projects and everything, from initial CAD drawings to finished machined components, can be discussed, analysed and improved."
Carl Joy, Managing Director of Pure Innovate UK
This service is aimed, primarily, at customers operating in new, high-growth industries and sectors i.e., science, space, EV mobility and autonomy, defence, sustainable energy etc., looking to exploit the potential of innovative technologies and develop new methods of manufacture.
Since being launched, literally only a few weeks ago, interest has been high…meetings have taken place and work has been commissioned.
"Having our own dedicated machining resource at the Innovation facility improves our flexibility and responsiveness.
"We are able to produce prototypes (including any iterations) quickly and efficiently – and means we are not only able to deliver high-quality, fast turnaround machined prototypes etc., but also the processes developed and used to machine them.
"To increase the scope and scale of our Innovation facility in the future, we are actively looking at investing in new technologies, like simultaneous 5-axis machines, and developing our in-house capabilities further (i.e., additive manufacturing, composite machining etc.).
"Nothing is off the table."
Carl Joy, Managing Director of Pure Innovate UK
DN Solutions' DNM 5700
Pure Innovate decided, owing to the nature of its prototyping work, to make its first machine tool investment a new 3-axis vertical machining centre and approached the market to discuss its requirements with a number of suppliers: Mills CNC was one of the companies contacted.
The decision to invest in a DN Solutions' DNM 5700 was made for a number of reasons.
As well as the machine's technical specification and capabilities, the DNM 5700's attractive price, with a number of optional extras being included, its immediate availability and the after-sales service and support provided by Mills CNC, including installation, training etc., were all key determining factors.
"Pound for pound the DNM 5700 is the ideal machine for us. The machine is fast, flexible and accurate. It will enable us to machine high-precision prototypes and pre-production parts quickly, meeting tight delivery schedules where they exist, and give us complete control."
Carl Joy, Managing Director of Pure Innovate UK
Since being installed, albeit only a few days ago, the DNM 5700 has already been put through its paces and is currently machining prototype tooling made from RAMAX – a hard, high-corrosion resistant grade of stainless steel. The next job after that will be to machine a batch of high-precision aluminium components for the electronics sector.
Such is the versatility of the DNM 5700!