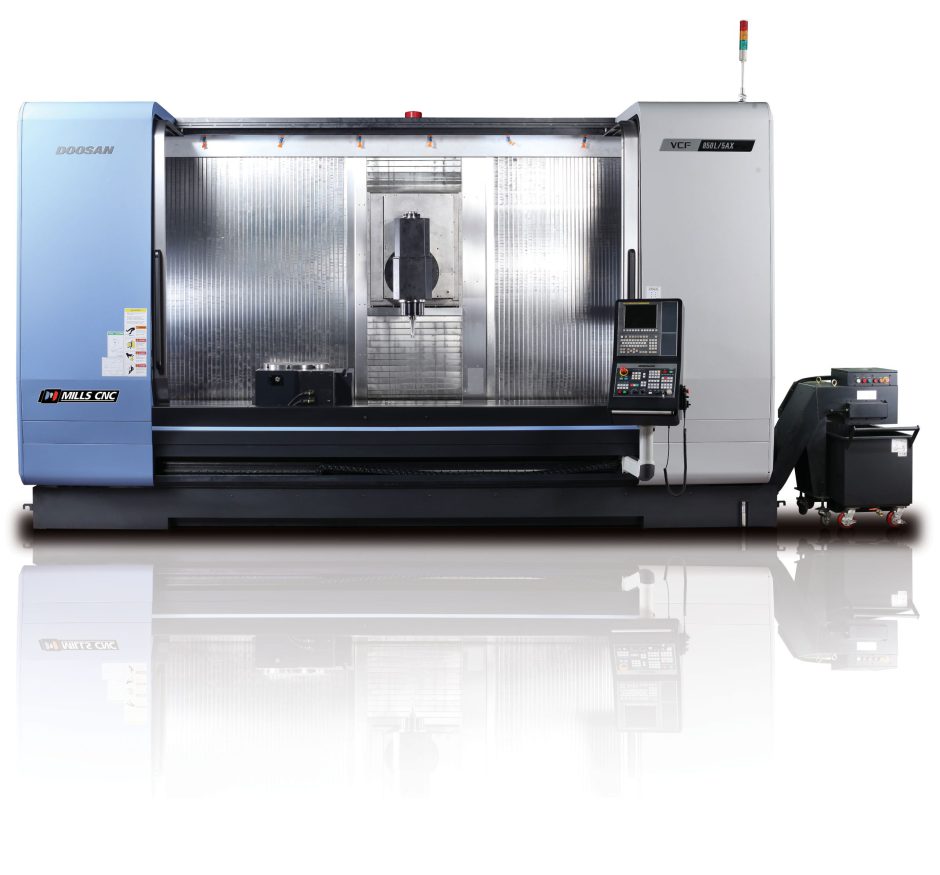 Mills CNC, the exclusive distributor of Doosan machine tools in the UK and Ireland, has recently launched its new VCF 850 series of 5-axis machining centres into the market.
VCF 850 machines are large capacity vertical machining centres with a  B-axis head which can tilt 110 degrees on either side of vertical, enabling them to machine large and complex parts in a single setup, eliminating costly fixtures and associated downtime. Their tilting head capability in conjunction with their 500 mm or 800mm diameter rotary table (depending on table configuration) means that up to five sides of a part can be accessed.
The VCF 850 machines have a rigid, one-piece, fine-grain Meehanite bed with heavy ribbing to reduce vibration and deformation during heavy cutting operations – thereby improving accuracy, surface finish and tool life.
Owing to its traveling column design the table, and therefore the work-piece itself, remains locked during machining. This ensures a uniform load to the guide-ways, ball screws, and motors.
All axes are of a roller linear-motion guide type (rather than the more common ball bearing guide types), for higher stiffness, increased accuracy and improved surface finishes. (Roller guide-ways are three times more rigid than, and twice as durable as, ball bearing guide-ways, and optimise weight and force distribution).
Each axis is driven by a high-precision double nut ball screw that is centered between the guide-ways and supported on both ends by angular contact thrust bearings. All ball screws are cooled by circulated, refrigerated oil (as are other critical components including the ball nut, support bearings and the motor housing).
This system, coupled with a double pretension design, provides outstanding positional repeatability with virtually no thermal growth. All axes have large diameter ball screws that are directly connected to oversize A.C. servo drive motors without gears or belts in order to help eliminate backlash.
The X, Y, and Z axes use absolute-type linear glass scales for higher positional accuracy. These scales virtually eliminate the impact of slides and ball screw thermal expansion and backlash. This improves the ability to hold tight part tolerances requiring fewer offset changes.
The machines are equipped with a Doosan rotary table (either embedded or top-mounted) that enables machining on multiple faces of the work-piece without having to re-fixture.
Cutting performance is provided by a powerful, high-torque 18.5kW/22kW 12,000rpm built-in oil cooled spindle (204 N-m). The refrigerated cooling-control system circulates cooling oil around the spindle in order to maintain a constant temperature, increasing accuracy regardless of the ambient temperature of the cutting conditions.
The machines feature the dual contact tooling (Big Plus) system which helps reduce vibrations during the cutting process thereby improving part accuracies and surface finishes, and, increase tool life.
The system is supported by high precision permanently lubricated ceramic ball bearings which help deliver impressive spindle acceleration / deceleration times.  An encoder is attached to the spindle to allow rigid tapping, further increasing productivity.
VCF 850 machines have a choice of tool changer systems. A 30-position drum-type tool magazine is supplied as standard and a 60-tool, chain-type, double-arm automatic tool changer is also available as an option. Tool-to-tool changeover time is 1.5 seconds.
The inclusion of a separate pickup magazine capable of holding 5 long, large tools (up to 80 mm in length and 130 mm in tool diameter), increases the machines' versatility.
Further versatility is provided by the machines large X-axis travel (3 metres) and multi-vice chucking capability. To exploit this potential a partition is located within the machining area which separates the cutting area from the set-up area thereby increasing productivity.