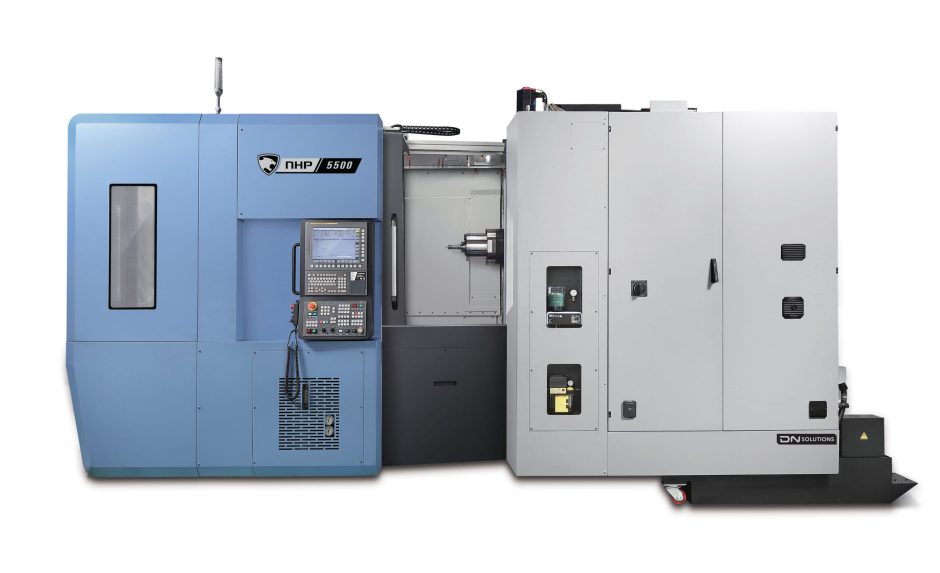 Discover the new 'next generation' NHP 5500 horizontal machining centre from DN Solutions
Mills CNC, the exclusive distributor of DN Solutions' machine tools in the UK and Ireland, has introduced a new, 'next-generation' high-productivity horizontal machining centre into the market.
The new Doosan Twin Pallet NHP Series represents a significant upgrade on its predecessor, and boasts faster acceleration/deceleration rates, improved tool change times, enhanced thermal compensation and faster B-axis table rotation.
A machining centre with impressive acceleration/deceleration rates
The NHP 5500 features fast acceleration/deceleration rates (X/Y/Z: 0.91G/1.07G/1.02G respectively) which, combined with its impressive 60m/min rapid rates, deliver faster processing speeds and a reduction in non-cutting times: all essential in ensuring higher productivity and process efficiency.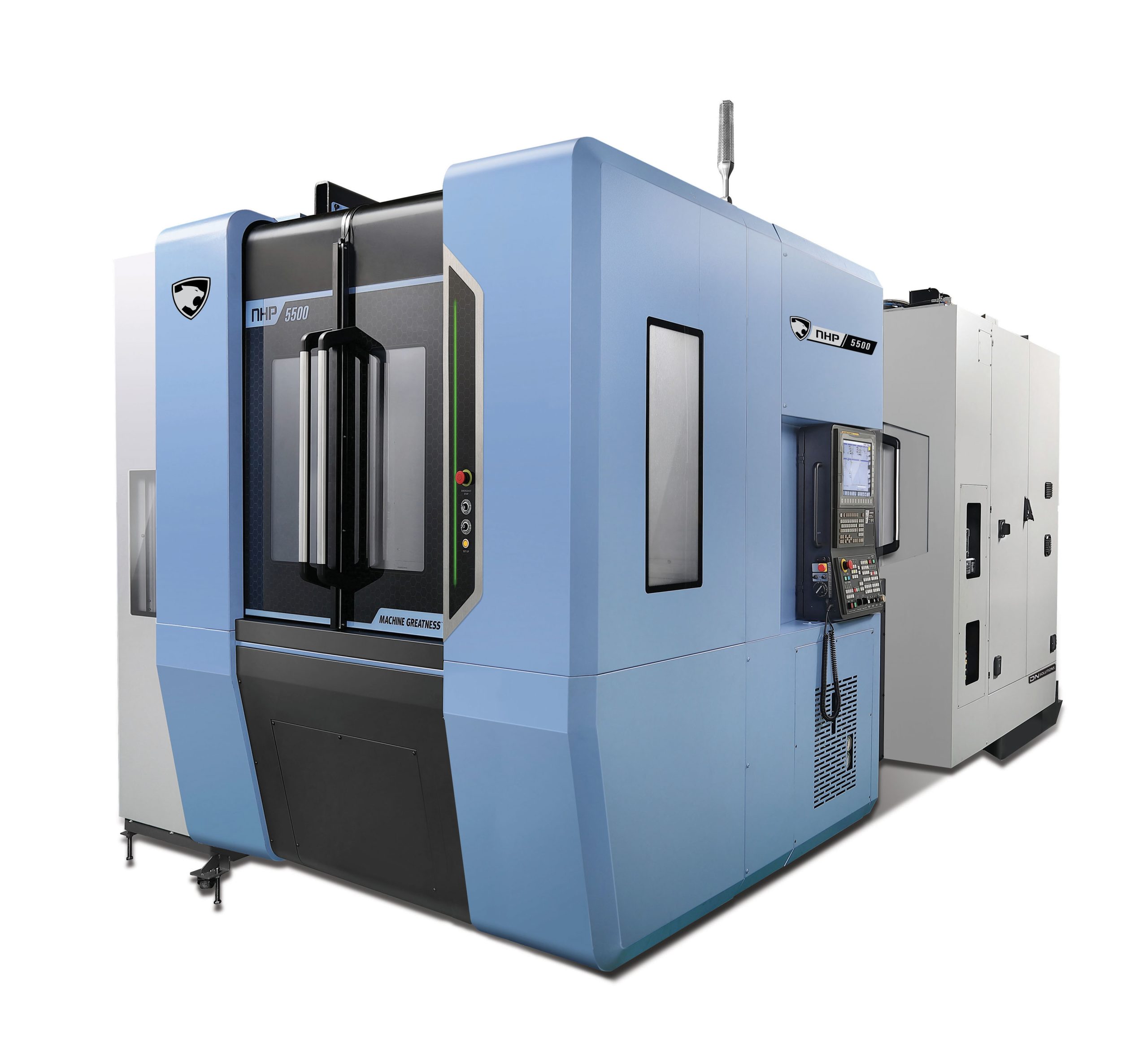 Improved tool change times
The focus on improving productivity is also evident with the machine's faster tool change times.
Equipped with a generous sized servo-driven ATC (from 40 up to 376 tools depending on the tool magazine selected*), tool change times are 1.7 seconds (T-T-T) and 4. 7 seconds (C-T-C).
Enhanced thermal compensation
The NHP 5500 is equipped with a built-in 37kW/10,000rpm** (BT50) spindle with integrated smart thermal compensation sensor technology,
This, combined with the machine's advanced spindle (oil cooled) cooling system, reduces thermal displacement and ensures that high part accuracies and repeatability's are achieved – even during heavy-duty machining and long periods of operation.
Pallet configuration and B-axis table
The NHP 5500 has a rotary shuttle-type twin pallet configuration with a pallet change time of 12 seconds. This, in addition to fast B-axis indexing capabilities (1.1 seconds for 90 degrees, and 1.5 seconds for 180 degrees), enables customers to achieve higher productivity.
The integration of a cone air blower that injects high pressure air into the location cones that connect the pallet to the table, removes chips from surfaces resulting in accurate pallet positioning and improved process reliability.
Additional features of the NHP 550
The hallmark of all DN Solutions' horizontal machining centres is their rigid design and build: the new NHP 5500 is no exception.
The machine features a heavy-duty 3-point support cast iron bed structure that, in addition to roller-type LM guideways, provides improved stability and is necessary prerequisite for improved part accuracies. fast processing speeds and process optimisation.
Although the NHP 5500 is equipped with two pallets (500mm x 500mm), the machine's productivity potential can be increased further through the integration of either a DN Solutions', designed and built, Round Pallet (RPS 5500) or a Linear Pallet (LPS 5500) automation system.
An investment in these servo-driven and easy-to-install systems significantly increase the productivity of the machine, enabling customers to embrace lights out, unattended operations.
As with all DN Solutions' machining centres, the NHP 5500 can be supplied with a choice of control – either the Fanuc 31i/32i Plus with 15" touchscreen iHMI, or the Siemens 840D.
" The new NHP 5500 demonstrates the care and attention DN Solutions devotes to improving its already impressive product range.
"The NHP 5500 has many features and attributes that will appeal to precision subcontractors and manufacturers operating in the aerospace, automotive, oil and gas and power generation sectors – to name but a few."

Tony Dale, CEO of Mills CNC
The NHP 5500 can be specified with a Pot-type, Chain-type or Matrix-type magazine.
The NHP 5500 is also available with a 15,000rpm spindle as well as a 45kW (High Torque) spindle option.