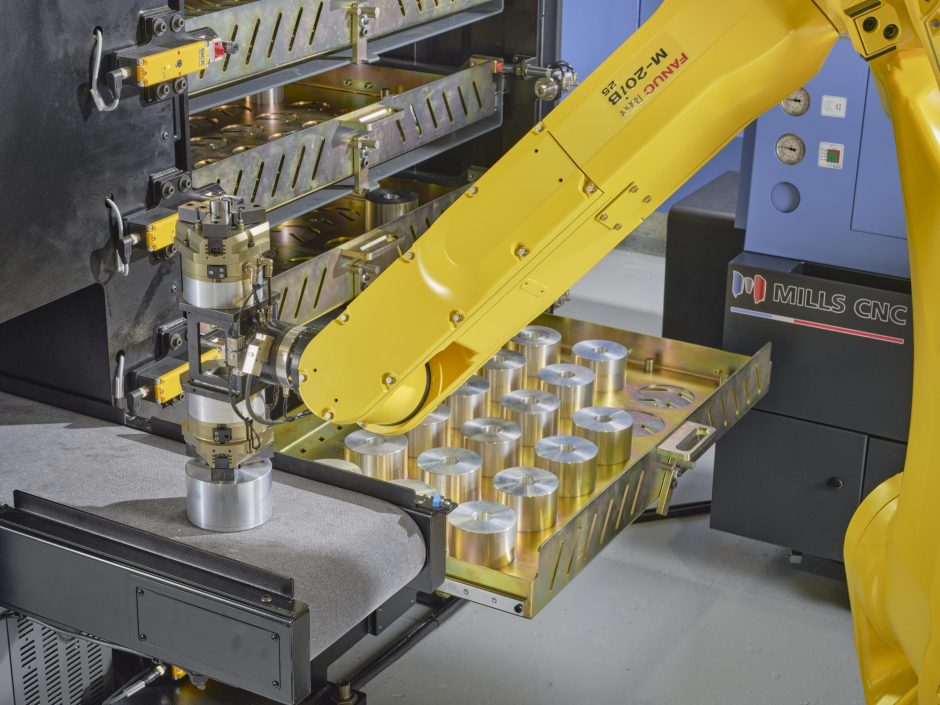 Mills CNC to showcase a SYNERGI Premier automated manufacturing cell at Fanuc's Open House in November.
Mills CNC, the exclusive distributor of DN Solutions and Zayer machine tools in the UK and Ireland, and a leading supplier of advanced automation systems to component manufacturers, is showcasing a SYNERGi Premier automated manufacturing cell at the three-day Fanuc Open House taking place between the 14th – 16th of November.
The cell, which comprises a compact 8″chuck/65mm bar diameter DN Solutions Lynx 2100LSYB sub-spindle turning centre, with driven tools and Y-axis capabilities, a Fanuc (6-axis) industrial robot with a 25kg payload and end-of-arm tooling, a SYNERGi Premier 5-drawer (two-way) part loading/unloading station and a 17″ touchscreen iHMI, will demonstrate the significant productivity and process efficiency gains component manufacturers can expect to achieve from investing in a tried, tested and trusted automation solution from Mills CNC.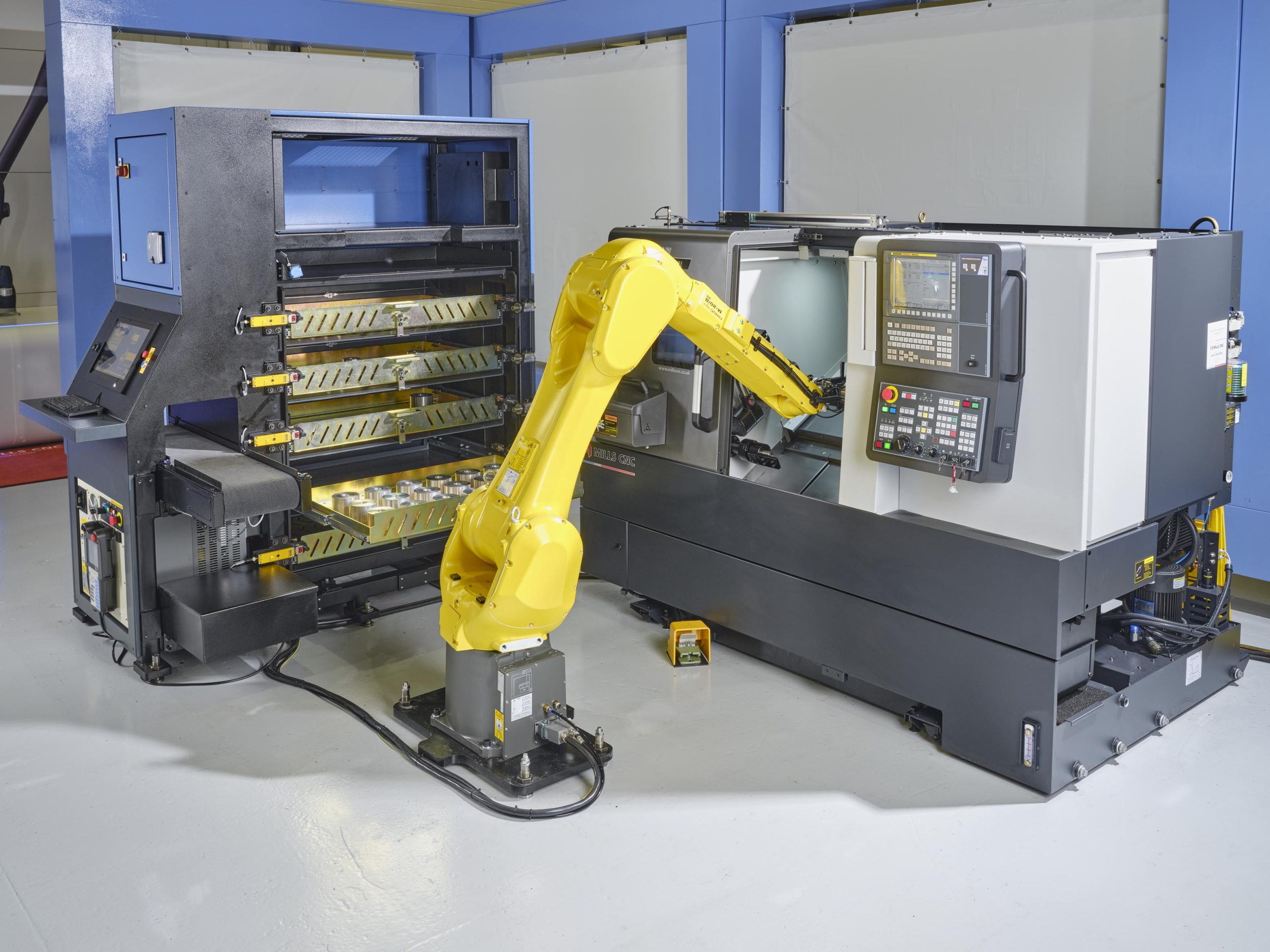 SYNERGI Premier cells, powered by Mills' proprietary SYNERGi software, have proven popular with a growing number of component manufacturers, operating across many sectors, ever since they were first introduced into the market back in 2020.
The cells, which can be supplied with requisite caging and fencing and laser floor scanner technology for increased safety, can be further customised through the incorporation of a robot rails (that enable the robot to service more than one machine), a part inspection and ejection conveyor and a part turnover station. The cells can also be configured to allow front loading and side loading.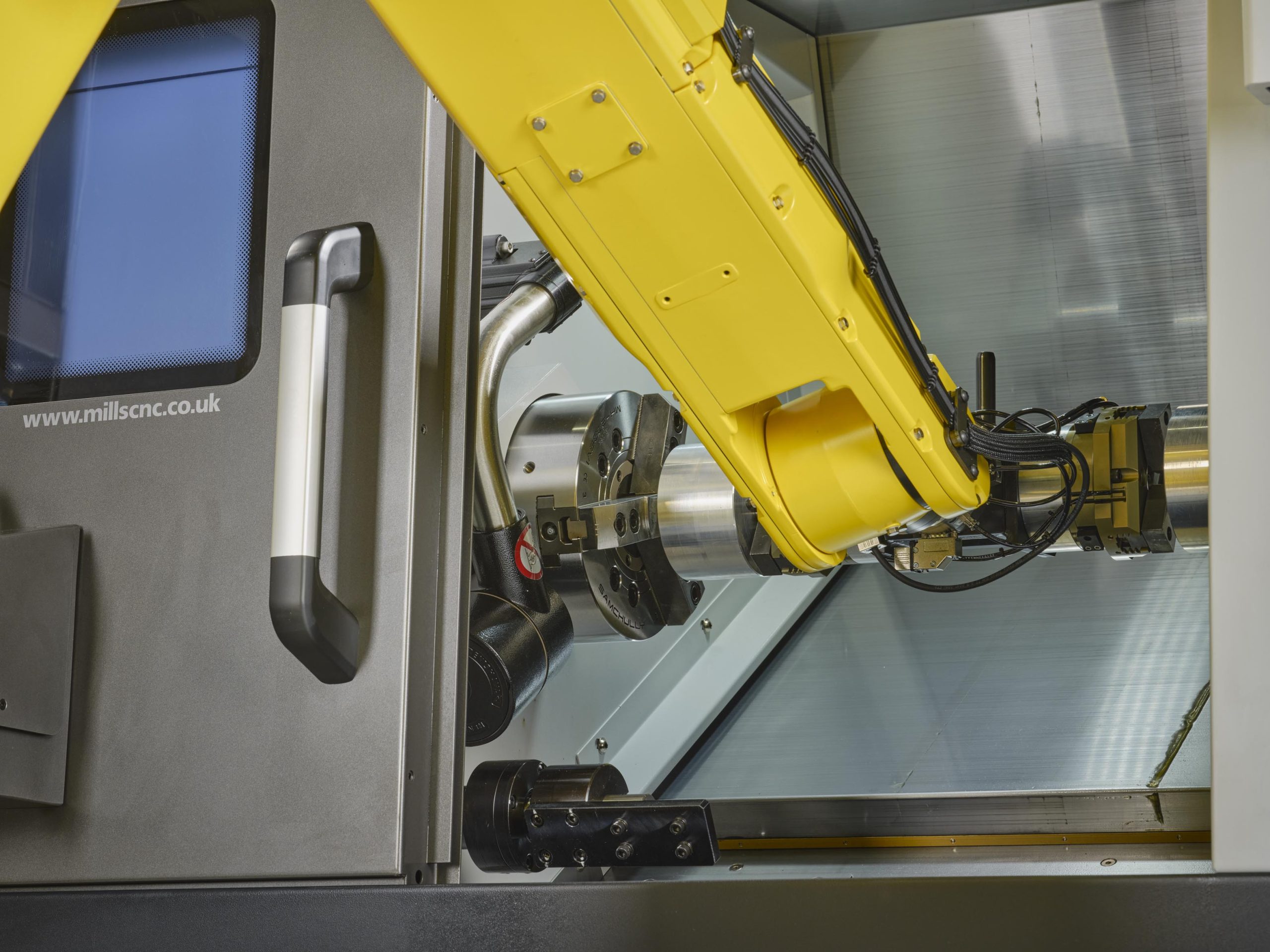 The Fanuc-controlled Lynx 2100LSYBY, the machine tool element of the cell being showcased, is equipped with an 15kW/4,500rpm spindle, a 12-station turret, 105mm (+/-52.5mm) Y-axis and 6,000rpm driven tooling capability.
"Our SYNERGi systems have gained considerable traction with manufacturers looking to improve their productivity, flexibility and process efficiencies,
"Issues, such as ongoing skills shortages and the need for UK and Irish companies to improve their competitiveness etc., have helped catapult automation (and the need for manufacturers to embrace lights-out, unattended operations), into the limelight.
"Events like the Fanuc Open House provide the ideal platform and venue for us to promote our automation systems and solutions to manufacturers looking to put their productivity into overdrive."
Heath Redman, Mills CNC's Chief Technical Officer