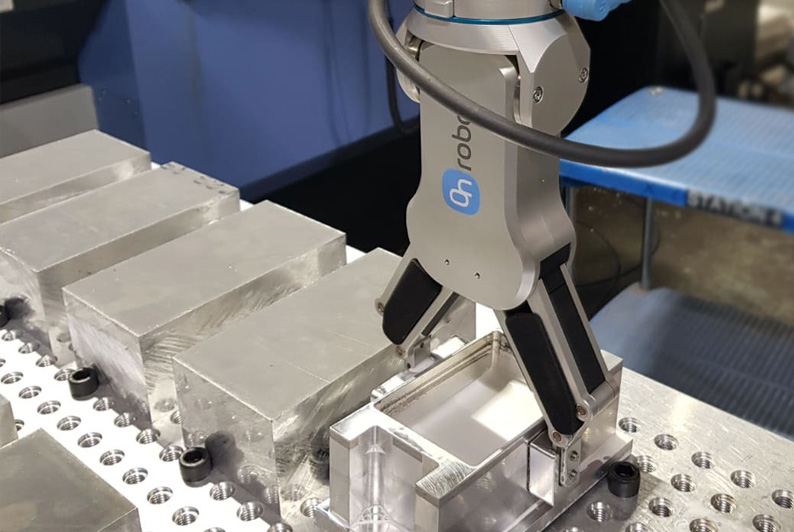 Leading precision subcontractor invests in its first collaborative robot (cobot) from Mills CNC Automation as a route to helping improve its productivity, efficiency and machine tool utilisation.
Mills CNC Automation has recently supplied new Doosan Collaborative Robots to NPI Solutions Ltd., a leading precision subcontractor based in Irvine, Ayrshire.
The Doosan M1013 Cobot, with its 1.3 metre reach radius and 10kg payload, was delivered to the company in September 2020 and was integrated with a Doosan DNM 350 5AX (5-axis machine) previously acquired by the NPI, from Mills CNC, in 2016.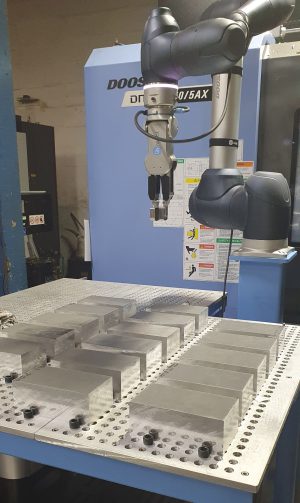 Since being installed the cobot has proved its worth by helping NPI optimise the DNM 350 5AX's spindle up time, minimising operator interventions and dramatically improving the machine's output.
The background
NPI is a company committed to continuous improvement and best-practice.
As such it regularly monitors, collects and analyses machine tool performance data…calculating the effectiveness and efficiency (OEE) of the equipment it uses. The objectives being to accurately identify production 'pinch points', to remove and/or reduce the issues that cause machine downtime, and to make manufacturing processes as productive as possible.
Says NPI's managing director, Kevin Priestley:
"We invested in a Doosan 5-axis machine tool in 2016 to help make us more productive, efficient and competitive. The ability to machine precision parts in one set-up, via 3 + 2 and 4 + 1 machining was the appeal, and the goal."
However, analysis of the machine's performance over a period of time revealed that it was failing to deliver the expected results.
"It wasn't the machine's fault", explains Kevin Priestley. "It was directly related to the type of production work we do which is characterised by low volumes and small batches, and by short part cycle times."
Being a High Mix – Low Volume (HMLV) component manufacturer meant that the DNM 350 5AX could be idle for long periods each day to allow for frequent job set ups and changeovers to occur.
Comments Kevin Priestley:
"Machines don't make money if they are not making chips. To improve our profitability we needed to increase the DNM 350 5AX's spindle up-time."
As a consequence the company began to explore automation as a route to improving the machine's utilisation and output.
The automation decision
NPI is no stranger to automation or to unmanned operations having previously invested in high-performance bar feeders to increase the productivity and performance of its CNC turning operations.
To increase the productivity of its DNM 350 5AX machine, the company explored a number of automation options before deciding on the cobot investment.
Says Kevin Priestley:
"There were a number of potential automation solutions available. We looked at automatic workpiece pallet change systems and industrial robots but their cost, floorspace requirements and complexity ruled them out."
NPI required a more economically-viable and 'simpler' solution: one that could be quickly installed to transform the DNM 350 5AX into a flexible, automated manufacturing cell.
"We had investigated collaborative robot technology", remembers Kevin Priestley. "The versatility of cobots in addition to their safety, their relatively lower investment cost and their ease of deployment were attractive propositions.

"When we found out that Mills CNC, through its newly-created Automation Division, could supply us not only with a Doosan cobot but also project manage and undertake its installation and provide comprehensive training and applications support – we decided to put our plans into action.

"We visited Mills CNC Automation's facility in Leamington to meet the application engineering team and discuss our specific requirements with them in more detail. Ultimately we gave the 'green light' to the investment."
Doosan cobot: its operation and impact
To undertake what are essentially machine tending operations NPI worked alongside Mills CNC Automation engineers to identify the right cobot for the job. The cobot selected (based on the dimensions and weight of parts machined on the DNM 350 5AX) was the M1013 model.
The M1013 has a 10kg maximum payload and a 1.3 metre reach. The cobot also features six high-torque sensors that provide 'best-in-class' collision protection and was supplied to NPI with a controller, a teach pendant, a RG6 (OnRobot) gripper and a Schunk workholding package.
Situated adjacent to the DNM 350 5AX which, as part of the installation was fitted with an automatic door opening/closing facility, the cobot is programmed to pick up blanks positioned on a peg table and load them, in turn, into the machine where they are machined to completion.
Once machining operations have been completed the cobot takes the finished (machined) component from the machine and places it back on the peg board in its predetermined position. This cycle is then repeated, with no operator intervention, until all the parts have been machined.
Parts machined on the DNM 350 5AX are typically made from aluminium. They vary in size i.e. 15mm x 15mm x 15mm at one end of the spectrum through to 150mm x 150mm x 20mm at the other.
Cycle times can be as short as 2 minutes or up to 60 minutes depending on part size, complexity and features.
Says Kevin Priestley:
"The ambition to create a flexible automated manufacturing cell has been realised through the cobot investment.

"During the day the cell is programmed to machine components (with relatively short cycle times) unattended allowing operators to work on other machines or perform other tasks.

"For parts with longer cycle times the cell is programmed to run attended overnight."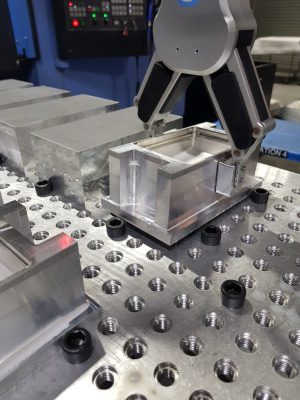 NPI's new cobot cell has helped dramatically improve its productivity, efficiency and competitiveness. The DNM 350 5AX is now running at 85% efficiency as opposed to just 50% efficiency prior to the cobot investment.
Mills CNC Automation: support
NPI is quick to acknowledge the skill and expertise of Mills CNC Automation's engineers in designing and installing its new flexible automated manufacturing cell.
Says Kevin Priestley:
"Everything went smoothly – from the design of the system through to its installation, proving out and on-site and remote training.

"Mills CNC Automation's Peter McCullough and Cris Hearty took the time to understand our requirements.

"They demonstrated (up front) the productivity gains we could expect to realise from the investment – and they have been proven right.

"The support they have provided throughout the project has been first-class, and I can't recommend them highly enough."
Summary
NPI's automated cobot cell as been operational for six months. Such have been the productivity and efficiency improvements realised in such a relatively short space of time that the company is now actively considering investing in a second cobot.
Concludes Kevin Priestley:
"Despite the pandemic and subsequent lockdowns, we have been unbelievably busy over the last 12 months.

"To meet demand from customers for our high-quality and competitively-priced precision machining services we will be investing in more automation in the near future."