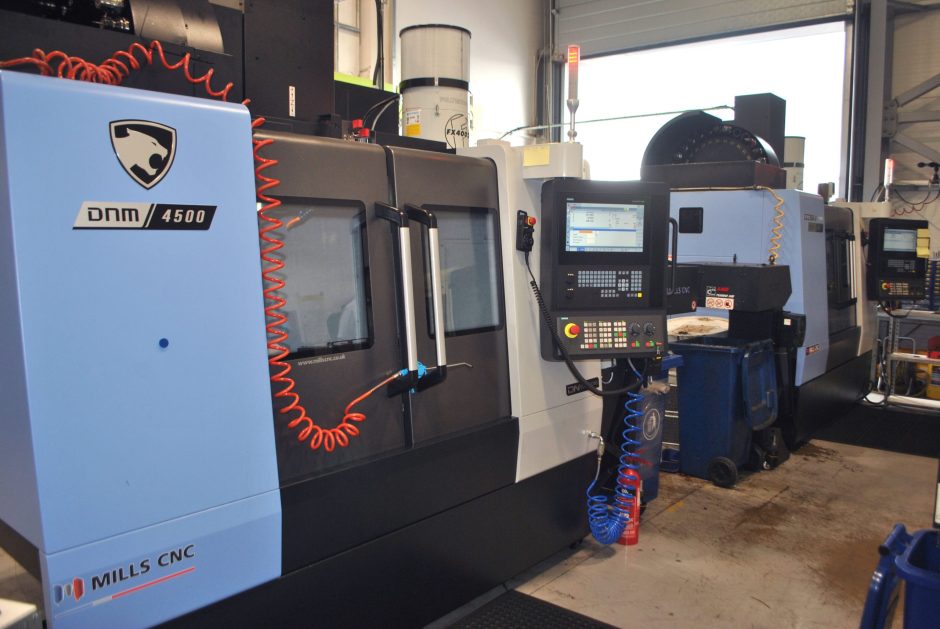 Leading precision subcontract specialist invests in a second DN Solutions' vertical machining centre from Mills CNC.
Mills CNC, the exclusive distributor of DN Solutions' (formerly Doosan) and Zayer machine tools in the UK and Ireland, has recently supplied EDM Precision Technologies Ltd., a leading precision subcontract specialist with a new vertical machining centre.
The machine, a compact DN Solutions' 3-axis DNM 4500 equipped with the Siemens 828D control, was installed at the company's 6,500sq. ft. facility in Towcester in February 2023 and has been positioned adjacent to the company's first DNM 4500 machining centre, acquired back in 2018, to create a flexible, high-productivity milling cell.
The two machines, together with a Lynx 2100B, an 8" chuck, 2-axis lathe also purchased in 2018, form part of an impressive machining resource that also includes seventeen advanced EDM wire, die-sink and hole-drill machines the company has at its disposal.
The new DNM machine has the exact, same technical specification as the first and is equipped with a 12,000rpm (BT 40) spindle with though-spindle-coolant capability, a 30-position ATC and a 1000mm x 450mm worktable, with a 600kg table load.
The latest DNM 4500 was also supplied with Renishaw tool and workpiece probing systems for fast, and efficient, set-ups.
"Our first DNM 4500 has proved to be a great investment and a huge success. The machine is fast, accurate and reliable so, when we were looking to upgrade our in-house milling capabilities still further in 2022, we decided to go 'like for like' and order a second DNM 4500."
Paul Waldron, Owner and Managing Director or EDM Precision
Having a second, identical machining centre, it was believed, would help EDM Precision Technologies not only improve its productivity, but also its process efficiencies.
And this has proved to be the case.
Parts can be machined, and programs can be used, on either machine and there is no 'learning curve' involved for operators regarding the new machine's control or layout.
Since its arrival, the new machine has been put through its paces machining high-precision details and features on what are complex, high added-value EDM-machined parts for the company's diverse and growing customer base.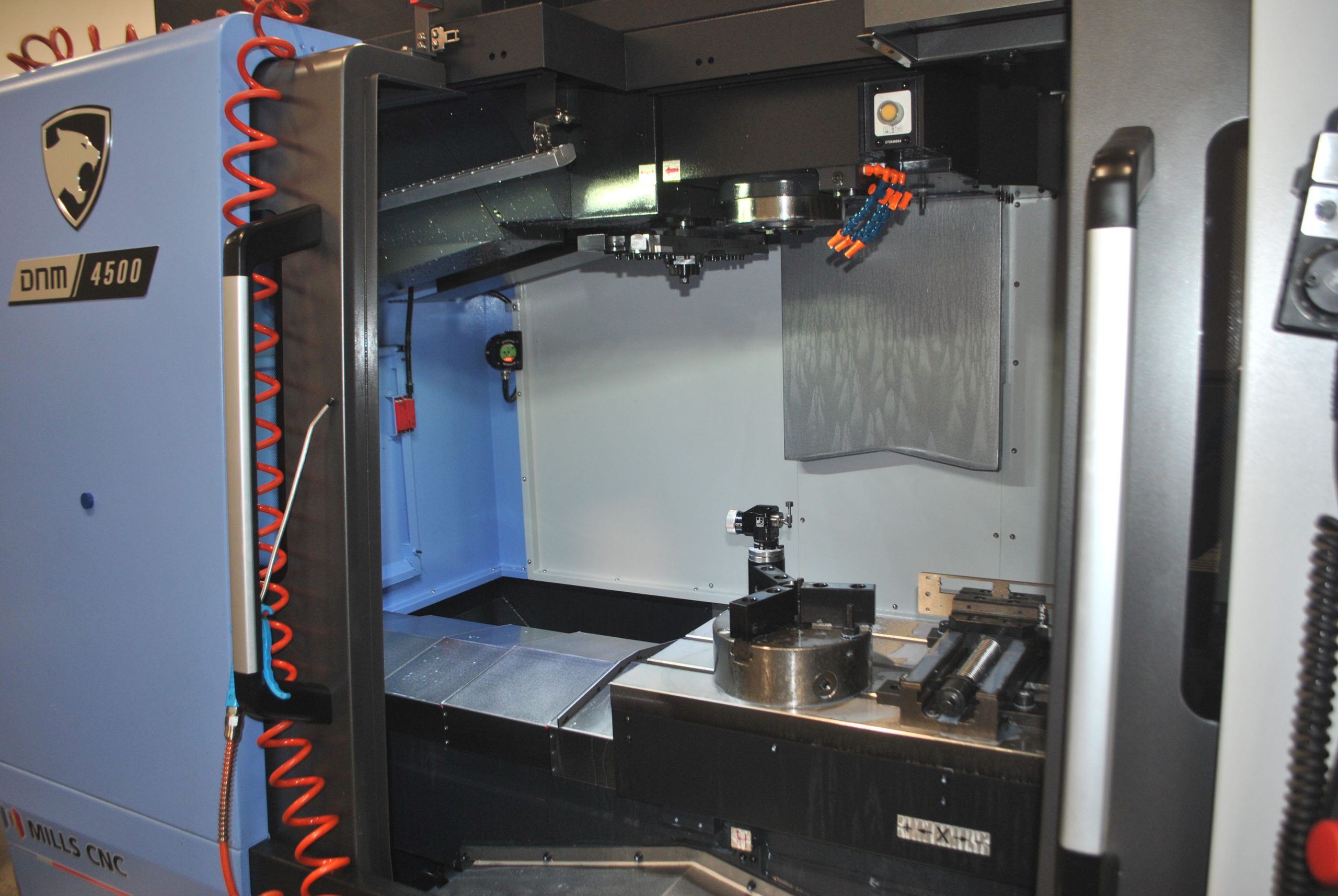 Parts machined by EDM Precision Technologies vary in terms of batch size (i.e., one-offs through to larger volumes), and materials used (i.e., aluminium, titanium, stainless steels, exotics etc.).
EDM Precision Technologies' customers are equally diverse and operate in the motorsport (including F1), aerospace, medical, automotive, defence, and scientific equipment and instrumentation sectors. They also include a significant number of universities and research institutions.
All customers have high demands.
Part accuracies (i.e., +/- 5 microns) and surface finishes (down to Ra 0.8um) are tight and are non-negotiable: turnaround times are equally demanding.
The new DNM 4500 is also being used to machine high-precision (copper, copper tungsten etc.) electrodes for its in-house die-sink machines, as well as innovative jigs and fixtures.
"Our focus, as our name implies, is EDM.
"As well as providing many component manufacturers with a specialist, high-quality subcontract EDM machining service (i.e., EDM machining intricate features and details on customers' machined components), we also provide a growing number of customers with a complete 'one-stop' manufacturing service too.
"This includes raw material procurement at the beginning of the process through to a comprehensive range of machining services (i.e., milling, turning and EDM), heat treatment and surface treatments, testing, part marking, labelling etc.
"We are not involved in just milling and turning components: it's just not our bag."
Paul Waldron, Owner and Managing Director or EDM Precision
EDM Precision Technologies is a progressive, forward-thinking and privately-owned company with its eye firmly on the future.
As such, it is committed to continuous improvement and regularly invests in advanced machine tools to improve its productivity, strengthen its position within customers' supply chains and maintain its competitive edge.
Over the last five years the company has invested in seven new machines – a majority of which have replaced existing, older machines. The acquisition of the new DNM 4500, which replaced an older machining centre, is a case in point.
The company also invests in its processes and systems and has developed its own, customised, ERP system. This, together with its high-performance machine tools and associated technologies, has helped the company improve productivity by removing shopfloor bottlenecks and pinch-points, and increase production output.
In 2011, the company first achieved AS 9100 certification (now at Rev D), to enable it to break into the aerospace and defence sectors, (and other industries as it transpired), and thereby lessen its dependence on the motorsport sector.
"We made the strategic decision not to become over-reliant on one sector. Motorsport and F1 are somewhat seasonal in nature and, as such, could not be the entire focus of the business."
Paul Waldron, Owner and Managing Director or EDM Precision
AS 9100 (Rev D) accreditation, which incorporates ISO 9001: 2015, is the single, internationally-recognised Quality Management System (QMS) for the aerospace, space and defence sectors.
The robust, repeatable and best-practice processes required to achieve certification have enabled EDM Precision Technologies to leverage the Certification to enter new markets, i.e., medical and scientific instrumentation), in addition to securing new machining contracts with aerospace and defence customers.
EDM Precision Technologies is a Tier One supplier to many of its customers and has cultivated 'preferred partner' status with a growing number of them.
This hasn't happened by chance and is testament to the skill and expertise of its staff and the advanced technologies it has at its disposal that enables it to deliver 'right first time components, delivered on time at an agreed price.'
The new DNM 4500, as is the case with all the company's machine tools, is important and integral to the company's ability to meet its promises to customers.
"Our new DNM 4500 is a great performer and, since being installed, hasn't missed a beat.
"The machine was delivered and installed quickly and with minimum disruption and, as intended, has fast become a valuable asset that will facilitate significant growth in the future."
Paul Waldron, Owner and Managing Director or EDM Precision