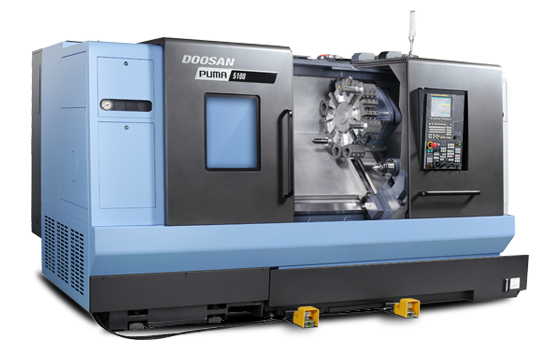 Mills introduces the new Puma 4100/5100 range of heavy-duty turning centres to replace the Puma 400/480 series.
Mills CNC, the exclusive distributor of Doosan machine tools in the UK and Ireland, has introduced a new range of high-rigidity, heavy-duty turning centres into the market.
The new Puma 4100/5100 series replaces the popular and successful Puma 400/480 series, and is primarily aimed at precision component manufacturers machining large parts for the oil and gas, power generation and large automotive sectors.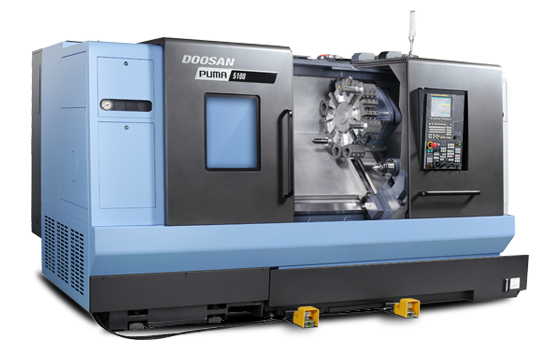 The new Puma 4100/5100 lathes provide superior machining performance, excellent process reliability and are equipped with a number of new productivity-enhancing features that surpass their predecessors.
There are a total of 22 different machines in the new range with customers not only able to specify different chuck size models (i.e. 12", 15", 21" or large bore), but also different machine functionalities and capabilities i.e. long-beds, driven tools etc. The machines' performance and capabilities can be increased quickly and easily (without modifications) via special thread functions, tailstocks, steady rests and long boring bars.
The new Pumas have maximum travels/turning lengths of one (Puma 4100 machines) or two metres (Puma 5100 machines), and maximum turning diameters of 550 mm (Puma 4100 machines) and 650 mm (Puma 5100 machines).
The new Pumas are the most powerful machines in their class. They have been designed to take tough machining operations in their stride (including heavy duty, interrupted cutting), but can also be relied upon to deliver excellent accuracies and surface finishes.
The new Pumas are the most powerful machines in their class.
The machines are equipped with powerful, high-torque 2-speed gear-box driven main spindles (up to 45kW and up to 3000rpm depending on the model). Puma 4100/5100 models with driven tools are equipped with a 7.5kW 4000 rpm milling spindle.
The new machines also feature a high-resolution BZi sensor that delivers improved C-axis (indexing) accuracy, and a servo-driven indexing tool post ensures fast and reliable tool post rotation.
2-axis machines are equipped with a 10-tool position turret whereas machines with driven tools have a 12-position turret as standard.
The new lathes are packed with performance boosting features that includes the EOP (Easy Operation Package) and EZ (Manual Guide i).
Machine specifications
Puma 5100
•    Chuck: 15", 21" or Big Bore
•    Bar working diameter: 116.5mm/ 165.5mm/ Big Bore 275mm
•    Max Turning diameter: 650mm
•    Max turning length: 1000mm
•    Spindle speed: Up to 2,000rpm
•    Spindle power: 27/45kW
•    Construction: Box Guide-way
Puma 5100LY
•    Chuck size: 15"/21"
•    Bar working diameter: 116.5/165.5mm
•    Max turning diameter: 550mm
•    Max turning length: 2050mm
•    Spindle speed (main): 2000rpm
•    Spindle power (main) 37/45kW
•    Milling spindle: 23kW/3000rpm
•    Y-axis: 150mm (+75mm/-75mm)