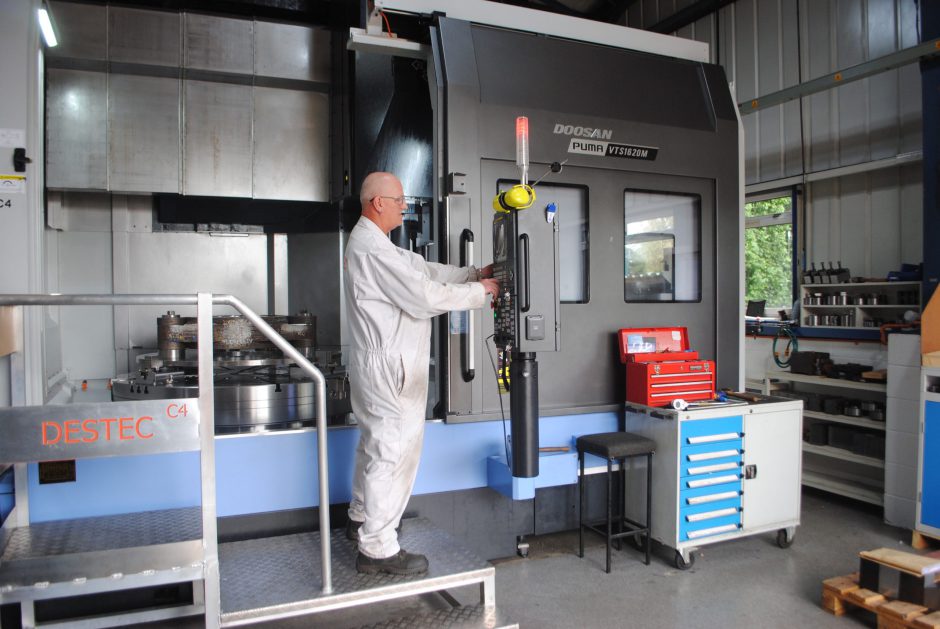 Doosan VTS 1620M vertical turning centre's power, rigidity and versatility tick all the right boxes for leading high-pressure containment equipment manufacturer.
Lincolnshire-based Destec Engineering Ltd., has recently invested in a new, large-capacity Doosan vertical ram-type turning centre from Mills CNC.
The machine, a Puma VTS 1620M, was installed at the company's facility in Washingborough in December 2017, where it is being put through its paces machining a range of large, heavy and performance-critical precision components made from hard and difficult-to-machine materials that include Inconel, Stainless Steels, Duplex etc.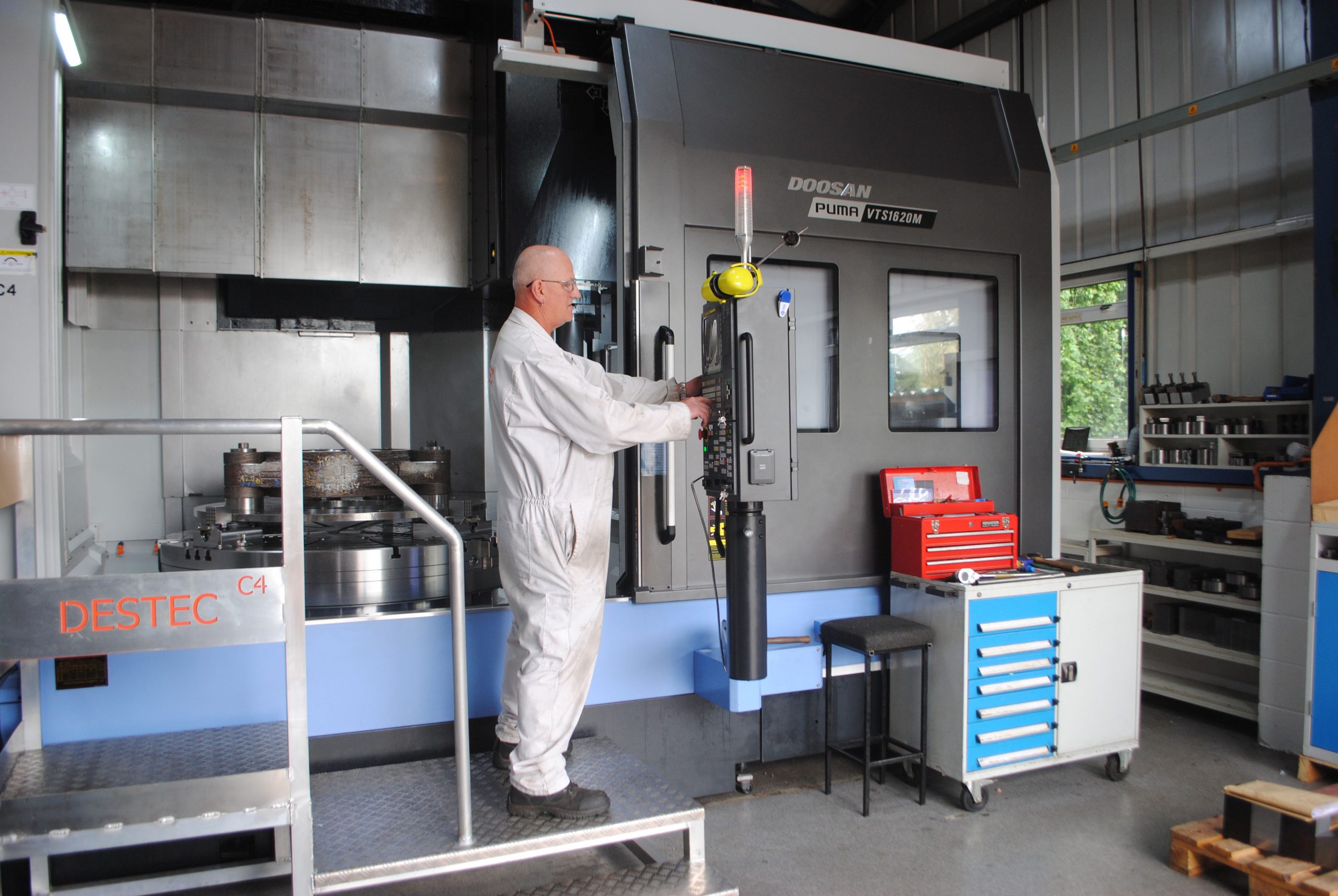 Once machined these components, which are custom manufactured to order, undergo rigorous inspection and testing before being assembled into Destec-branded, high-pressure containment units used extensively, although not exclusively, by customers operating in the highly-regulated offshore sector.
Specific high-pressure containment systems designed and manufactured by Destec include the company's best-selling G-Range Clamp Connector and GSB Single-Bolt Subsea Connector ranges.
Destec Connector systems are available in a range of sizes and specific machined components within them include -: butt-weld and blind hubs (similar to flanges), all metal seal rings and clamp sets. All components are machined to high accuracy and surface finish and have been designed to perform under adverse pressure (up to 25,000psi), temperature and thermal shock conditions.
Many components used in Destec's larger-sized connectors are being machined on the new Doosan VTS 1620M.
Explains John Mullenger, Destec's Operations Manager:
"We needed additional large vertical turning capacity to meet demand and to integrate into our customised, made-to-order manufacturing operation.

"We had a number of specific requirements, in addition to the machine's working range and table load capacity, that needed to be satisfied and, armed with our list of 'must haves', we investigated the market and approached a number of machine tool suppliers."
Destec's key criteria for the new machine included its power, rigidity, flexibility and ergonomic design.
The VTS 1620M
The VTS 1620M is a large, rigidly-built vertical turning centre that has a maximum turning diameter of 2000mm, a maximum turning height of 1556mm, a large 1600mm work table with a maximum table load of 10000kg.
The box guideway constructed machine is equipped with a powerful 45kW/250rpm heavy-duty, high-torque table spindle featuring large diameter cross taper roller bearings and a twin gear drive that delivers high-rigidity and zero backlash for increased accuracy.
The machine weighs 30000kg and features a rigid X type cast Meehanite column structure that reduces deflection.
Says John Mullenger:
"The VTS 1620M is a solidly built machine and was ten tonnes heavier than other competitor machines we looked at."
The VTS 1620M is also a versatile machine and has driven tooling capability that enables us to machine parts to completion in a single set-up. The machine's ram rotary spindle (18.5kW/3000rpm) and servo-driven C-axis table enables the VTS 1620M to undertake high-accuracy milling, drilling and tapping operations.
Explains John Mullenger:
"We've been impressed with the machine's cutting capabilities. Parts can be machined efficiently and the machine's driven tooling capabilities means we benefit from reduced cycle times. The VTS 1620M has helped us reduce production bottlenecks caused by us having to transfer parts between machines."
Destec's final requirement concerned the ergonomic design of the machine – in particular the efficient and safe loading and unloading of workpieces, and good operator visibility of the machining area.
Comments John Mullenger:
"There is good unrestricted access to the VTS 1620M's working area that facilitates trouble-free workpiece loading and unloading. In addition, the machine's large door and position of the control console provides good visibility to machine operators."
As part of the machine tool search Destec visited Mills CNC's Technology Campus facility in Leamington where company representatives were able to view the VTS 1620M up close and personal.
They liked what they saw.
Concludes John Mullenger:
"We needed a machine that could deliver high volumetric removal rates and super fine finishes, and be able to maintain cutting performance and process reliability over long machining runs.

"The VTS 1620M's technical specifications plus the fact that the machine was backed by Mills' excellent after-sales service and support, all contributed to the purchase decision.

"Since installation, the machine has performed well and we are delighted with it."
About Destec Engineering Ltd.
Destec Engineering Ltd, established for over 48 years, is a privately owned engineering company providing innovative products and services to sectors including oil & gas, power generation, defence, aerospace, nuclear & rail. The company is ISO 9001 certificated and, we well as being headquartered in the UK, operates an extensive global distributor network.
The company offers comprehensive in-house CNC machining services (turning, milling, boring etc.), and has impressive inspection and NDT capabilities at its Washingborough facility that includes Magnetic Particle Inspection (MPI), Dye Penetrant Inspection (DPI), Ultrasonic Inspection (UT), crack depth measurement, XRF positive material identification, hardness testing etc.
The company also designs and manufacturers its own range of portable machine tools which are used to machine repair and replacement parts on-site (i.e. at a customer's facility). These on-site services also include bolt tensioning, on-line leak sealing etc.