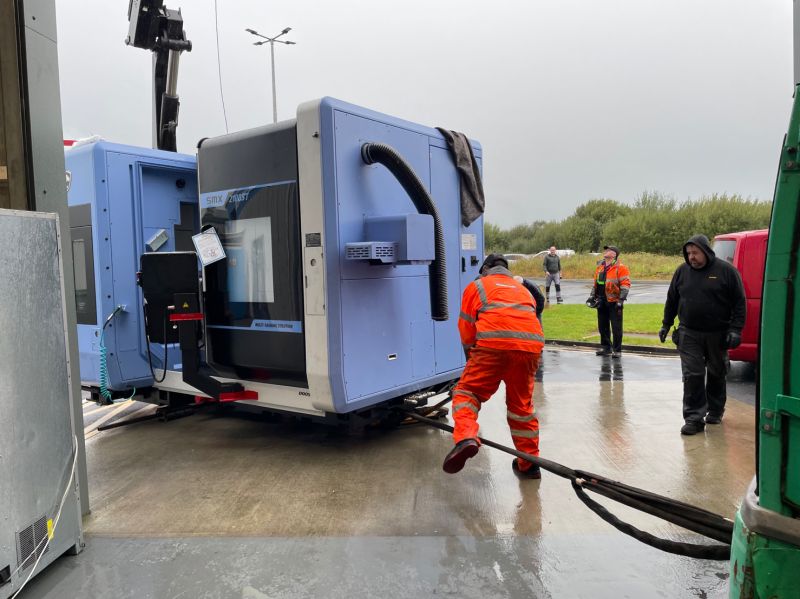 Latest investment in a flexible automated manufacturing cell demonstrates Takumi Precision's commitment to continuous improvement.
This, in conjunction with the company's progressive and forward-looking mindset, an inherent organisational agility that embraces change, facilitates vertical integration across its operations and enables it to 'think and act outside the box', plus an unswerving focus on achieving sustainable and profitable growth, have allowed Takumi to grow and succeed in the aerospace, medical and industrial markets it serves.
The ability to anticipate, identify and act quickly and decisively to seize and exploit market opportunities are the hallmarks of a confident, entrepreneurial and market-leading company.
They are the hallmarks of Takumi, an Acrotec Group member company, led by Founder and Chairman, Gerry Reynolds, CEO, Donal Galligan and the company's management team.
Mills CNC, the exclusive distributor of DN Solutions' (formerly Doosan) machine tools and a major automation systems solutions provider to UK and Irish component manufacturers, has recently supplied Takumi Precision Ltd., a leading global engineering solutions provider, based in Limerick, with a new flexible automated manufacturing cell.
The cell, installed at Takumi's 50,000sq. ft facility in September 2022, comprises an advanced, and recently introduced, SMX 2100ST multi-tasking mill-turn machine integrated with a Mills CNC SYNERGI Sprint automation system.
The automated manufacturing cell, currently being put through its paces by Takumi's production and applications engineers, significantly increases Takumi's, already impressive, machining and manufacturing capacity and capabilities, and has further cemented Mills CNC's position as a technology-provider-of-choice to one of Ireland's leading precision subcontract manufacturing companies.
The Doosan: Mills CNC connection
Takumi Precision regularly invests in advanced machine tool technologies and, since 2016, has increasingly invested in Doosan machine tools from Mills CNC.
The type and range of Doosan machine tools acquired by the company over the last six years has changed dramatically reflecting and reinforcing the company's desire and ambition to both consolidate, and strengthen, its position within its customers' supply chains and to become a preferred partner to many of them.
The company currently has 20+ Doosan machines at its disposal with most organised into discrete and dedicated machining cells for fast and efficient part processing.
These machines comprise a number of Lynx and Puma lathes with sub-spindles, Y-axes and drive tooling capabilities as well as different-sized vertical machining centres.
Recent acquisitions include two twin turret/twin-spindle turning centres, a 5-axis machining centre with integrated automatic workpiece pallet change capability and a high-productivity, multi-tasking mill-turn machine.
Collectively, this machining resource is as impressive as it is formidable and reflects Takumi's commitment to continuous improvement and to being 'the best it can possibly be.'
Says Donal Galligan, Takumi Precision's CEO:
"Doosan machines are reliable, competitively priced and represent great value. They deliver excellent cutting performance and help us achieve the part accuracies, repeatability's and surface finishes we expect and our customers demand.
"In addition to their performance Doosan machines are backed by Mills CNC's after-sales service and support which we believe is second to none.
"Dedicated sales, service and applications engineers located in Ireland ensure a fast response and, from our experience, means that any issues affecting machine uptime etc., are dealt with quickly and efficiently."
Investing during the pandemic
To improve productivity, process efficiencies and overall competitiveness the company has recently invested in machine tools with integrated automation as well as standalone machines.
During the pandemic, at a time when many if not most engineering companies were postponing or scaling back their Capex programmes, Takumi made the decision to invest in a compact, high-productivity and flexible DVF 5000 (5-axis) machining centre with an integrated (10-position) automatic workpiece pallet changer.
The company followed this up, just a few months later, with an investment in its first Doosan mill-turn machine – a large-capacity SMX 2600.
Says Gerry Reynolds, Takumi Precision's Founder and Chairman:
"Multi-tasking machines and automation are the way forward: they help make us leaner, more agile and more competitive.
"Although the pandemic did impact operations with customers cancelling and postponing contracts, we believed that the hiatus was temporary and were confident
that our aerospace and medical business would return.
"We used the time to prepare for that eventuality and, with help from the Irish Government via its SBC1 Covid -19 Working Capital Scheme, invested in high-performance machine tools to enable us to 'hit the ground running' when it did."
The DVF 5000
The DVF 5000 simultaneous 5-axis machining centre, with its integrated pallet change capability, enables Takumi to capitalise on lights-out production by running the machine unattended, overnight and over the weekends too.
During the day the DVF 5000 is used to machine prototypes, pre-production parts and jobs with short(er) cycle times and, at the same time, to set up production jobs, often with longer cycle times, on the available pallets ready to run overnight.
The SMX 2600
Being increasingly involved in many customers' NPI's and in designing and proving out machining processes means that Takumi needs to invest in high-productivity standalone machines: the acquisition of the SMX 2600 being a case in point.
Testing, trialling and verifying a machining process, that can often involve numerous iterations, takes time and, rather than tying up a production-led machine with such operations, is best handled on a multi-tasking, standalone machine.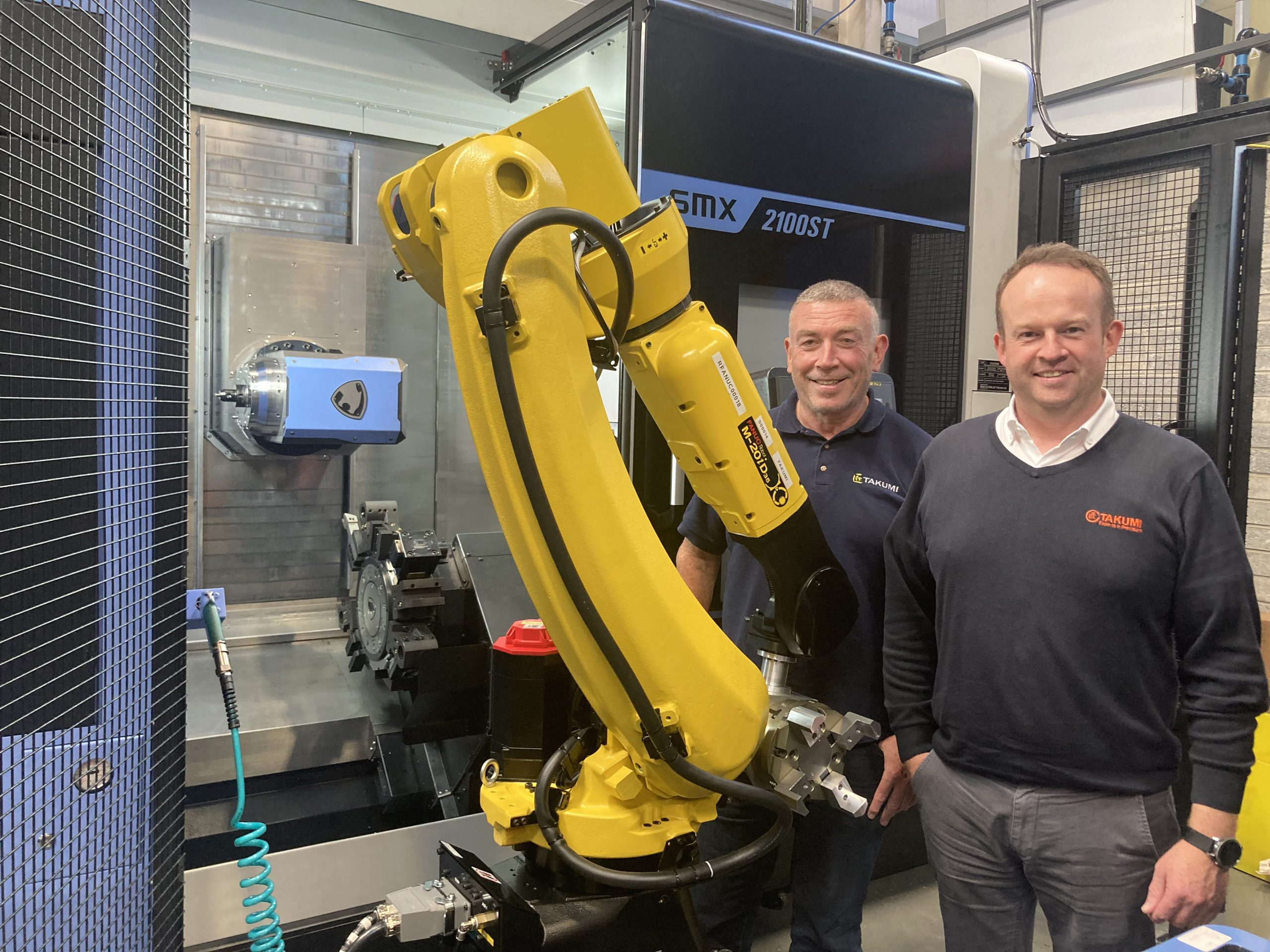 Says Gerry Reynolds:
"We are involved in High-Mix: Low Volume (HMLV) work and have to organise ourselves, and deploy our machining resources, accordingly."
The SMX 2100ST automated manufacturing cell
With business returning to pre-pandemic levels and demand for Takumi's high-quality machining services at an all-time high, the company decided to invest in its second (SMX) mill-turn machine from Mills CNC.
Initially, the intention at the time of order, was for the SMX 2100ST to operate as a standalone machine.
However, owing to the company's experience of investing in automation, and the positive impact made on its performance – Takumi, working collaboratively with Mills CNC, altered the order mid-stream.
Explains Gerry Reynolds:
"The SMX 2100ST, with its lower turret, is flexible, high-productivity mill-turn machine capable of processing complex, high-precision parts in one-hit.
"The productivity gains experienced from the DVF 5000 investment, got us thinking about whether we could do something similar with the SMX 2100ST.
"After discussing our requirements with Mills CNC, the decision was made to change the original machine tool order – augmenting it with the addition, and integration, of a robot to create a flexible, automated manufacturing cell."
The Cell: a closer look
The 8" chuck SMX 2600ST with its left and right opposing spindles (5,000rpm), B-axis milling function, Y-axis and 12-station lower turret is a productivity powerhouse of a machine.
It is now integrated with a SYNERGi Sprint automation system comprising a Fanuc industrial robot with a 25kg payload, a part load/unload grid plate (900mm x 900mm), end-of-arm tooling, laser floor scanner technology, industrial guarding, and a 17" touchscreen HMI with a separate keyboard.
The cell is controlled by Mills CNC's proprietary SYNERGi software – a powerful and intuitive software solution that incorporates logical navigation and user-friendly menu screens.
Says Donal Galligan:
"The SMX 2600ST/SYNERGi Sprint cell is the first robotic automation system to be acquired by Takumi in its 24-year history.
"We are currently putting the cell through its paces and organising our production schedules to be able to take full advantage of the latest investment."
Continuous improvement: not just machine tools
Takumi Precision's continuous improvement programmes and strategies are in evidence all across the company's operations.
Recent developments made to improve its performance and strengthen its position within customers' supply chains include the following:
CAM investment
To complement its investment in 5-axis machine tools, in particular, the company has upgraded its CAD/CAM capabilities by investing in HyperMill – a modular and flexible CAM solution for 2.5D, 3D and 5-axis milling.
Programming using HyperMill, with its one post-processor interface and true-to-detail simulation and collision control, ensures fast and reliable part processing.
Material stocking
To improve lead times and turnaround times, Takumi made the strategic decision to augment its operation by becoming a materials' stockist.
This vertical integration decision in addition to acquiring in- house plate and sheet cutting capabilities, has improved operational efficiencies and supply chain management.
Inspection capabilities
Using best-practice methods that include process and machine validation, model-based inspection and CMM technology, Takumi uses the latest MSCOSMOS, Net-Inspect and Digital FAIR (First Article Inspection Report) Management software to streamline its inspection and measuring processes, optimise the flow of information and minimise non-conformance.
Treatment and finishing
Takumi is currently developing an in-house treatment and finishing resource at its facility.
Created to help reduce customer lead times and ensure better operational and cost control, the resource will include shot peening, anodising, painting, NDT, and passivation treatments.
Enterprise Resource Planning (ERP) via MADO
MADO, a proprietary ERP system developed by Takumi, provides integrated and seamless management of the company's main business processes in real time.
The system allows different departments to communicate and share information improving accuracy, productivity, reporting and efficiency.
MADO is a transparent system that, through a portal interface, also allows customers access to relevant information pertaining to their specific jobs and the manufacturing processes employed.
The next chapter
Through its group of companies, located mainly in Europe and Asia, Acrotec's focus is on high-precision technology markets that include watchmaking, medical devices, automotive, aerospace, aeronautics and electronics.
Continuing to trade as Takumi Precision, the acquisition will enable the company to grow, enter new markets, and provide value for customers and shareholders alike.
A major new development Takumi has in the pipeline, and one that will improve the layout and efficiency of its machine shop and provide more space to accommodate future investments in new technology etc., is to significantly increase its floorspace, by an additional 40,000sq. ft, over the next year.
It's all systems go at Takumi. But, knowing the company, you wouldn't expect anything less.