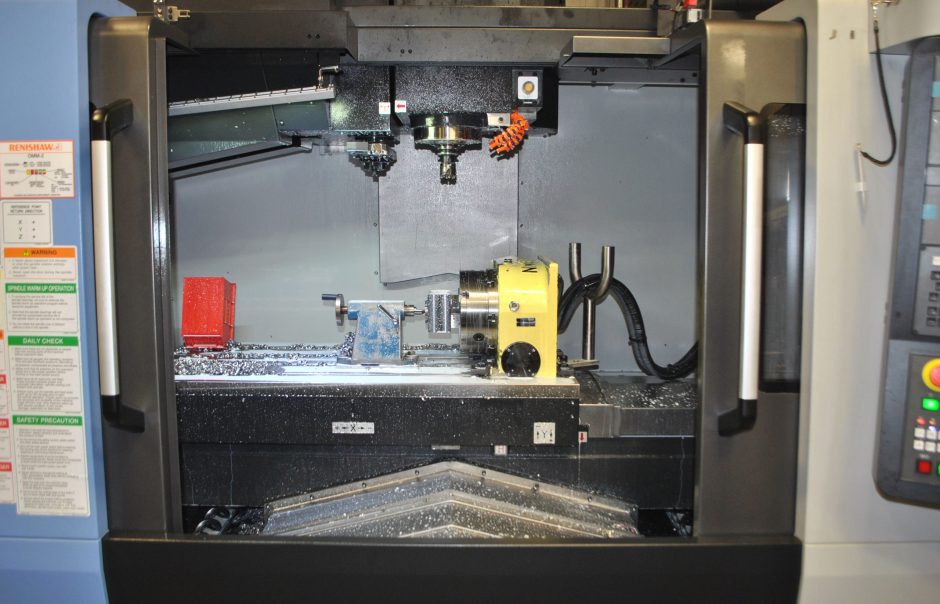 Leading precision subcontract specialist's latest investment in a new DN Solutions' DNM 3-axis vertical machining centre is indicative of the company's recently-introduced continuous improvement programme, and perfectly illustrates its future growth plans and ambitions.
Mills CNC, the exclusive distributor of DN Solutions' (formerly Doosan) and Zayer machine tools in the UK and Ireland, has recently supplied Helmrick Engineers Ltd., a family-owned, precision subcontract specialist, based in Dewsbury, West Yorkshire, with a new 3-axis vertical machining centre.
The machine, a popular and best-selling DN Solutions DNM 5700 machining centre equipped with the latest Fanuc 0iM control, a directly-driven, Big Plus (BT 40) 18.5kW/12,000rpm spindle, a 30-position ATC and a 1300mm x 570mm worktable (with a 1000kg table load), has replaced two, older machining centres and was installed at the company's 8,000sq. ft facility in March 2023. 
(The company shares this facility with sister company – Anglo Stainless Ltd. – a major stockholder of stainless steel pipe fittings and flanges etc.).
Since its arrival, the DNM 5700, which was also supplied with a Nikken 4th-axis unit and a Renishaw tool setter and probing system, has been put through its paces machining a range of high-precision valve-and flange-type parts (i.e., ball valves, needle valves etc.), and hydraulic and pneumatic fittings.
"The parts we supply are made from a range of tough and difficult-to-machine materials that include carbon steels, Stainless, Duplex and Super Duplex Stainless Steels and titanium, as well as, increasingly, from exotic alloys (i.e., Inconel 718 and 925 etc.).
"They are machined from either solid bar or near net-shape and 'upset' forgings, for customers operating predominantly, but not exclusively, in the oil and gas and petrochemical industries."
Mark Webster, General Manager of Helmrick Engineers
Parts machined on the new DNM 5700 are supplied in small batches (typically one- and two-offs through to 30-off) and are characterised by their high-precision (+/- 30 – 50 microns) and exacting surface finishes (Ra 0.6µm).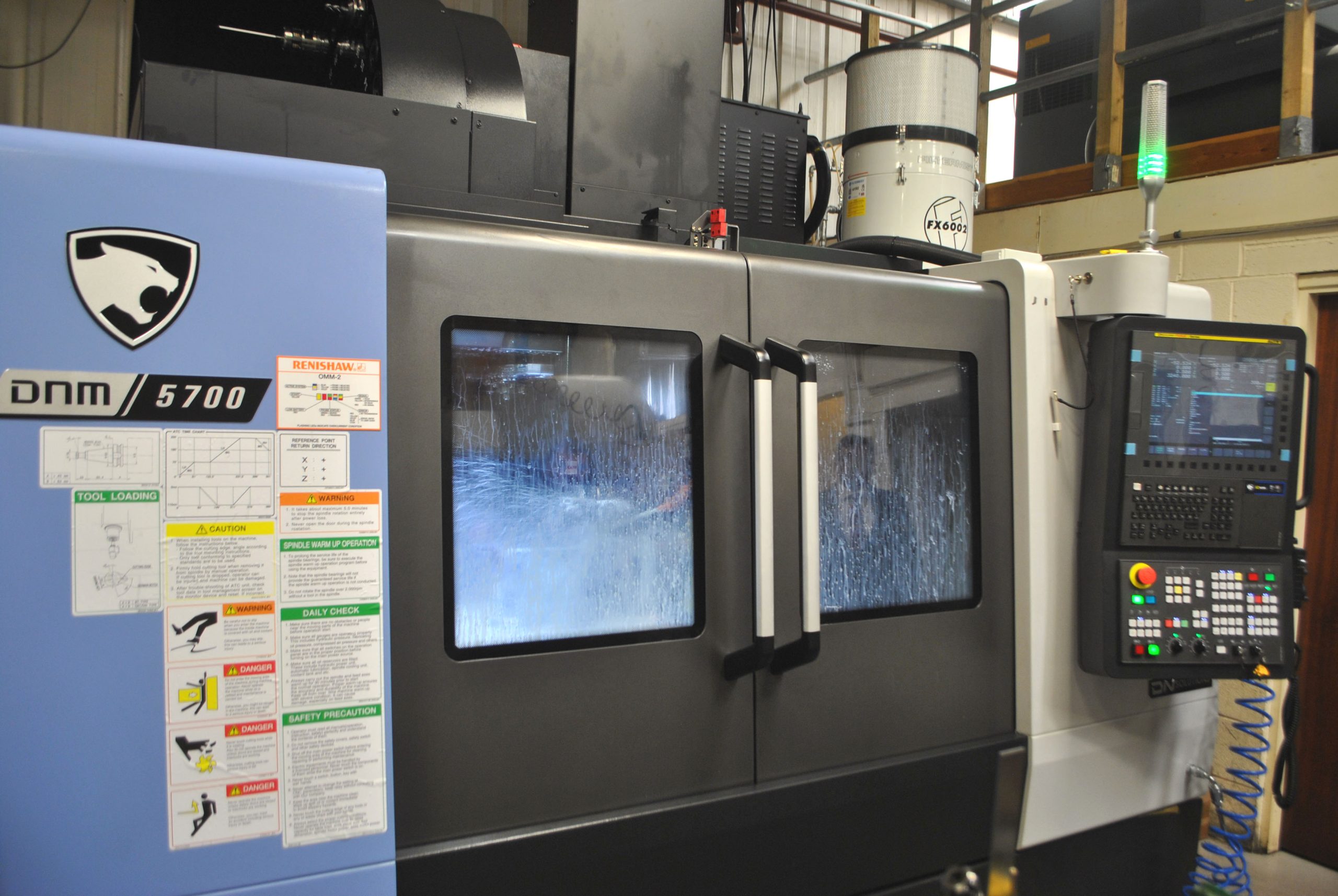 The investment decision
The decision to invest in the new DNM 5700 was made to help the company increase its machining capacity and capabilities.
An in-house review, conducted in Autumn 2022, into the performance of its existing milling machine tools revealed that production throughput and manufacturing output was being compromised by two older machines the company had at its disposal.
"We identified a couple of productivity issues with two of our older machines.
"The first concerned their reliability which, in addition to potential spiralling repair and maintenance costs, could affect their uptime.
"The second involved the machines' ability to achieve (consistently) the fast processing speeds we require while still meeting our customers' tight tolerances and high surface finish requirements."
Mark Webster, General Manager of Helmrick Engineers
As a consequence, the company made the decision to trade-in these two machines for a new machining centre with a larger working envelope and more powerful spindle technology in order to strengthen its milling resource.
Helmrick Engineers is no stranger to Doosan machine tools from Mills CNC having previously invested in a number of them over the past few years: the most recent of these being the acquisition of a heavy-duty Mynx 6500/50 machining centre in 2018.
"We have a good relationship with Mills CNC. We like their business approach and their after-sales service and technical back-up.
"Having discussed our plans with Mills and been presented with the technical specifications of the DNM 5700, we decided to place the order for the new machine with them.
"We opted for a Fanuc-controlled model owing to its availability, its relatively competitive price (viz-a-viz the Heidenhain alternative), and our belief that Fanuc controls represent the 'industry-standard'.
Mark Webster, General Manager of Helmrick Engineers
Although the new machine has only been up and running for a few weeks it is already having a positive impact on Helmrick Engineers' performance. On a specific valve component, for example, cycle times have been reduced by up to 20% with no compromise in part quality.
"The DNM 5700 is a rigidly-built machine, and with its advanced spindle technology, we are able to ramp up speeds and feeds to improve part processing times.
"Having been relatively quiet on the investment front over the last few years, we are now embarking on a new chapter in the company's history – one that will see more investment that will help facilitate diversification into new sectors."
Mark Webster, General Manager of Helmrick Engineers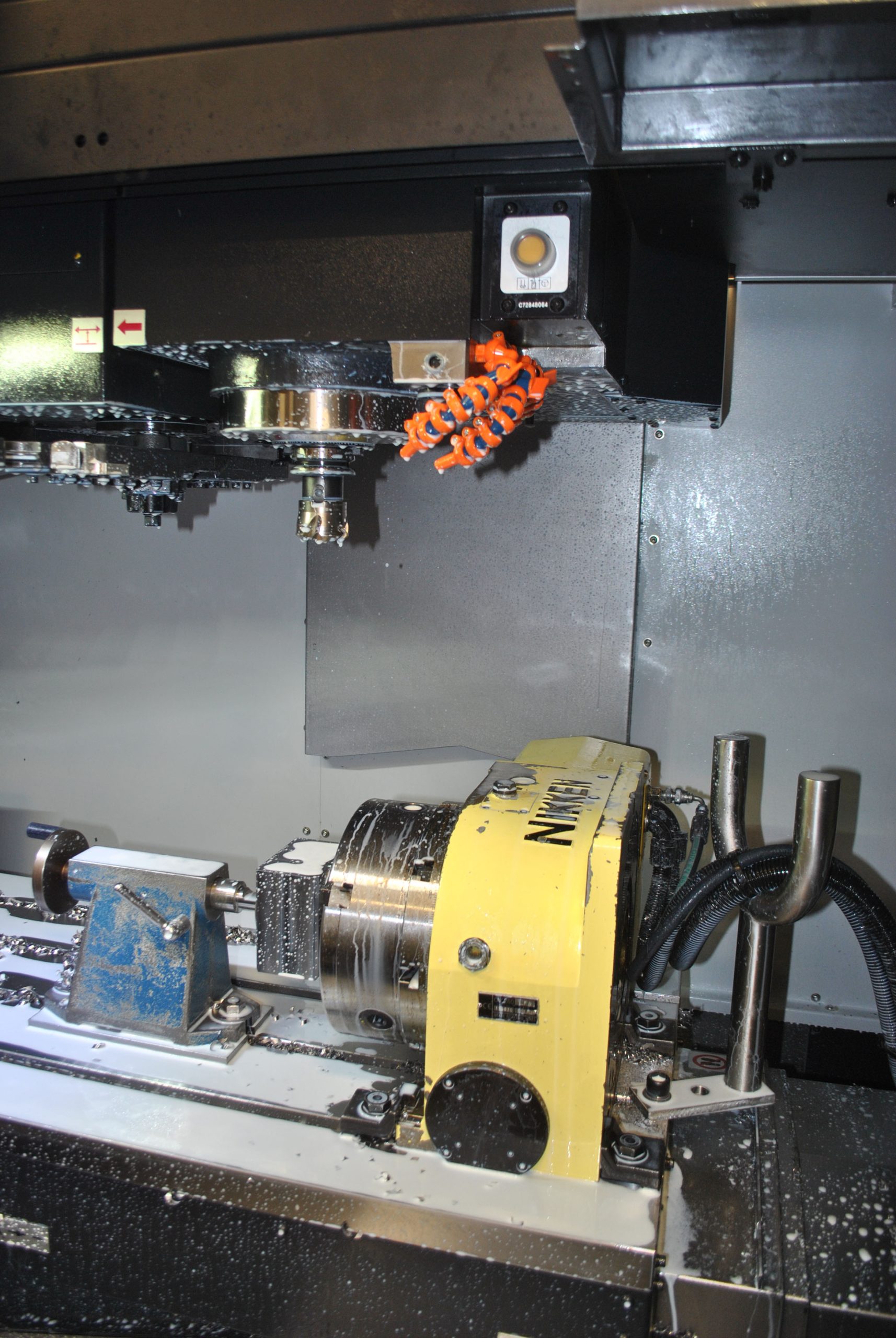 About Helmrick Engineers Ltd.
Helmrick Engineers Ltd. was established in 1973 by the Brooke family and today employs eleven members of staff.
Two years ago, current owner and managing director, Steve Brooke, took full control of the business and implemented a 'root and branch' continuous improvement programme designed to help the company grow… strengthen its position within existing customers' supply chains… and diversify its operations to attract new customers from new sectors and industries.
The company-wide continuous improvement has, over recent months, resulted in Helmrick Engineers making significant investment (and improvements) in its people, in its plant and equipment and in its systems and processes.
The company has recently achieved ISO: 14001 certification to add to its ISO: 9001 accreditation and expects to achieve ISO 45001 certification in the next few months.
Helmick Engineers has introduced a strategic recruitment programme designed to increase its headcount and attract 'younger talent' into its ranks to alter the age profile of the company and address any potential future skills shortage issues.
The company has recently acquired additional premises, adjacent to its existing site, providing it with an extra 7,000sq. ft. of floorspace which will be used to relocate its Anglo Stainless operation and free-up space for Helmrick Engineers' machine shop, offices and administration.
Helmrick Engineers, armed with a new vision and a commitment to growth, is actively exploring new business opportunities in the rail, nuclear and renewables' sectors whilst still continuing to work with its existing customer base.
It is anticipated that the company will continue to invest in high-performance machine tools and associated technologies and is investigating the potential of multi-axis and multi-tasking machines as well as automation to help it further improve its productivity and process efficiencies.
"It's an exciting time for the company and we are determined to realise our true potential."
Steve Brooke, Owner and Managing Director of Helmrick Engineers