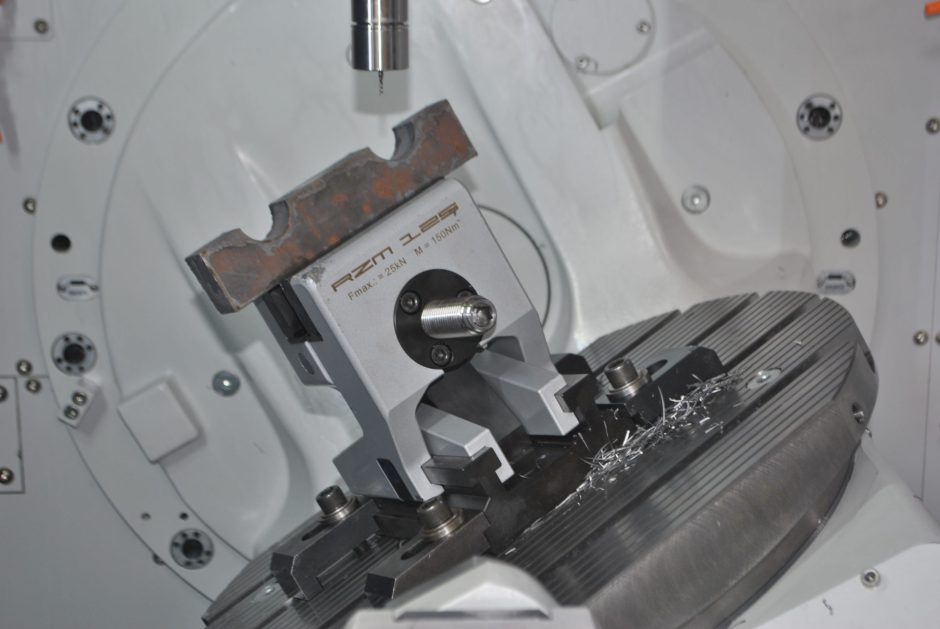 Leading precision subcontract specialist is back on the investment trail, and invests in two, new DN Solutions' machine tools to increase its machining capacity and capabilities.
Mills CNC, the exclusive distributor of DN Solutions' and Zayer machine tools to UK and Irish component manufacturers, has recently supplied leading precision subcontract specialist – Dalloway Precision Engineering Ltd. with two, new high-performance machine tools.
The machines, both DN Solutions' models, comprise a DVF 5000 simultaneous 5-axis machining centre and a DNT 2100 8" chuck box guideway lathe. 
The two Fanuc-controlled machines were installed at the company's 3,600sq. ft. facility in Lye, near Stourbridge, in June and July 2023, respectively, and have significantly increased the company's in-house milling and turning capacity and capabilities.
These new acquisitions, in conjunction with its recent relocation to larger premises, which was completed at the end of June 2023 and has doubled the floorspace available, provide ample and incontrovertible evidence that the family-owned Black Country company's investment plans and programmes, somewhat curtailed by the outbreak of the pandemic, are now back with a vengeance.
Dalloway Precision is no stranger to investing in advanced machine tools from Mills CNC and, from 2017 – 2019, purchased three Doosan machines in quick succession – a Lynx 2100 lathe in 2017, a DNM 5700 vertical machining centre equipped with a 4th-axis unit in 2018, and Puma GT 2600 lathe in 2019.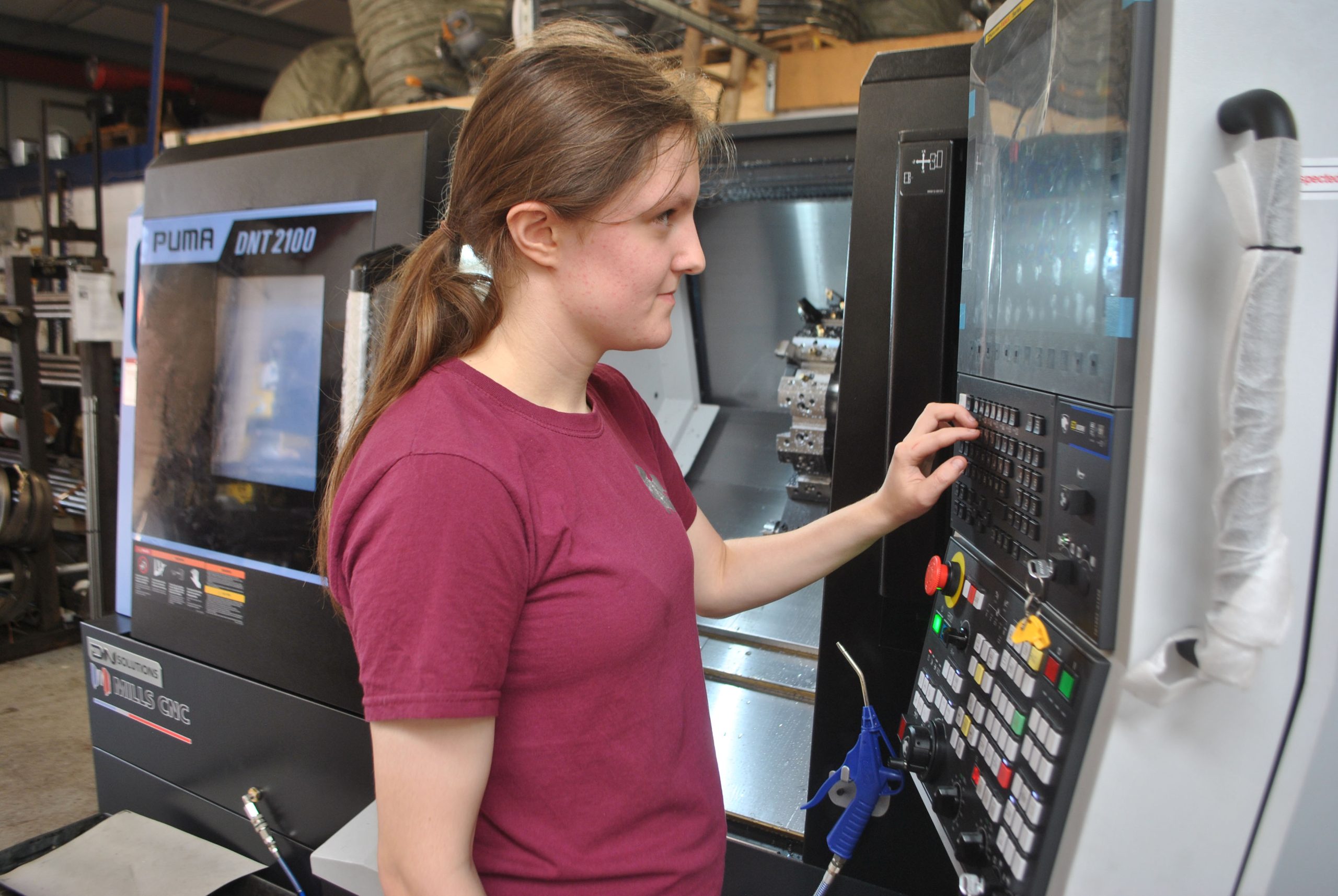 These five machines, individually and collectively, provide Dalloway Precision with a formidable and impressive machining resource that delivers high-quality, right-first-time and competitively-priced machined components to existing customers and, increasingly, to new customers looking for a proven and reliable machining partner.
"We are always looking to improve and regularly invest in new, advanced machine tool technologies to improve our productivity and process efficiencies."
Gary Dalloway, Owner and Managing Director at Dalloway Precision Engineering
The investment in the new DVF 5000, a high-performance, simultaneous 5-axis machining centre and, to a lesser extent, the 8" chuck DNT 2100 box guideway lathe, was made to help the company meet a substantial increase in demand, from one if its existing UK customers, to machine complex, high-precision and critical safety rail track piston arrangements – ultimately destined for the Swedish rail sector.
A long-standing job that, since 2015, had required Dalloway Precision to machine 500 piston parts per year was, as the result of a significant planned preventive maintenance programme due to be implemented from August 2023 by the end-user customer, increased to 1000 parts per quarter. (The contract secured by Dalloway Precision is to machine 24,000 parts over the next six years, i.e., machining 4000 pistons per year).
"The increase in demand, notified to us at the start of 2023, meant that we needed to re-evaluate our existing machining methods and processes in order to fulfil the new contract.
"We simply couldn't rely on the previous process to machine the increased number of parts, as that would seriously tie-up a significant percentage of our existing machining capacity and would have a negative impact on our ability to meet our other customers' lead times.
"As a consequence, we decided to increase our machining capacity and develop a new, high-efficiency machining process, with 5-axis machining at its heart, to cope with the new contract."
Gary Dalloway, Owner and Managing Director at Dalloway Precision Engineering
The rail track piston arrangements are made from EN 19 high-quality alloy steel, near-net forgings supplied by a local metal forgings company, and have a number of intricate and high-precision milled and turned features i.e., bores, thread forms etc.
With the previous process, a series of small-angled holes positioned around one end of each of the pistons, were not able to be machined by Dalloway Precision and were sent back to the UK customer for it to complete along with a number of specific grinding operations.
"The new process we developed, using a 5-axis machining centre, provided the customer with a real 'added-value' solution enabling us to machine all features, including the angled holes."
Gary Dalloway, Owner and Managing Director at Dalloway Precision Engineering
Although Dalloway Precision is no stranger to multi-axis milling, having previously invested in machining centres with 4th-axis units, the acquisition of a full, simultaneous 5-axis machining centre was something new.
"As well as being used to machine the pistons, we believed that the investment in a 5-axis machine, would improve our productivity and process efficiencies across the board and would be instrumental in us being able to secure more complex work from new and existing customers in the future."
Gary Dalloway, Owner and Managing Director at Dalloway Precision Engineering
To strengthen its turning operations, the company, at the same time, also looked at investing in a versatile 2-axis box guideway lathe to handle the turned features of the pistons and, more generally, to increase and improve its machining resource.
With this in mind, the company approached the market with its plans and requirements. The existing relationship Dalloway Precision had with Mills CNC meant that the Leamington Spa outfit was one of its first ports of call.
"We have a good relationship with Mills CNC and the (three) machines we acquired from them in the past, since 2017, are accurate, reliable and have performed well.
"Furthermore, we like Mills' business approach. They are always helpful and accommodating and their progressive, customer-focused stocking policy means that when we have placed orders with them in the past – they are fulfilled, almost immediately.
"As a consequence, it was only natural for us to discuss our future investment plans with them."
Gary Dalloway, Owner and Managing Director at Dalloway Precision Engineering
Dalloway Precision placed an order with Mills CNC for a DVF 5000 machining centre and a DNT 2100 lathe in April 2023.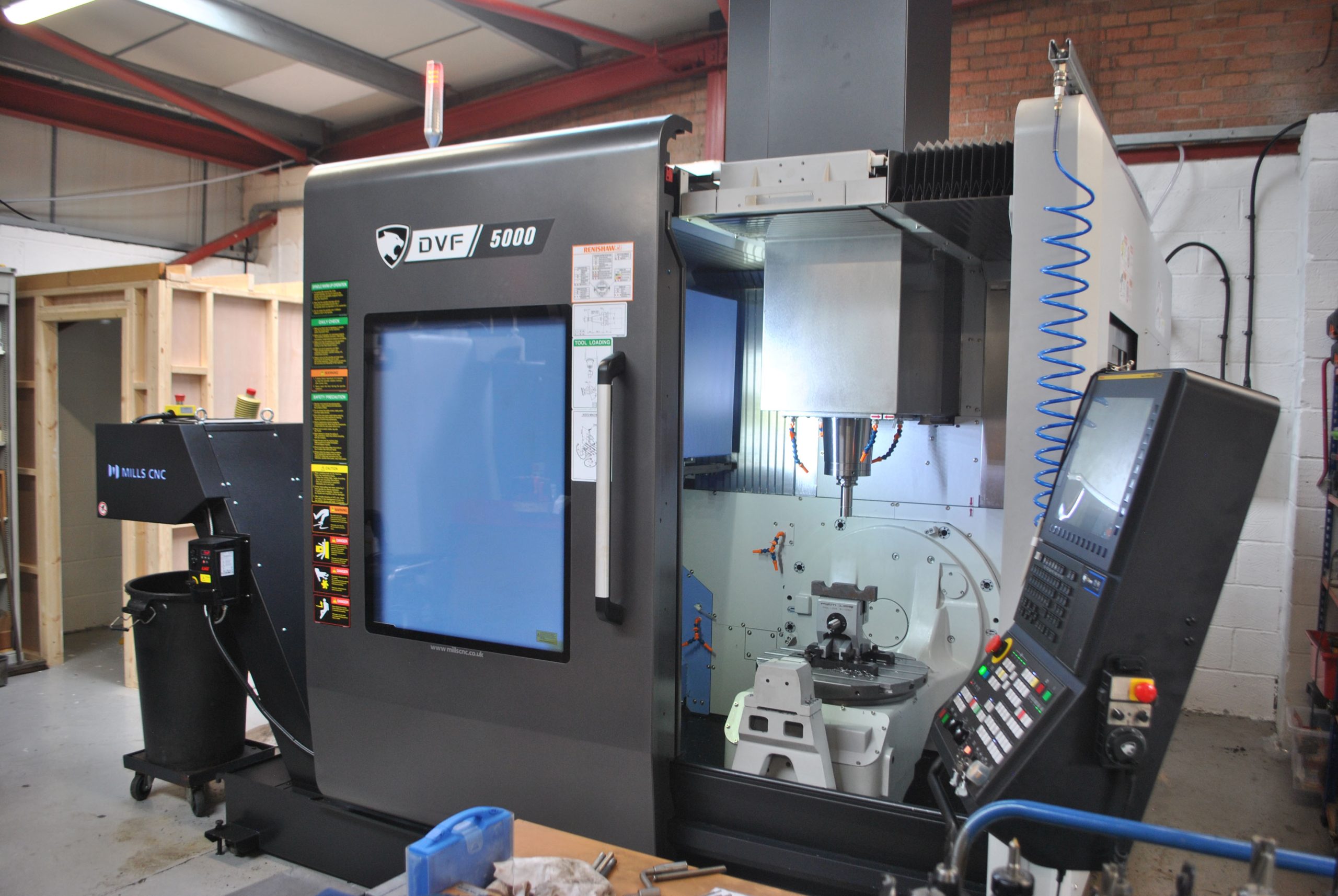 The DVF 5000: a closer look
The DVF 5000 is a popular and proven simultaneous 5-axis machining centre. The model supplied to Dalloway precision was equipped with a 17kW/12,000rpm direct-drive spindle and a 60-position ATC.
The machine features integrated thermal compensation to ensure high accuracies, even during long machining runs, and boasts 40m/min rapids that help ensure fast part processing and reduced cycle times.
To improve productivity still further, the machine was supplied with through-spindle-coolant capability (20bar) and a Renishaw RMP 60 compact spindle probe.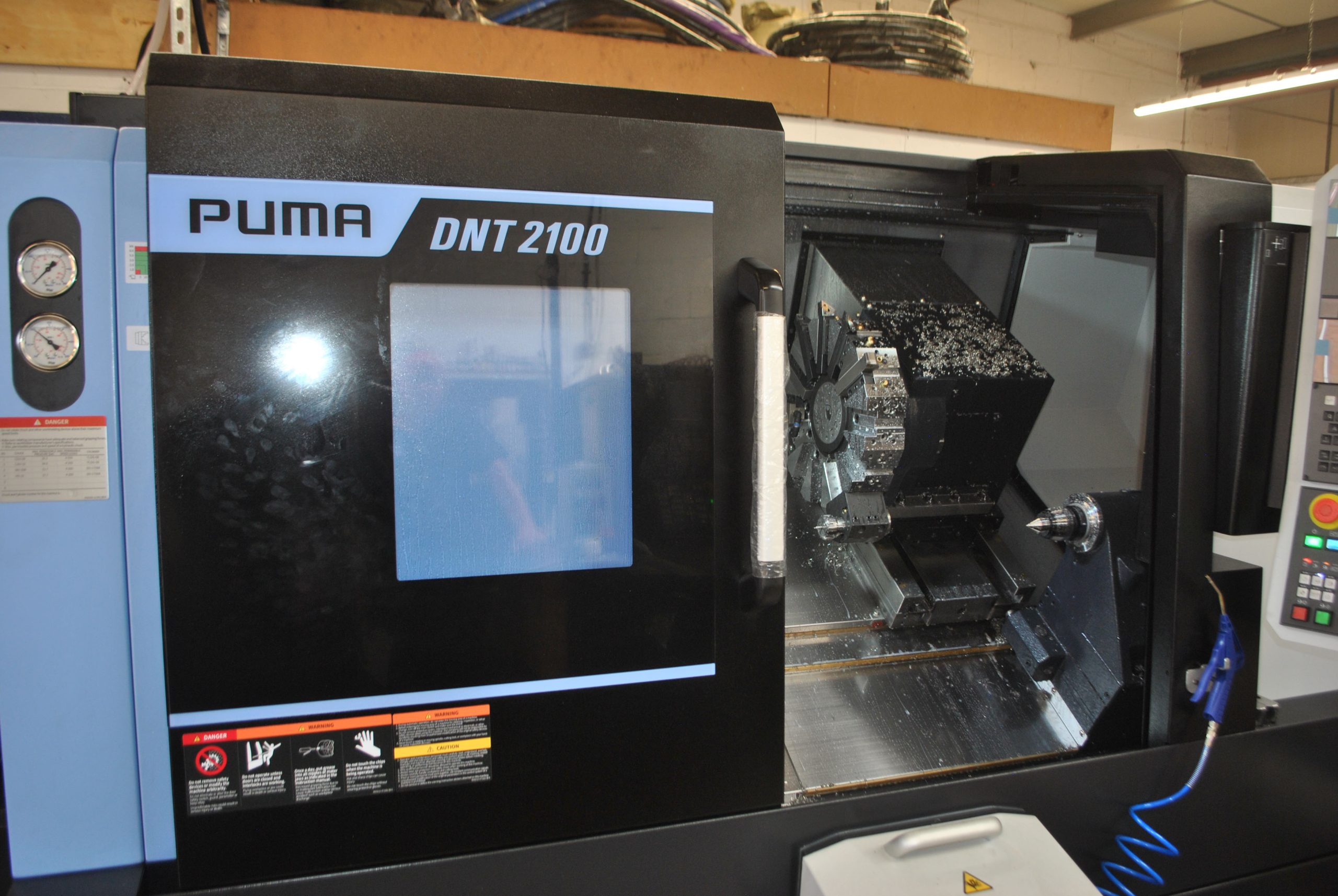 The DNT 2100: a closer look
The DNT 2100 is one model in a new lathe series that was recently introduced into the market by Mills CNC.
The 8" chuck box guideway lathe has a rigid design and build and is equipped with a powerful, high-torque 4,500rpm spindle, a servo-driven, fast indexing 12-station turret and a programmable tailstock.
"The DVF 5000 and DNT 2100 were installed in the new facility in June and July respectively, and a 'big shout out' needs to go to Mills CNC for the quick and seamless relocation of all of our other machines (eight in total) to our new site.
"The DVF 5000 is currently being used to machine complex fixtures for the piston arrangement and we hope to be in full production in the next week or so."
Gary Dalloway, Owner and Managing Director at Dalloway Precision Engineering
Dalloway Precision estimates that the piston contract will take up 50% of its new milling (DVF 5000) and turning (DNT 2100) capacity.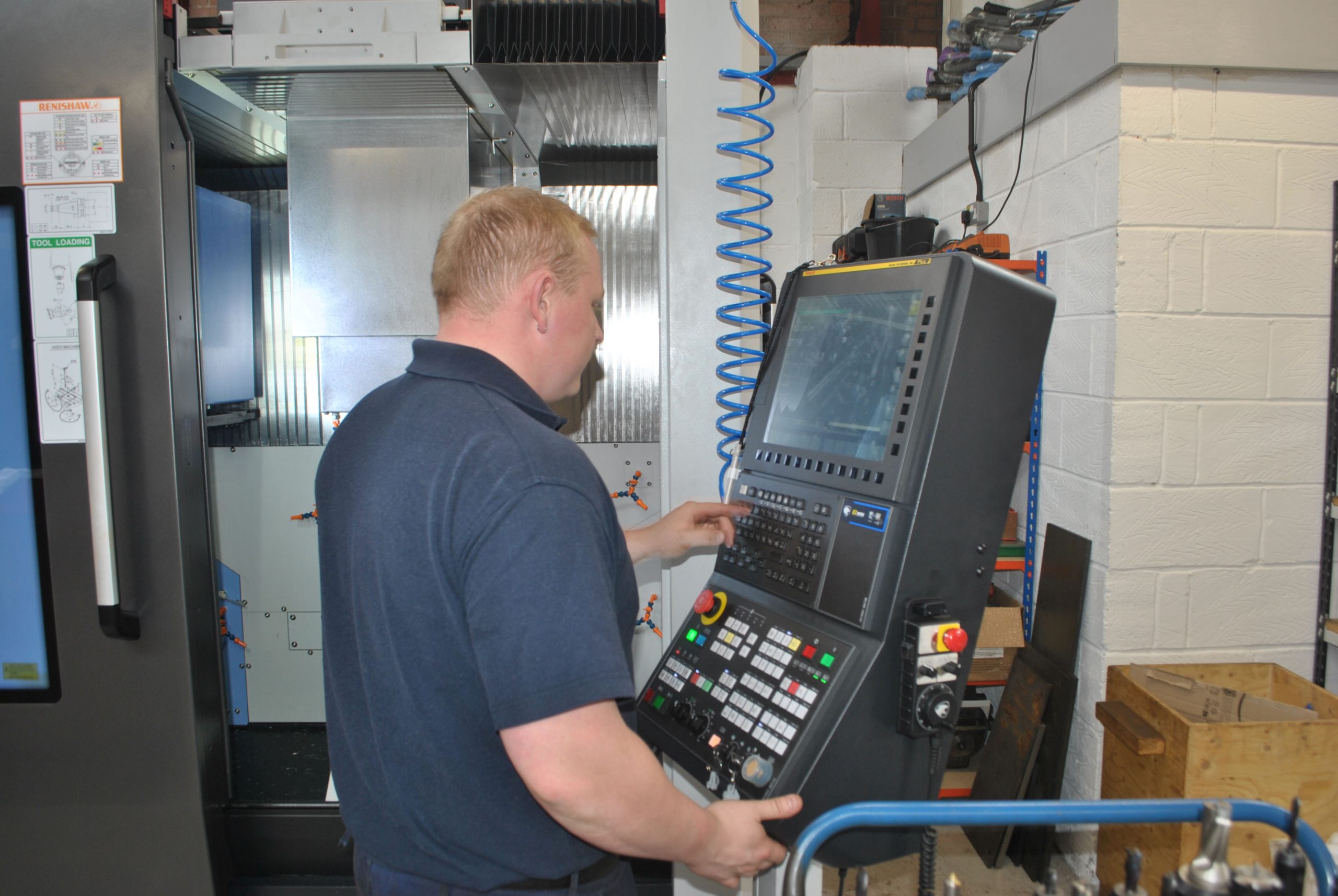 About Dalloway Precision
Dalloway Precision was established in January 2002 by current owner and managing director, Gary Dalloway.
In the early days the company was based in Bilston, Wolverhampton, where it operated from a small 'shared' premises.
The company has grown exponentially since then – developing and honing its machining expertise, investing in new technologies and increasing its headcount.
The company, with its emphasis on delivering high-quality, competitively-priced machined components to a range of customers, also provides technical consultancy services (i.e., Design for Manufacture (DfM), reverse engineering etc.), to UK manufacturers.
Dalloway Precision has the capacity and capabilities to machine everything from prototypes and pre-production parts through to small-to-medium batch sizes.
Recent contract wins have involved the machining of high-precision, stainless steel rod ends for a number of automotive and motorsport customers; the machining of complex, modular welding fixtures for a luxury car manufacturer; and the machining of intricate packaging solutions for a food and beverage (whisky distillery) customer.
The company, through its reverse engineering skills, is also recognised in the Industry for its ability to machine cam replacement parts for Wickman multi-spindle, special-purpose machines.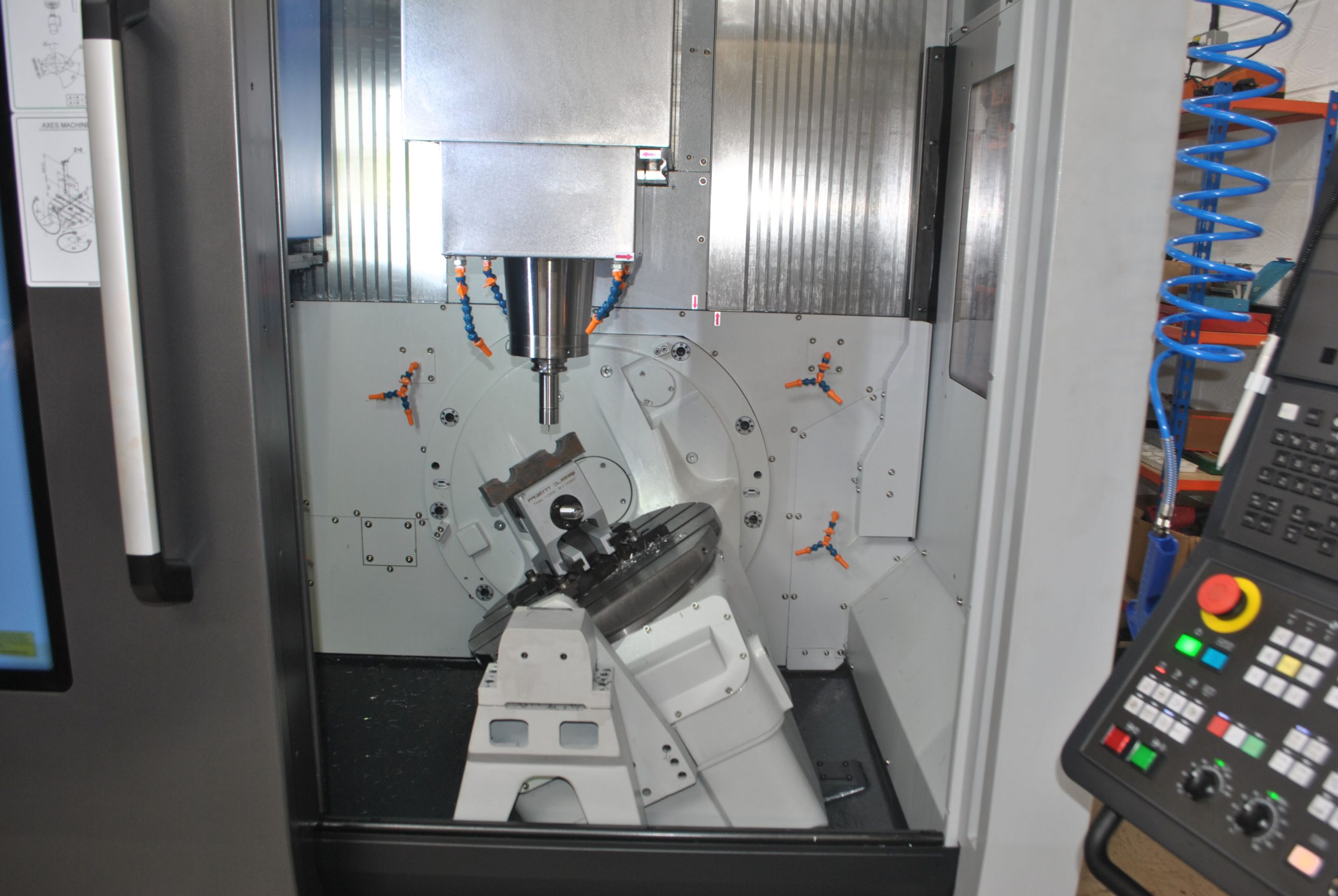 The future
Dalloway Precision, through its commitment to continuous improvement, always has one eye on the future.
To ensure growth and overcome skills shortages, the company operates an in-house apprenticeship programme run in conjunction with local colleges.
To help improve business efficiencies, the company is looking to invest in an ERP system in the near future and is exploring specific industry accreditations and certifications to facilitate its entry into the aerospace and medical sectors.
"The latest investment in two DN Solutions' machines from Mills CNC is proof positive that our growth intentions and ambitions, somewhat disrupted by the pandemic, are now back on track."
Gary Dalloway, Owner and Managing Director at Dalloway Precision Engineering