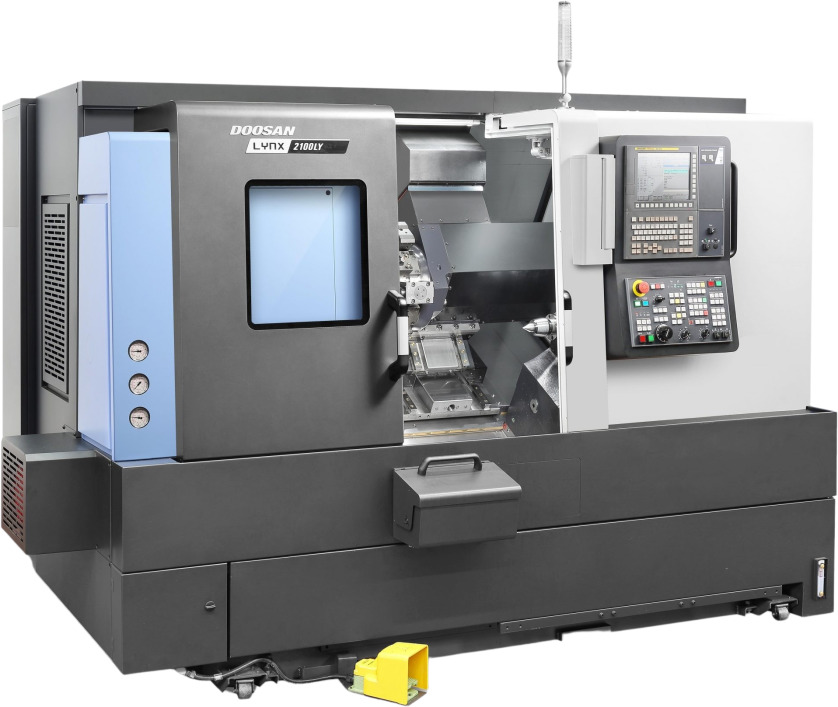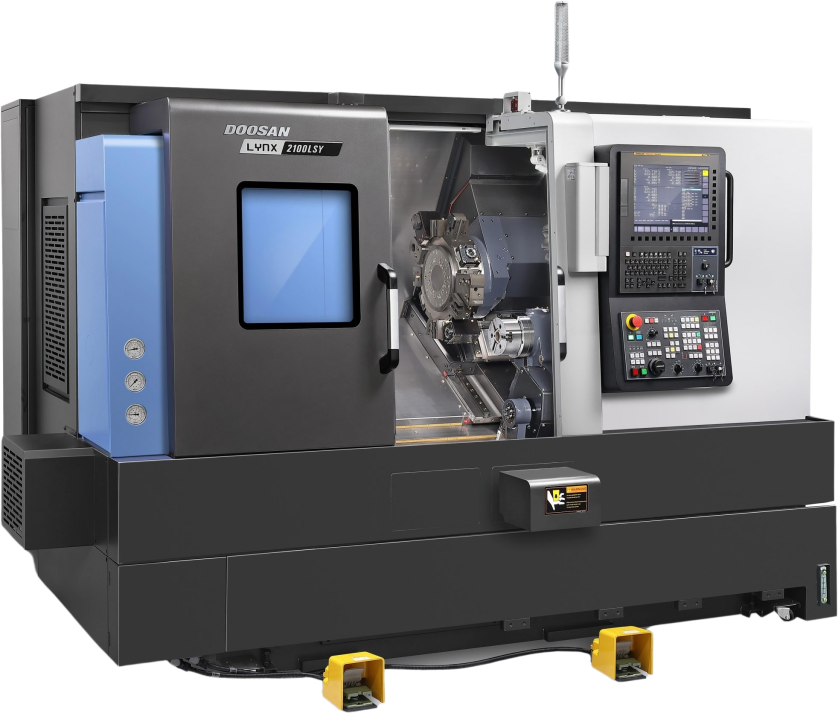 Doosan Lynx 2100 Series
Doosan Lynx 2100 series lathes
Features
6"/8"/10″ chuck
Up to 18.5kW/6,000rpm spindle
51/65mm bar diameter
Sub-spindle and driven tool models available
Fanuc or Siemens control
Share this series
or copy link
Lynx 2100 Series_Doosan Machine Tools
Our new, next generation compact 6"/8"/10″ chuck Lynx 2100 series lathes deliver exceptional productivity, flexibility and reliability – and are the number one choice for component manufacturers looking for a proven, fast and high-accuracy turning solution.
The machines' performance is enhanced by advanced (high torque) spindle technology, fast servo-driven turret indexing; impressive rapid rates and high-rigidity LM roller guides.
In addition to their impressive technical specifications, Lynx 2100 series lathes are supplied by Mills with: Automatic Tool Setters, Parts Catchers, tailstocks (for non- sub-spindle machines), and either a Fanuc or Siemens control.
The range comprises 11 different models including machines with long beds, sub-spindles, C-axes and driven tools.
Technical Specification
| | |
| --- | --- |
| Chuck size | 6 - 10inch |
| Bar Capacity | 51 - 81mm |
| Max. Turning Diameter | 300 - 350mm |
| Max. Turning Length | 290 - 550mm |
| X Axis Rapid Traverse | 30m/min |
| Z Axis Rapid Traverse | 36m/min |
| X Axis Travel distance | 205mm |
| Y Axis Travel distance | 105mm |
| Z Axis Travel distance | 340 - 560mm |
| Max. Spindle Speed | 3500 - 6000r/min |
| Max. Spindle Power | 15 - 18kW |
| Max. Spindle Torque | 127 - 269N·m |
| No. of tool station | 10 - 12 |
| Rotary Tool r/min | 6000r/min |
Series Dimensions
| | |
| --- | --- |
| Length | 2320 - 2880mm |
| Width | 1595 - 1711mm |
| Height | 1693 - 1921mm |
| Weight | 3100 - 4200kg |
Image representative of Series and may not be the exact model
The Doosan Lynx 2100 Series is compatible with Fanuc and Siemens.
The Mills CNC Projects' Team, incorporating experienced engineers, will undertake a site survey and create a tailored machine delivery and installation plan that is pre-agreed with customers.
The project team will then manage the whole process and act as a seamless interface between the customer, Mills CNC and any required 3rd party specialist service providers through delivery, installation and commissioning of the machine
Talk to Mills about this series
Whether you're ready to order or want some more details about this product, fill out our enquiry form and we'll get right back to you.
"*" indicates required fields
Related Case Studies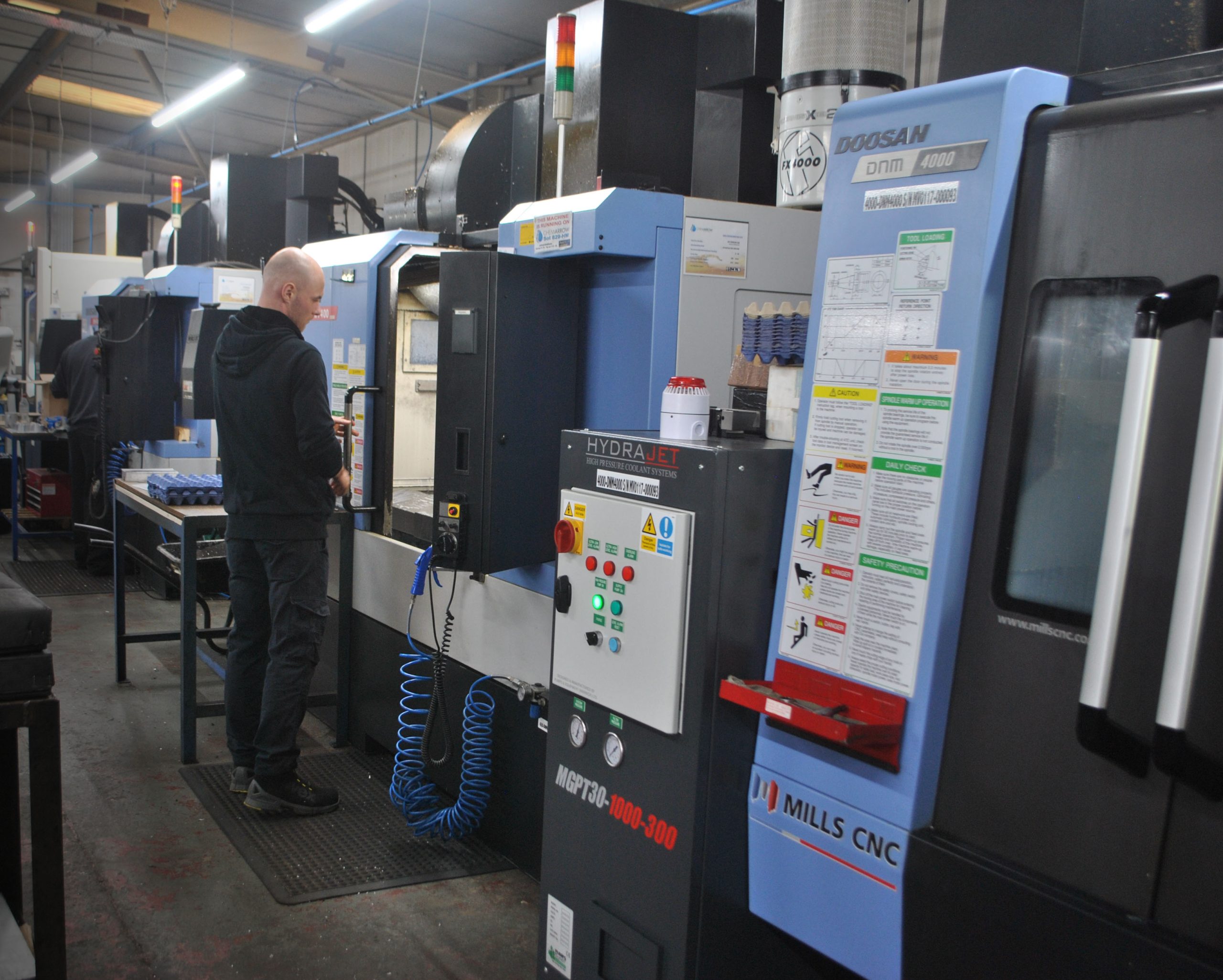 30 years' growth and success…with a little help from Mills CNC
G-MACH Engineering continued its long-standing Mills CNC relationship - currently covering 22 CNC machines - by investing in yet another high-performance machine, a Fanuc-controlled long-bed Doosan Lynx 2100LMB lathe with integrated driven tooling. This enables G-Mach to machine parts in one set up, improving productivity and process efficiencies.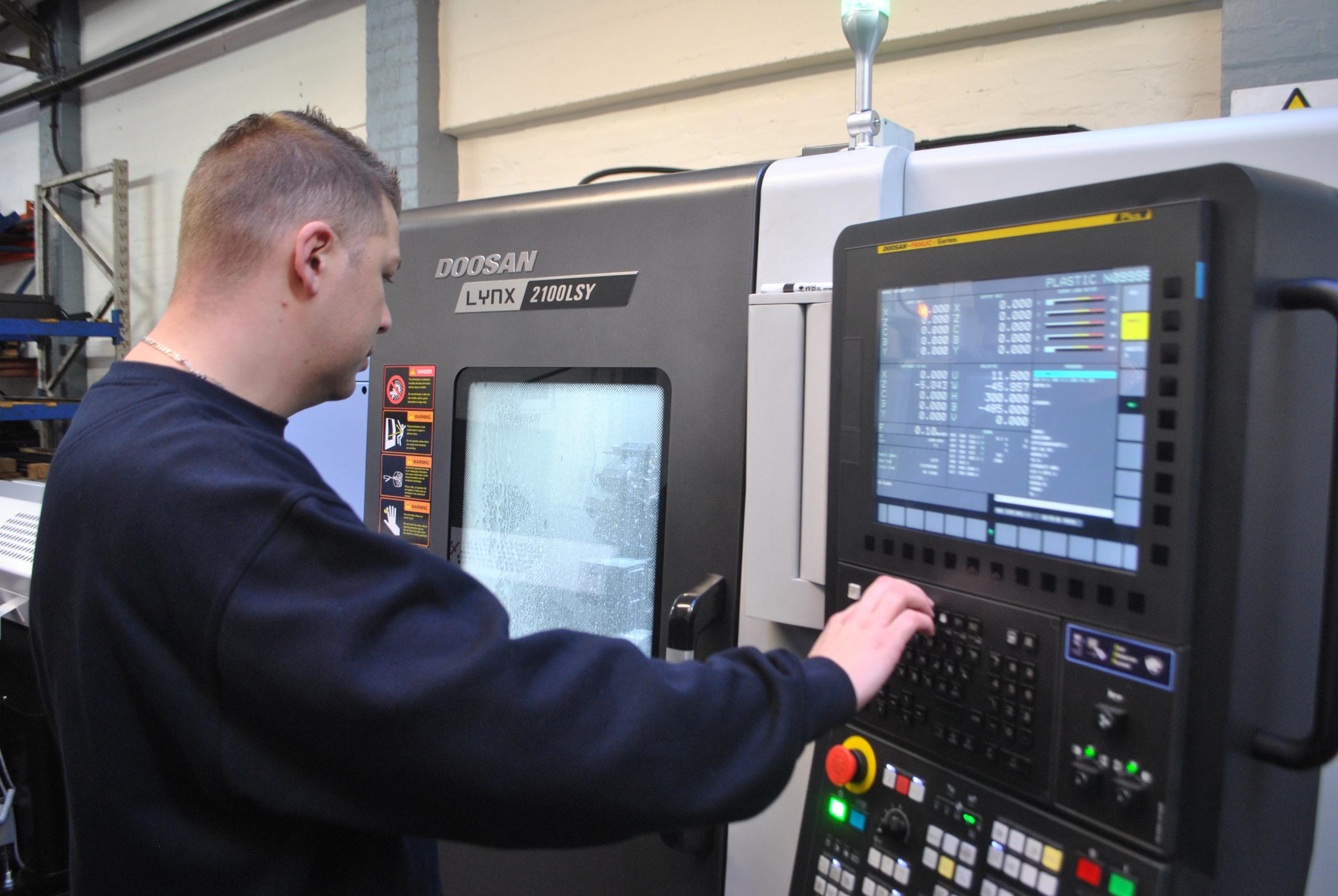 Latest investments critical to diversification and future growth plans
Wolverhampton based JTB Pressings, a subcontract specialist invested in a Doosan Lynx 2100LSYA Horizontal Single Turret Lathe primarily to machine precision parts with short cycle times, in high volumes for JCB – the British manufacturer of equipment for construction, agriculture, waste handling, and demolition.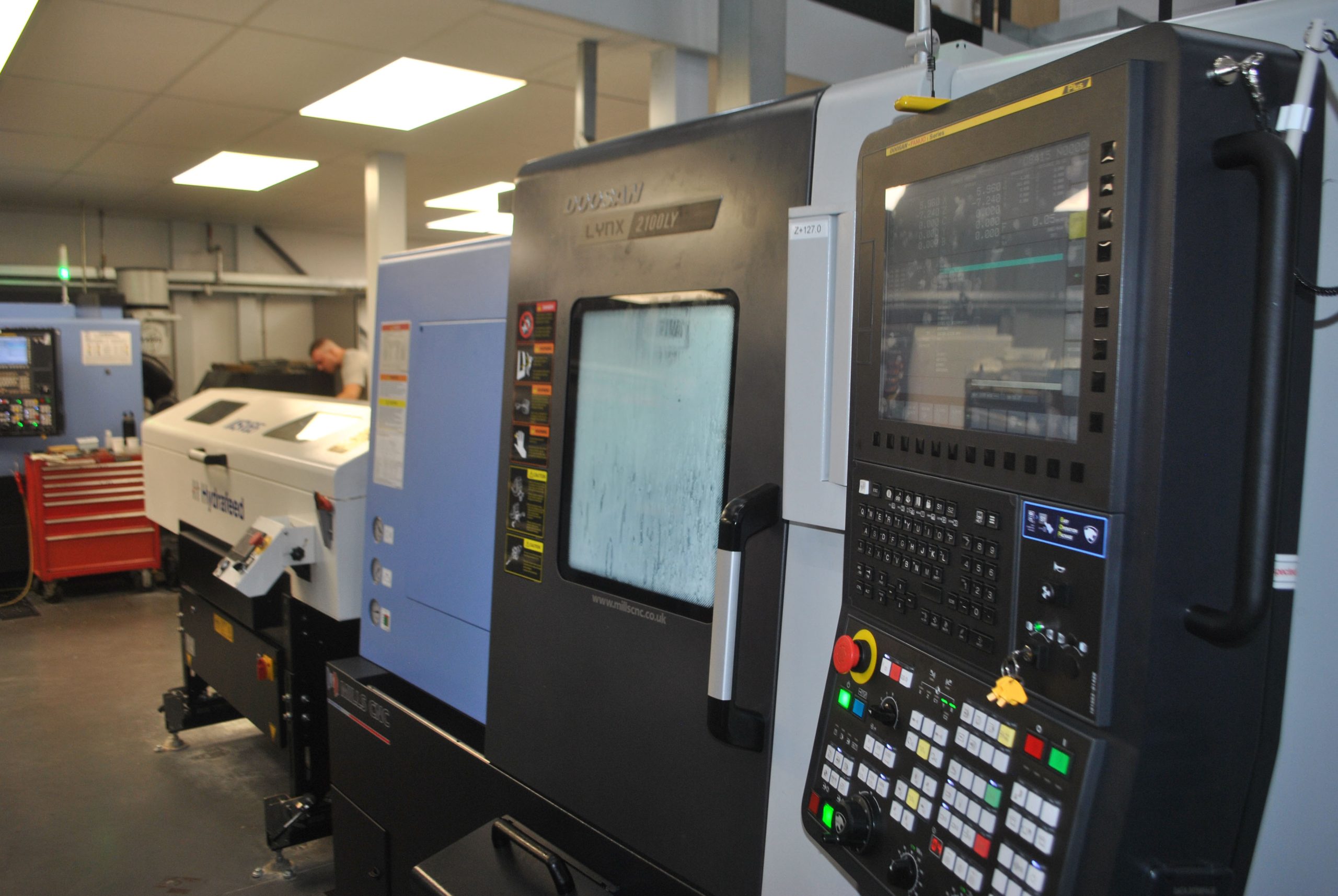 Expanding capacity with CNC investment
Market Harborough based MJ Engineering Ltd, operating in the motorsport, oil & gas and aerospace sectors, significantly increased its machining capacity with three new CNC machine tools equipped with the latest Fanuc controls from Mills CNC.
Related Series from CNC Horizontal Single Turret Lathes
Box guide-way design
8″, 10″ or 12″ chuck
65mm, 76mm or 102mm bar capacity
Driven tools (5.5kW/5000rpm)
Fanuc or Siemens control
View Series
10″/12″ chuck / 76mm bar capacity
Driven tooling (7.5kW/5000rpm)
105mm Y-axis stroke
Long bed models available
View Series
12″ chuck / 102mm bar capacity
Driven tools (7.8kW/5000rpm)
130mm Y-axis stroke
Long bed models available
View Series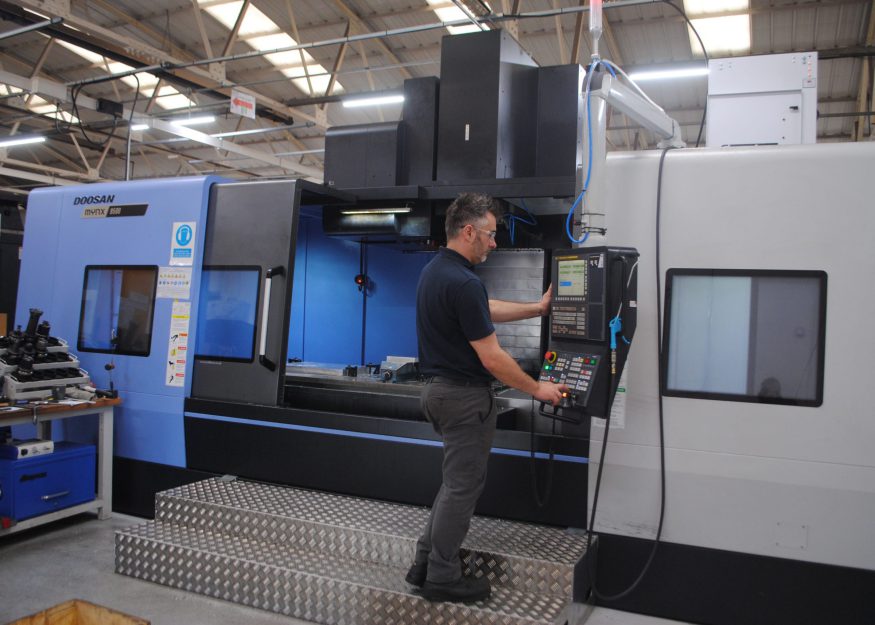 Why choose Mills CNC
Why choose Mills CNC
Mills CNC are much more than just a Doosan distributor, our services and support ensure that you can get exactly what you need from financing options to training for your team.
CNC Solutions
Not sure what you need? Mills CNC can help you incorporate your DNM 200 5AX into a turnkey or automated solution that works perfectly for your business.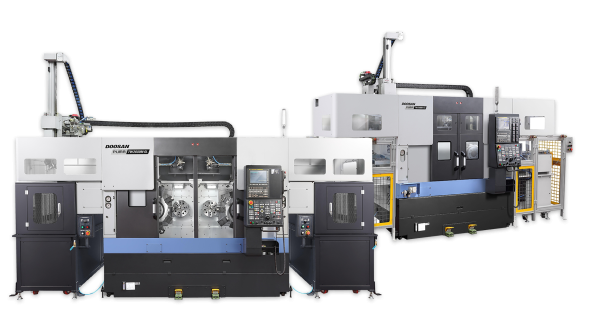 CNC Automation Systems
From automated Cobots providing machine tending operations, to a bespoke system of sensors, controls and actuators to automate a manufacturing process, Mills CNC can provide an efficient, effective automation solution for you.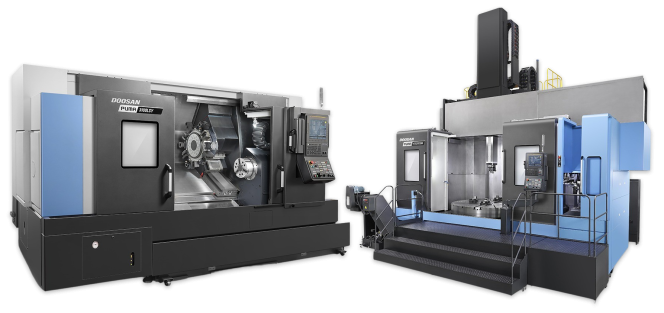 Turnkey Solutions
A turnkey solution is more than just a machine, it's a full service solution that ensures that your CNC setup is perfectly tailored to your manufacturing needs. This can often include automation for a fully streamlined process.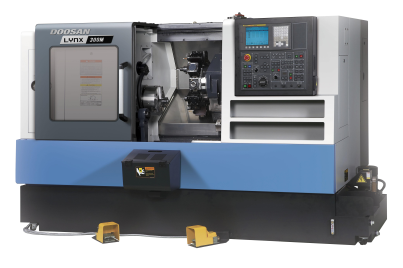 Not Sure What You Need? Get In Touch
If you're not certain what machine is right for your needs, then Mills can point you in the right direction. Tell us about your requirements, and we can suggest the right series, machine or additional options that will work best for you.